THE MAMMA MIA! DIET
The secret italian way to good health
AMAZON ORDER NOW!
Paperback: 352 pages
Publisher: Hatherleigh Press (February 27, 2018)
Language: English
ISBN-10: 1578267323
ISBN-13 978-1578267323
Product Dimensions: 6.1 x 0.9 x 9.1 inches (15 x 2.25 x 23 cm)
Authors: Dr. Paola Lovisetti Scamihorn, Paola Palestini Ph.D
The Mamma Mia! Diet is more than just a meal plan―it's a complete lifestyle guide. Based on an improved version of the classic Mediterranean diet, the Mamma Mia! Diet provides you with modernized versions of healthy Italian dishes to help you lose weight while still feeling full and satisfied.
The more doctors test it, the more they find that eating Mediterranean is the absolute best way to lose weight and be healthy. Based on the cooking and eating style of Italy, the Mamma Mia! plan features olive oil, fruits and vegetables, nuts, legumes, fish and poultry, whole grains and, yes, wine!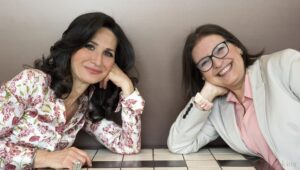 The Mamma Mia! Diet was created by two native-born Italian professionals – a pharmacist, culinary expert (myself) and biochemist (Paola Palestini) who together present the secrets to good health, weight management and longevity – attributes of their fellow "paesano".
The promised benefits of The Mamma Mia! Diet, include:
– Better health and improved longevity
– Higher energy levels and improved fitness
– More variety than any other diet
– Fundamental nutrition grounded in tradition and science
– Incredible dishes packed with nutrition and authentic Italian flavor
– A diet that nourishes you and your family, all in one.
Food can be more than just delicious. Food is medicine for the body, mind, and soul, and with The Mamma Mia! Diet, you can make the most out of what you eat, all while experiencing an Italian-style atmosphere―and satisfying an Italian-style appetite!
ORDER NOW
ORDER NOW your copy of The Mamma Mia! Diet.
I would be pleased to read your reviews on Amazon. I am looking for positive stories and commentary with hopes to promote the book's message of good health in the world.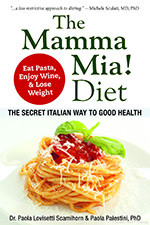 ---

 AUTHENTIC ITALIAN COOKBOOK: LOVE IS EATING

Hardcover
Size 22x22cm (9x9in)
132 pages with color photos
Languages: English-Italian
ISBN 978-88-96059-35-7
March, 2015
By Paola Lovisetti Scamihorn
This engaging everyday Italian cookbook features simple recipes highlighting fresh, seasonal, local and healthy ingredients. Italian food is simple, tasty and zesty. You can whip up a mouth-watering meal with only a few ingredients, in no time, putting a delectable dinner on the table with a minimum of stress and maximum of taste. My recipes are incredibly accessible – and delicious – perfect to share with your family and friends. I selected these recipes with passion, trying to include many regional – as well as my family's – culinary traditions.
The book is divided into four chapters (first courses, main courses, salads and side dishes, and of course, desserts) plus an appendix with some basic Italian preparations such as fresh egg pasta, orecchiette pasta or pizzoccheri pasta, tomato sauce and mascarpone cheese. All the recipes are written with both metric and imperial measurements.
Italian cooking is not only composed of ingredients, but also of people, and as such it cannot be reduced to the final act of consumption. Italian food is more than only nourishment … it is history, culture, art, health and, last but not least: Family. Nutritional information on some typical Mediterranean ingredients is also presented by Katharine McKeever, an Australian nutritionist who lives in Italy. The Sicilian recipes are accompanied by the beautiful and original art work of Adriana Glaviano, a well-known Italian artist and fashion director.
I hope you will enjoy discovering "la mia cucina italiana" as much I love to share it with you!
The Italian translation is available upon request, no extra charge. Please ask for it in the text box!
Starting from June 2018, Love is Eating is now available in Danish. Please check this site for ordering it!
ORDER NOW
Order now your copy of LOVE IS EATING – Healthy and Tasty Italian Recipes for family Meals.
Please select your shipping destination , so we can calculate the correct shipping rate.
Exclusively online! The author will personally sign any copies bought online. Personalized messages will be included upon request; write your message in the text box!