COOKING CLASSES FOR LOVERS OF ITALIAN FOOD AT LAKE COMO
Why cooking with me?
Do you like authentic and healthy Italian cooking class experiences at Lake Como?  Is it difficult to find real Italian recipes taught in English by an Italian from Como, with measurements in both grams and cups ?  What better way to approach this experience with an Italian life coach (The Mamma Mia! Diet), cook  and medical researcher. 
I was born in Como (Italy) on the shores of the beautiful lake (Lake Como) which bears the same name.I lived abroad for about a decade and I have returned to Italy to enjoy my stunning lake.  Cooking has always been my passion and I am very happy to transmit that. When I was a little girl I loved to cook, spending hours in the kitchen with my mother, making a mess but learning delicious traditional Italian recipes, using local, seasonal, fresh ingredients and preparing everything from scratch. Today, I am still that same little girl playing in the kitchen; I like to experiment with different tastes and textures, tingeing from the Italian culinary culture to create my own personal recipes. However, I try to remain faithful to the authentic Italian traditions, flavors, and ingredients.
In Italy we say that "A tavola non si invecchia" (one does not grow old at the table); the pleasure of good food, wine, and company is such that the passage of time is suspended.
How does it work?
I offer fun, informal, hands-on and personalized classes about healthy Italian cuisine, nutrition, culture, Italian etiquette and language.
I teach in English or Italian, using both metric and imperial measurements.
The idea of my cooking class is to give you the flavor of true Italian lifestyle through food, an experience for all senses. You will live like an Italian for a few hours. You will learn some Italian words while cooking delicious local Italian food as well. At the end of the course you will receive a copy of all recipes prepared together. You can also purchase my book Love is Eating with 10% discount.
I know that some of you are thinking: "There are so many classes available in Como, even cheaper, why should I choose Paola?" But if you know my blog, my books and me you will realize that my approach is different: I try to share my passion, motivation, life experience and scientific knowledge during my classes. In addition, my classes are private, tailored to client needs and not standard.
Visit to the local market (optional)
Italy and many other Mediterranean countries have big street markets. They are part of the culture and are held 2 or 3 days every week, usually in the morning.
In Como there is a big and typical market each Tuesday, Thursday and Saturday where local producers sell their own fresh and seasonal products. Italy is great when it comes to fresh fruit and vegetables, as it offers fantastic products all year round. The market experience is a stimulating assault on the senses: the smell of herbs and spices, fresh seafood, local fresh cheese – not to mention the dozens of rows of colorful produce! Last but not least, you will experience the cultural flavor of how Italians interact when they go to the market.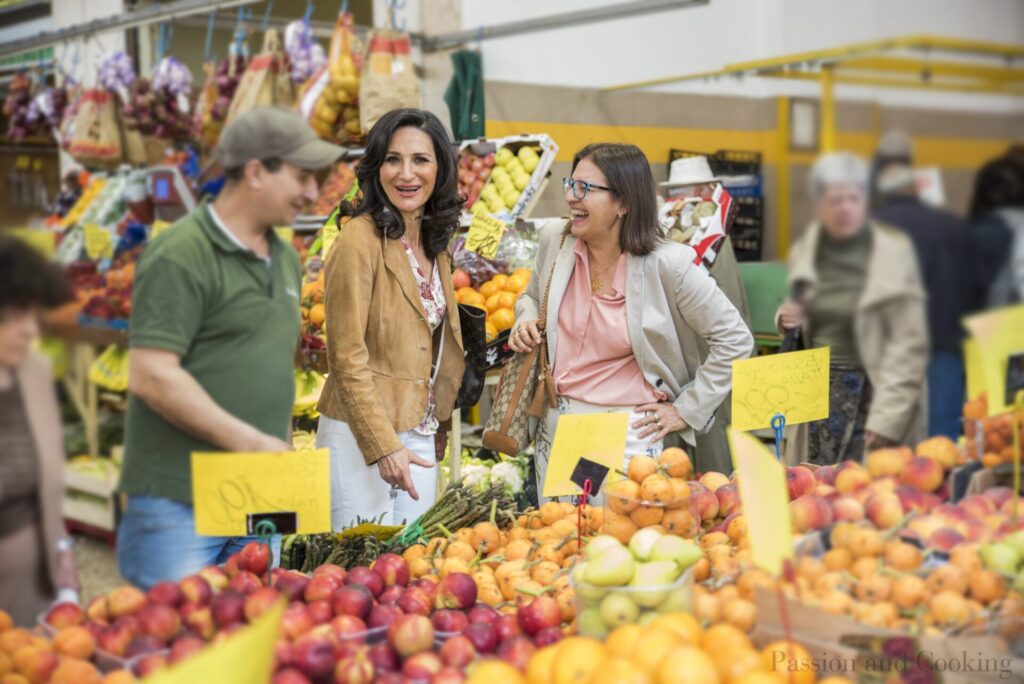 Menu
You will be welcomed with an appetizer and a glass of prosecco just to set the atmosphere.
The menu will include three different recipes using local seasonal ingredients (chosen from my blog according to your taste and diet, including a first course, main course and dessert) and different high quality wines (including local wines) according to the dishes served. It will last for 3-4 hrs. A selection of digestivi will be served after dinner.
Where does it take place?

The lesson will be held in a cozy and family environment (my house in Como), so you can truly understand our culture,  passion for food and "bon ton" at the table.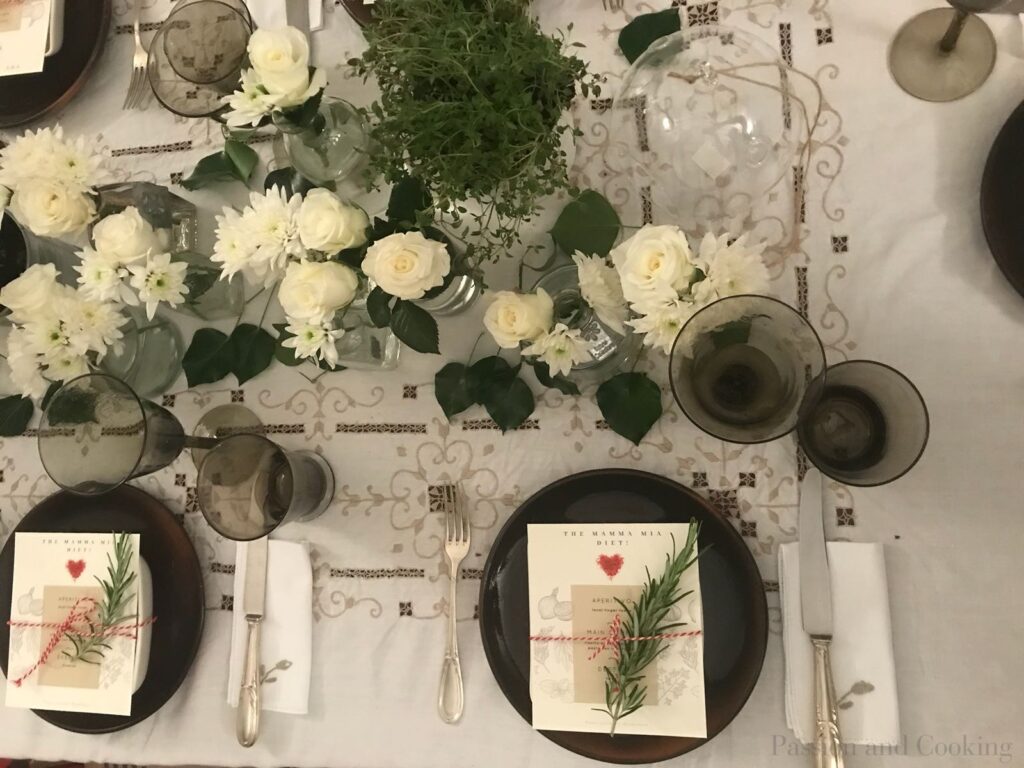 We can eat together all the delicious dishes prepared. It will be a unique and different cooking experience with an Italian family! Last but not least I started a program called: Cook with Celebreties, just to mention a few of them: the Hollywood film producer Edward Kitsis and his beautiful family, Charlie Coyle, one of the most USA hockey player,with his beautiful and sweet wife! Here I was with Ivan Cordoba, the famous Inter socker player!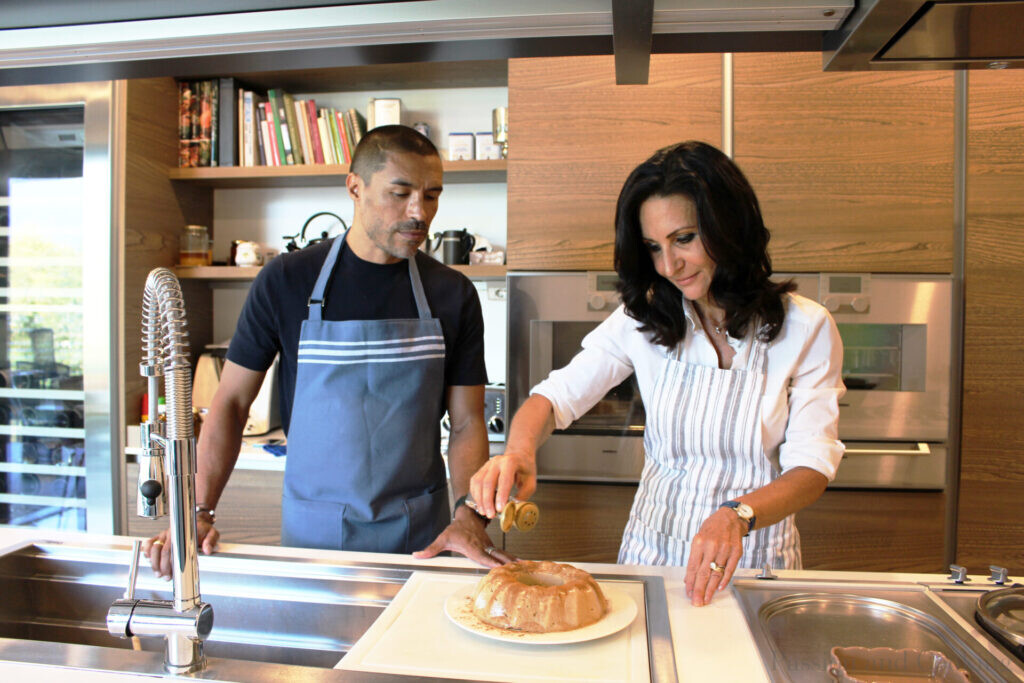 Then cooking with Giorgio Rocca, an Italian ski champion. We made pizzoccheri, a typical Lombardy dish.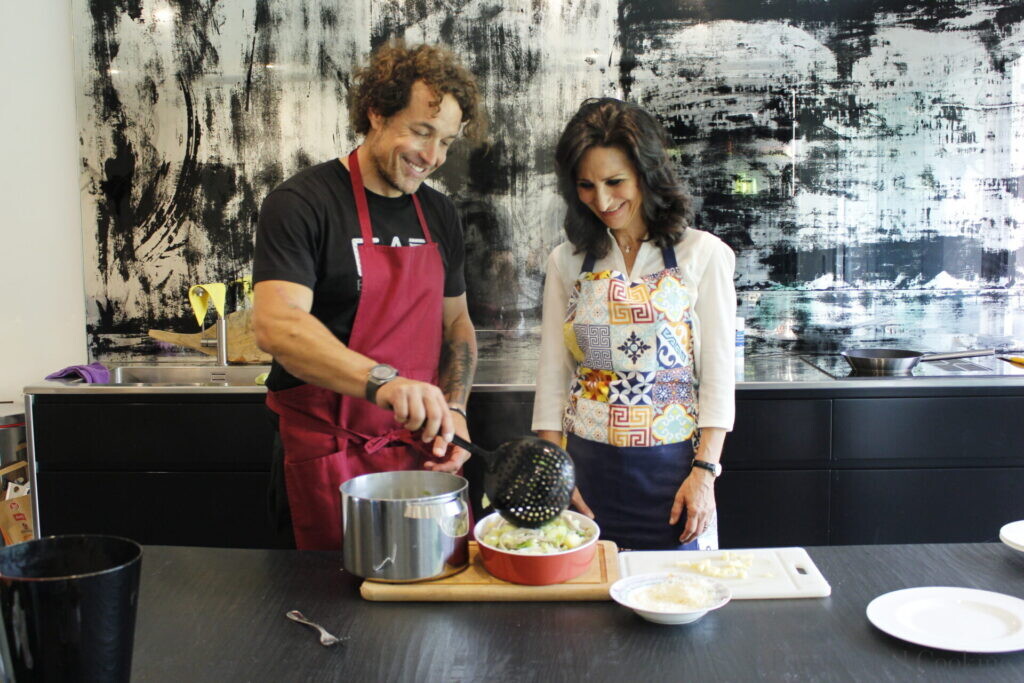 Above all expect plenty of good food and many stories to tell.  In Italy you live and eat well! Come, cook and have fun with me!
Upon request for large groups I can held the cooking class either in a exclusive old palace in Como with a stunning garden where we can have an aperitivo or in a stunning property with vegetable garden producing organic produce. The event includes the rare opportunity of enjoying seasonal local produce, from farm to table, in a relaxing and informal athmosphere.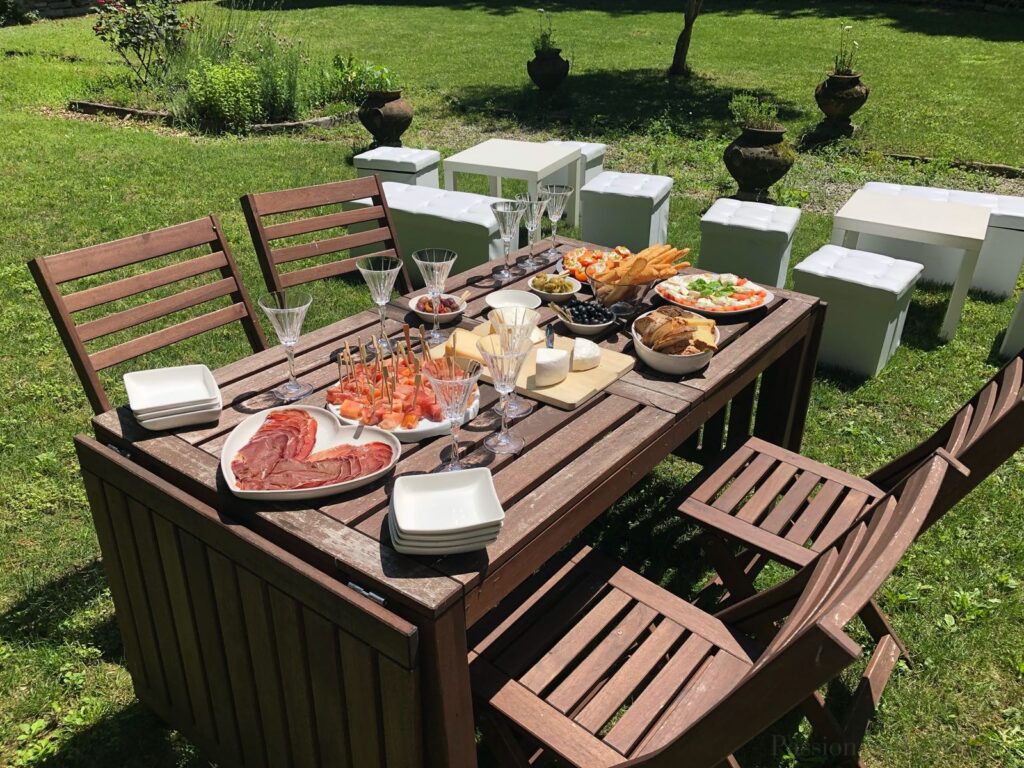 I also organize Italian style private and corporate event experience at Lake Como:  creative ideas, location, logistics, catering or cooking classes, entertainment, flowers, budget control, coordination and final supervision. Just to mention some previous international clients, Bear PM, Shell Petrol, Adobe UK and Compresso CH. Last but not least next year I will organize an unique and luxury retreat at Lake Como based on the Mediterranean diet. Check my post Lake Como Luxury Retreat. 
For further information please contact me at [email protected]