"Cooking is like LOVE. It should be entered into with abandon or not at all" (Harriet Van Horne, Vogue Magazine, Oct. 15 , 1956).
Hi, my name is Paola Lovisetti Scamihorn. I am Italian, born, raised and living in Como (Lake Como, Italy) on the shores of the beautiful lake which bears the same name (Lake Como). I studied Pharmacy at the University of Milan and received a Master in Medical and Pharmaceutical research in Brussels. I published several papers in International scientific journals.  I lived abroad for nearly a decade, first in London, Brussels, then in Innsbruck. Cooking has always been my passion. When I was a little girl I loved to cook, spending hours in the kitchen with my mother, making a mess but learning delicious traditional Italian recipes, using authentic, seasonal, fresh ingredients and preparing everything from scratch. Today, I am still that same little girl playing in the kitchen; I like to experiment with different tastes and textures, tingeing from the Italian culinary culture to create my own personal recipes. However, I try to remain faithful to the authentic Italian traditions, flavors, and ingredients. In Italy we say that "A tavola non si invecchia" (one does not grow old at the table); the pleasure of good food, wine, and company is such that the passage of time is suspended.
For me food is not only nourishing but also comforting, loving, fun, pleasurable, stimulating and well-being.
Cooking, eating healthy food and staying active have always been my life-long passion and – indeed – way of life. My food is simple, tasty and nutritious. You can find my personal selections of daily and healthy recipes in my favorite recipes.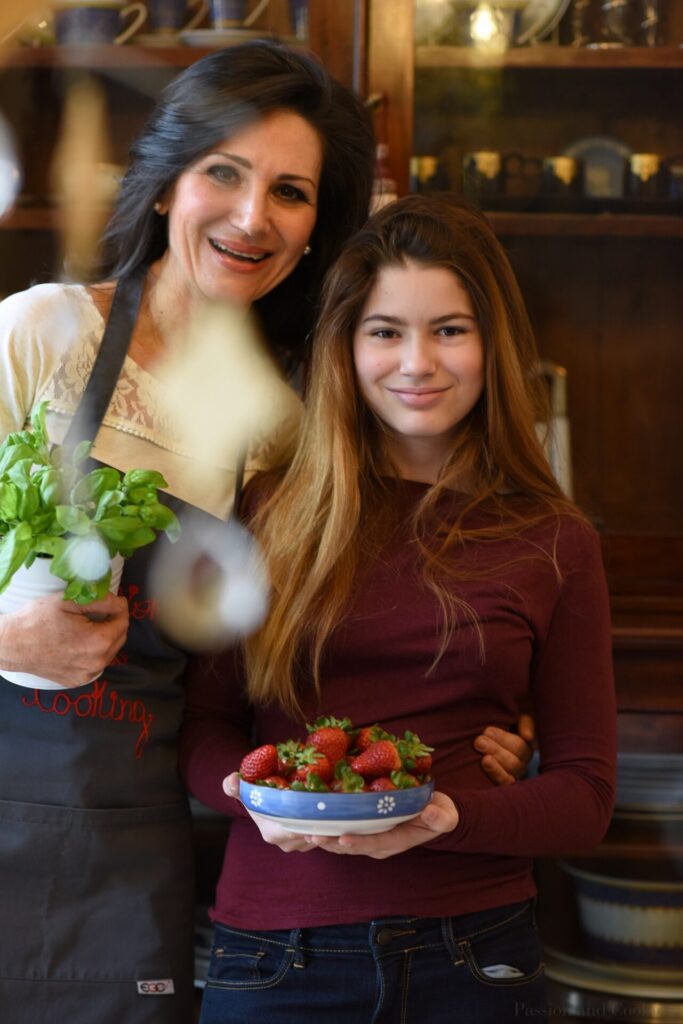 I hope this blog will give you a flavor of the true and healthy Italian lifestyle, through traditional cooking, "an experience for all your senses". The stories, the food, the photographs, all reflect the way I live here in Italy, as an Italian. I personally do the shopping and the cooking of the recipes, as well as the scientific, culinary and cultural research. Even all the pictures are "homemade" in my dining room, since it's the best spot for natural light.
If you would like to read these recipes (as well as some of my other favorites) in Italian, click on UnaDonna  and on JunGlam  (Just in Glamour) online magazines that I write for.  My recipes can also be found at Honest Cooking, Alimentari Magazine and  WetheItalians, a bi-lingual window on the Italo-American world and in Food&Wine magazine. I collaborate with several  Lifestyle Magazine such as Lake Como Tourism. I am a member of Cultural Frame of Food, Italian Food and Nutrition Association.
I collaborate with Lusso e Gusto, a delicious gastronomic journey to Northern Italy and with La Provincia newspaper, Tess magazine, Enjoy magazine and Lake Como Tourism. 
I am very happy to be the Culinary Ambassador for the exclusive Salamander Hotels&Resorts (USA). I have the previlege to know personally the CEO, Sheila Johnson, with whom I share the same health philosophy, based on good food and physical activity.
I had the honor to be selected by Viking Cruises to be part of a video filmed by the American White Rain Films, to promote my beautiful lake – Lake Como and recently I was interviewed. 
I collaborate with LarioMania, an inclusive development project to promote local economies and healthy eating. Good Food, Good Mood in support of the enviroment.
I am happy to be the new President of the Como International Club starting from June 2022. The CIC is a  club that welcomes women of all nationalities in Como, Italy and the surrounding areas. The CIC aims to promote international friendships through social events and an array of cultural activities in and around Lake Como.
I have a you tube channel where I published some videos I have done. In addition you can check my last interview for Join The Ambitious.
I published in Italy and Denmark, Love is Eating, a book about Italian culinary culture.
In 2018 I published in USA and Demark  The Mamma Mia! Diet. The Mamma Mia! Diet is more than just a meal plan—it's a complete lifestyle guide. Based on an improved version of the classic Mediterranean diet, the Mamma Mia! Diet provides you with modernized versions of healthy Italian dishes to help you lose weight while still feeling full and satisfied.
In 2020 I have published in Denmark and hopelly in Italy and UK-  Honestly Healthy: Salads and Smoothies for Every Day Meals – a complete and "tasty" guide on eating seasonal, healthy and tasty produce. In 2021 I have published in Denmark Aperitivo, The Italian Happy Hour, a book that describes the tradion of Italian aperitivo, paring tasty homemade food with a proper drink.
You can check a complete list of my book at the my books page!
Last, but not least, for both lovers of Italian food and the merely curious, I offer fun and informal lessons about Italian cuisine and culture. I teach in English or Italian, using both metric and imperial measurements. If you are interested, or someone you know is, please contact me directly (see cooking classes).
I also organize Italian style private and corporate events at Lake Como:  creative ideas, location, logistics, catering, entertainment, flowers, budget control, coordination and final supervision. Just to mention some previous international clients: Bear PM, Shell Petrol and Adobe UK. Last but not least next year I will organize an unique and luxury retreat at Lake Como based on the Mediterranean diet. Check my post Lake Como Luxury Retreat. 
TO SUBSCRIBE : Please press the follow button on the right bottom corner of any page.  Contact me without hesitating if you require any kind of help.
All images and recipes are original work and are protected by international copyright laws. Copying of any of the content on this blog is plagiarism and is illegal.