OCTOBER GROCERY SHOPPING: PUMPKIN AND MUSHROOMS
Roast filet is an elegant main course for any special occasion.  This cut of meat is extremely tender, and it goes exceptionally well with any side dish.  The earthy flavor of Porcini mushrooms is an outstanding complement to the delicate taste of the filet.
Autumn started a few weeks ago and there are already some of the season's delicacies on our tables: zucca (pumpkin) and funghi porcini (Boletus edulis, cep mushrooms).  The Italian name porcini (pronounced "por-CHEE-nee") means 'piglets', probably to the fondness pigs have for eating them.  Porcini have more proteins than most of other vegetables apart from soybeans.  They are also rich in vitamins, minerals and fiber.
Porcini have a nutty and slightly meaty taste, with a smooth and creamy texture.  Young, small porcini are tastier than older and larger ones.  Certainly these mushrooms have more taste than any other cultivated white mushrooms, giving dishes like a hearty, earthy flavor.
They are delicious raw, as well as when sautéed with garlic, parsley and butter, of if used in pasta, risotto, soup, meat or other recipes.
FILETTO ARROSTO AI PORCINI (ROAST FILET WITH PORCINI)
Preparation Time: 1 hour                                  Servings: 4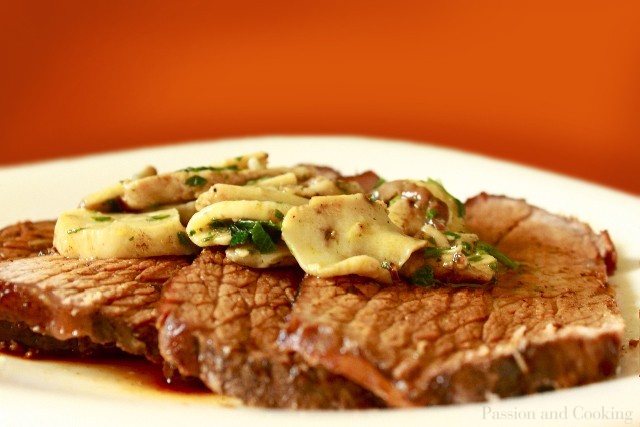 INGREDIENTS
Porcini
450 g (approx. 1 pound) Porcini mushroom
2 garlic cloves, minced
2 tablespoons parsley, finely chopped
2 tablespoons olive oil (Extra Virgin )
Roast Filet
700 g (approx. 1 ½ pound) filet or tenderloin roast
Balsamic vinegar
2 garlic cloves
80 ml (about ⅓ cup) olive oil (extra Virgin)
1 sprig of rosemary
1 sprig of sage
Salt and freshly ground pepper
DIRECTIONS
Preheat the oven to 250 °C (475°F)
Clean the porcini (see Tips, below), and slice the mushrooms vertically into 2 mm (⅛ in) strips.  In a large saucepan over medium-high heat sauté the olive oil and the garlic.   Stir in the mushrooms, salt to taste, cook approx. 7 minutes over medium heat.  Continue to cook for 1-2 min. over a high flame.  Add the parsley and set aside.
Before cooking the filet roast, season with salt and pepper, let stand unrefrigerated (about 30 min.) until it reaches room temperature.  Marinate the garlic with the olive oil for at least two hours.
In a large roasting pan, rub the olive oil seasoned with garlic all over the meat
Lay the rosemary and sage sprigs in the bottom of the roasting pan, and place the filet roast on top of them.  Sprinkle with some drops of  balsamic vinegar on the meat
Place in the oven for about 10-12 min.  Reduce heat to 180°C (350°F) and cook for an additional 25-30 minutes.  Use a meat thermometer to determine when it reaches your preferred level of doneness (50°C/125°F for rare and 55°C/135°F for medium)
Remove roast from oven and let stand (covered with aluminum foil) for about 10 minutes before serving
Heat the mushrooms and serve on top of the meat.
Note: To clean the mushrooms, I suggest to wipe them off with a moist cloth and to use a knife, if necessary, to remove any remaining soil.  Many say not to wash them with water, but I prefer to do this. If you decide to, do it immediately before slicing and cooking, and dry immediately with kitchen paper.  When cooking, it is important to use either a non-stick or steel pan, because other metals in contact with the porcini can release toxic compounds.  Porcini are well suited to drying, and actually the flavor of dried mushrooms is more intense.  Before using dried mushrooms, soak them in hot, but not boiling, water for about twenty minutes; the filtered water can also be used for cooking, enhancing the flavors of other recipes.  -Paola