This year's citrus season is almost over, but we still have time to enjoy this delicious Sicilian salad made with fennel bulb, blood orange and olives. This is a simple and refreshing dish, perfect to serve either for a light lunch or as a side dish with dinner. The sweet and beautifully colored blood oranges complement the delicate anise taste of fennel, while the addition of olives makes this recipe a symphony of flavors for your palate. The brilliant red flesh color of Sicilian blood oranges is due to an antioxidant compound which – although found in many fruits but uncommon to citrus fruit – makes this citrus very special! Fennel is indigenous to the Mediterranean area, but it is now widely cultivated in many other parts of world as well. The fennel bulb, foliage and the seeds are used in various culinary traditions and medicinal purposes. Fennel is very refreshing, purifying and diuretic. The bulb is a crisp vegetable that can be used in many ways: sautéed, braised, grilled, stewed, au gratin or just eaten raw in salads, seasoned with extra virgin olive oil and lemon juice. This salad is not only very beautiful, but it is also delightful and healthy. It is rich in vitamin C, antioxidants and nutrients, and it helps keep you healthy too!
INSALATA DI FINOCCHI E ARANCE ROSSE (FENNEL AND BLOOD ORANGE SALAD)
Preparation time: 15 minutes                   Servings: 4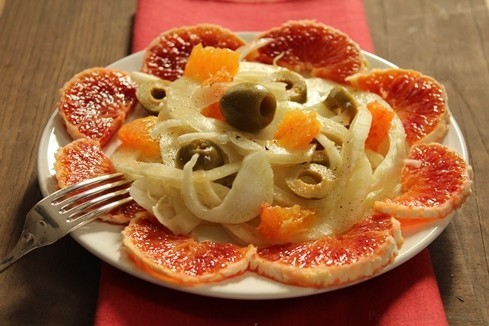 INGREDIENTS
Salad
2 medium fennel bulbs, thinly shaved with a mandolin or meat slicer
2 blood oranges, peeled
12 green olives or black (pitted and sliced) + 4 whole pitted
Dressing
4 tablespoons olive oil (Extra Virgin)
1 teaspoon lemon juice
Salt and pepper to taste
DIRECTIONS
1. Soak the unpeeled oranges in boiling water for about 5 minutes. This method facilitates removal of the white membrane when peeling
2. Using a sharp knife peel the oranges and remove membrane. Cut them into the shape you prefer. I like one in small pieces and the other one in slices
3. Coarsely slice the olives
4. Wash the fennel bulbs, slice off the stalk and any fronds, and thinly slice
5. In a large bowl combine the orange pieces, the fennel and the sliced olives. Toss with the dressing
6. Arrange the sliced orange on a serving plate. Place the salad mix in the middle and decorate with the whole olives. Serve immediately.
Note: When you purchase your vegetables choose fresh fennel; it is even better if you use male fennel without sprouts. Oranges should be firm and plump, and feel free to use either green or black olives, whichever you prefer. Fennel turns brown (oxidizes) quickly, so as soon as you slice it, quickly add the dressing to it. The presence of lemon juice will slow down the process. -Paola