Every season has a flavor all its own. Spring should arrive soon with its delicious vegetables, and asparagus is one them. Actually it is available year-round, but Spring is the best season to enjoy fresh asparagus. Asparagus comes in different colors and varieties: green, white, violet or purple, wild. These varieties are interchangeable in recipes; the major difference is the color of the final dish. This pie is an elegant, impressive, colorful (don't forget that we enjoy food first with our eyes) and flavorful dish made with fresh asparagus (violet-purple variety, typical of Italy), leeks and smoked salmon. It is a delectable dish to serve as a starter or enjoy as a main course accompanied by a salad. The mild onion-flavor of the leeks blends well with the distinct taste of asparagus and the tangy, intensive texture of smoked salmon. Asparagus has been considered a delicacy since ancient times (3000 BC), being used both as a vegetable and a medicine (diuretic). It is low in calories, and it is a good source of vitamins (B1,B6,C), minerals (calcium, phosphorus and iron) and dietary fiber. It is one of my preferred Spring vegetables; I can eat it with just about anything! In fact, it is a versatile vegetable which can be prepared in a number of ways as an appetizer, vegetable side dish, main dish accompanied by eggs, fish or first course with pasta, risotto and soups. Let's enjoy asparagus for the next few months!
TORTA DI ASPARAGI E SALMONE AFFUMICATO
(ASPARAGUS AND SMOKED SALMON PIE)
Preparation time: 55 minutes      Baking time: 20-25 minutes     Serving: 6-8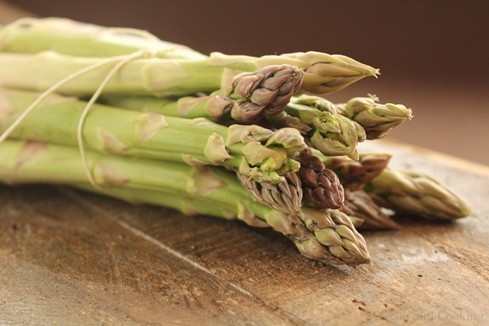 INGREDIENTS
Pasta Brisee
330 g (2 1/3 cups) Italian flour grade 00 or all-purpose flour
160 g (3/4 cup) unsalted butter, chilled and diced
1 egg yolk
80 ml (1/3 cup) cold water
¼ teaspoon salt
Filling
1,350 g (3 pounds, or 3 bunches) asparagus
4 large leeks, white part only, finely sliced
4 tablespoons olive oil (Extra Virgin)
300 ml (1 ¼ cups) heavy cream
200 ml milk
2 tablespoons all-purpose flour
280 g (10 ounces) smoked salmon, coarsely chopped
Salt and freshly ground pepper
DIRECTIONS
Preheat oven to 170°C – 180°C (350°F)
1. Pasta brisee (Brisee crust).  In a large bowl, combine flour and salt. Add butter and work with a pastry cutter (or a fork) until mixture resembles coarse crumbs. Stir in water, a tablespoon at a time. Add egg yolk until mixture forms an elastic ball. Wrap in plastic paper and refrigerate for at least 30 minutes.
2. Filling.  Wash the asparagus under cold running water. Trim ends (see note), bind in bunches (7-8 asparagus each) and blanch in a pan of boiling water or in the microwave with 2 tbsp water on high for 3 minutes. Test doneness with a fork. It should be tender but not mushy. Cut in 1-inch pieces keeping 4 cooked asparagus for decoration
3. While asparagus is cooling, in a large saucepan over medium heat, sauté leeks in olive oil, stirring frequently for about 5 minutes. Add ½ cup of water and cook for about 10 minutes until leeks are soft. Cool for about 10 minutes
4. In a sauce pan mix cream, milk and flour with a whisk. Bring to boil stirring continuously for about 6-8 minutes until it starts to thicken. Cool and set aside
5. In a large bowl mix the leeks, the asparagus, the salmon and the cream mix. Season with salt and pepper
6. Flatten the chilled dough on a lightly floured board, then transfer to a 30 cm (12 in) ceramic or glass pie or tart baking dish. Gently pat the pastry dough in the pan to 4 mm (less than ¼ in) thickness, to line the bottom and sides. The edge should have a slightly thicker layer of pastry than the bottom, about 5 mm (about 1/4 in).
Prick the pastry bottom with the tines of a fork (four or five times is sufficient), then spread with the mix, decorate with some asparagus on top (I like to slice the 4 stalks in half, lengthwise, and arrange them like spokes on the pie)
6. Bake for about 20-25 minutes or until custard is set and golden on top
7. Remove from the oven and allow to sit for about 10-15 minutes before serving
8. Serve in wedges with salmon slices and fresh dill
Note: Look for asparagus with firm heads, stem should be firm but not dried up. Try to bend the stem, you will notice that at certain point it will not break, that's the point where the stem begins to be tough. When shopping for leeks look for ones with straight and firm stalks, dark green leaves without yellow spots (a sign of lack of freshness). Leeks can be kept in the fridge for about two weeks. Before using leeks, trim the dark portion of the leaves down to the light-green white part. Clean carefully to remove any dirt. -Paola