If you have ever celebrated Easter in Italy, you may have tasted our Colomba di Pasqua (Easter Dove). This is an Italian dessert only available at Easter, something in between a cake and a sweet bread loaf. The particularity of this cake is that it is shaped like a dove, the symbol of peace and rebirth. In the Catholic tradition it also symbolizes the Holy Spirit. The cake is very soft and the ingredients are simple, flour, eggs, natural yeast, butter, sugar and candied orange. The dough is shaped into a dove, glazed with a shiny coat of sugar syrup, coarse sugar and sprinkled with almonds before baking. This is the traditional recipe, but nowadays many variations are available, such as glazed with chocolate or filled with creams, and without candied fruit. Colomba traces its origins to the middle of the sixth century. According to a legend, King Alboin conquered Pavia the day before Easter, and a dove-shaped cake was offered to him as a sign of peace. A more realistic story, though, is that at the beginning of the twentieth century the Milanese company Motta started producing an Easter version of Panettone (Christmas cake). You can enjoy it with sparkling sweet wine such as Moscato d'Asti or sweet Passito wine from Sicily. Just like Panettone, it can be served plain or with mascarpone cheese cream flavored with different fruity liqueurs. One of my favorites to use is Limoncello, a delicious after dinner digestivo, frequently served in Italy and Italian restaurants, you might have tasted this delicious liqueur (served chilled) made from Sorrento lemon zest. This liqueur has a very fresh lemon citrus flavor that blends extremely well with the creamy taste of mascarpone and the sweetness of Colomba. Enjoy it and Happy Easter!  Buona Pasqua!
COLOMBA CON CREMA AL LIMONCELLO
(EASTER CAKE WITH LIMONCELLO CREAM)
Preparation time: 10 minutes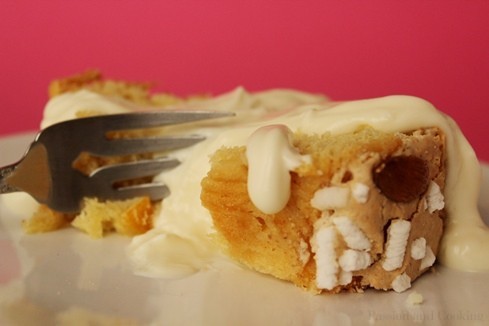 INGREDIENTS
250 g (9 oz) fresh mascarpone cheese at room temperature
3 tablespoons powdered sugar
110 ml (about 1/2 cup) heavy cream
6-7 tablespoons Limoncello
DIRECTIONS
1. In a small bowl mix the cream and Limoncello
2. Place the mascarpone and sugar in a medium mixing bowl. Use electric mixer to whisk for a few seconds (at low speed) or until sugar dissolves. Then,  add the cream-liqueur mix.  Mix with a spoon,  You can serve the mascarpone either on top of the Colomba slice or aside.
Note: Colomba is a simple cake but the preparation is laborious because the raising time occurs in different stages and the temperature of the room is critical. There are so many good brands available on the market, and many pastry shops produce their own Colomba Artigianale or Artisan Colomba. -Paola