This is refreshing and healthy salad made with chickpeas, olives, tomatoes and onions, flavored with olive oil and fresh basil making this salad even more delicious.  This is a perfect vegetarian dish for a light summer lunch and is best served fresh "just made" and at room temperature to heighten the flavor of tomatoes and basil, although you can also refrigerate it and eat the next day.
Chickpeas – or garbanzo beans – are legumes rich in protein, vitamins (vitamin A and B vitamins), minerals (magnesium, potassium and iron) and fiber, but also low in fat and most of which are polyunsaturated fatty acids: good friends for your heart!!! They are one of the earliest cultivated legumes: 7,500 year-old remains have been found in the Middle East. They are largely cultivated in the Mediterranean area and are well known in Italian cuisine. The Mediterranean chickpeas have lighter color, larger seed and smoother coat in comparison to Asian ones. I love their buttery taste, like a combination of chestnuts and beans,  and I enjoy them in everything: salads, stews, pasta (the delicious pasta e ceci), in fritters and farinata.
INSALATA DI CECI (CHICKPEA SALAD)
Preparation time: 1h 40 minutes       Cooking time: 70-90 minutes        Servings: 4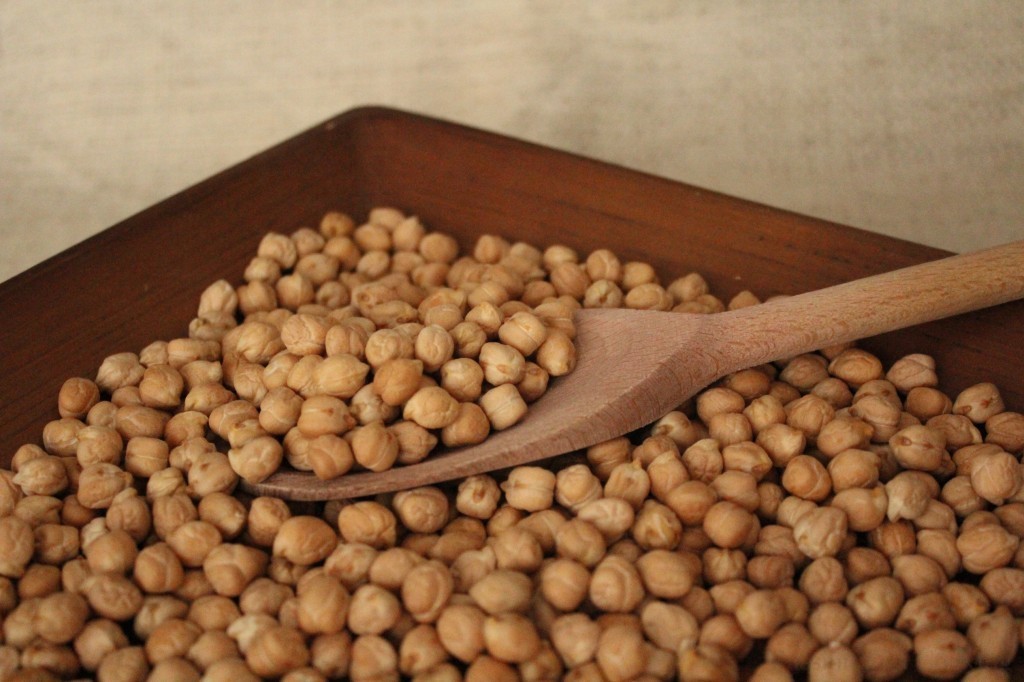 INGREDIENTS
280 g (10 oz) dried chickpeas
1 bay leaf
450 g (1 pound) cherry tomatoes
1 shallot, finely sliced
3 tablespoons Taggiasche olives
1 tablespoon lemon juice
3 tablespoons olive oil (Extra Virgin)
Basil
Salt and freshly ground pepper
DIRECTIONS
Day 1
You should start the day before you plan to serve the salad.
1. Rinse the beans under running water, then place in a large glass bowl with bay leaf.  Fill bowl with plenty of water to cover generously (about 5 cm, 2 inches above the level of the chickpeas).  Cover with a lid and soak overnight.
Day 2
2. Drain soaking water, put the chickpeas into a pan with fresh water and cook on low heat and covered with a lid until they are tender, from 70 to 90 minutes, depending on how fresh the chickpeas are. A few minutes before they are done add some salt. The cooking time should be indicated on the package
3. Fifteen minutes before removing the chickpeas from the stove , cut the tomatoes, add some salt and let rest for 10 minutes
4. Drain tomatoes in a colander.  Slice onion and chop basil.  In a large bowl mix all together with the olives and olive oil
5. Drain the chickpeas well and remove the skin.  Add the lemon juice and mix.  Add to the vegetable mix
6. Season with salt and pepper to taste. Let the salad rest for 10-15 minutes and serve at room temperature.
Note: You can use canned chickpeas without the skin (about 1 1/2 pounds) but the taste of dried ones is more buttery and exquisite.  If you use canned ones drain into a colander and rinse with cold water until no more foam appears.  -Paola