Let's party! It is Carnival! Carnival, well-known in the USA for the Mardi Gras celebrations, is one of the most joyous holiday of the year. We cannot refrain from masked balls, parades and street parties. This festive event is also celebrated with special treats prepared only during this season, for example tortelli (or castagnole, bugie, zeppe… whatever you like to call them). There are a lot of names for the same delicious fritters, loved by children and adults. I remember my grandmother preparing tortelli as well as chiacchiere, another Carneval treat! This event was part of our annual Carnival celebration. Tortelli are typically of Lombardy (my region) and can be enjoyed plain or, if you want to make them even more delicious, with chocolate cream or custard. The dough is smooth but not liquid and, when dropped in hot oil, swells to form lovely little puffs.
TORTELLI DI CARNEVALE (CARNIVAL FRITTERS)
Preparation time : 20 min. Cooking time: 20 min. Servings: 30 tortelli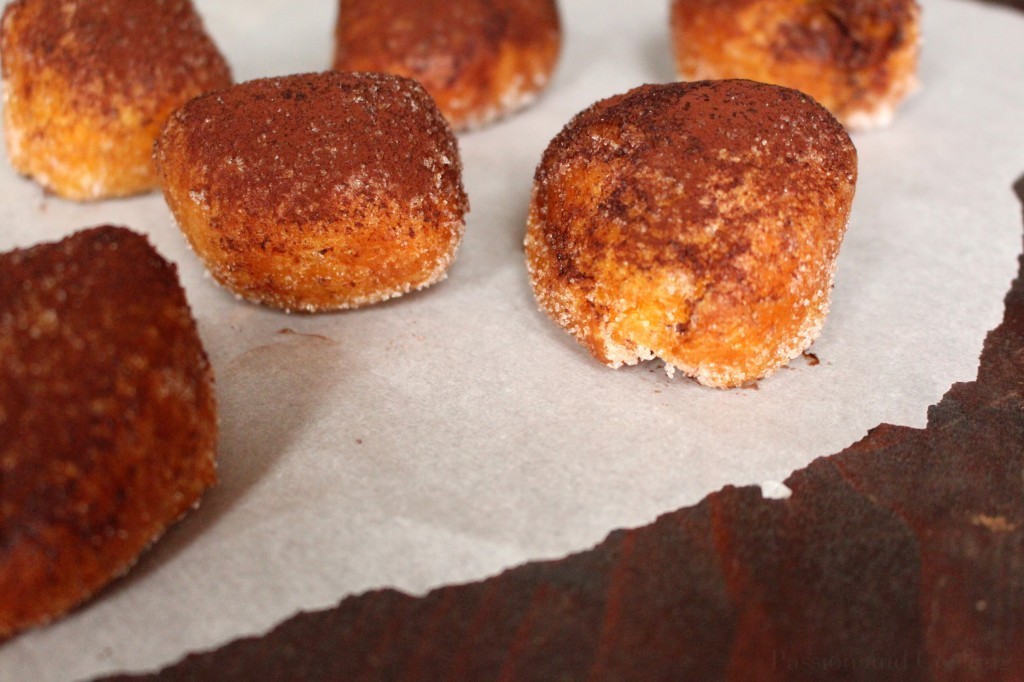 INGREDIENTS
250 ml ( about 1 cup) milk
60 g (2.15 oz) butter, cut into cubes
50 g (¼ cup) granulated sugar
1 lemon, grated zest
1 pinch of salt
160 g (1 cup+ 2 tablesppons) all-purpose flour
7 g (½ teaspoon ) baking powder
4 eggs
Olive oil for frying
Chocolate cream (like Nutella)
Cocoa powder
DIRECTIONS
1. Sift the flour with the baking powder. Set aside
2. Pour the milk into a medium saucepan and add the butter, sugar, lemon zest and salt. Bring to a boil over medium heat, stirring with a wooden spoon. Remove from heat after 1 minute
3. Add the flour and baking powder, stirring energetically until the mixture is compact. Put on heat (medium-low) and cook for about 2 minutes. The dough should be a compact ball
4. Pour it in a bowl and let cool
5. Add the eggs one at a time with an electric whisk until the batter is smooth but not liquid
6. In a pan heat the frying oil to 170°C-340°F. If you do not have a thermometer, use this simple method. Place a cube of bread in the oil (approximately 2.5 cm). If it turns brown after 60 seconds, the oil is ready for frying. Slide a spoonful of batter (size of walnut) in the oil with the aid of another spoon. Wait until it is puffy and golden brown, then turn it over. It will take 4-5 minutes to cook tortelli perfectly
7. Remove from the oil with a slotted spoon and place on paper towels to absorb excess oil. Allow to cool. Fill with chocolate cream using a patisserie syringe. Roll in granulated sugar and sprinkle with cocoa powder.
Note: Frying is a dry heat cooking method …read more in the Chiacchiere post. Paola