Do you like both traditional tiramisù  and lemon? This is the dessert for you, fresh and fragrant, especially in the summertime. Originally a recipe from Campania, where the lemon trees of Sorrento and Amalfi, with their intense citrus flavor, are the real cuisine stars.
Tiramisù is prepared with fresh mascarpone cheese (see homemade mascarpone), lemon juice and limoncello liqueur. My recipe does not use eggs, as many people are concerned about consuming raw egg. The addition of yogurt and fresh cream (for a lighter version, you can substitute the cream with milk) makes it even creamier and smoother. Limoncello is used to prepare the solution in which the ladyfingers are dipped; the proportion water-to-limoncello is personal. For those who like a no alcoholic version, I recommend adding some adding lemon juice and a tablespoon of sugar to the water.
The preparation is quick and easy; it requires only a few hours for setting up in the fridge. Actually it tastes even better if you prepare it one day in advance. Tiramisù is the perfect dessert after dinner, since lemon has digestive properties. You can serve it in single-serving cups decorated with lemon zest, adding a touch of color and flavor. I recommend always using organically-grown lemons.
Another dessert prepared with lemons that I love in the summertime is lemon sorbet.
TIRAMISU' AL LIMONE (LEMON TIRAMISU')
Preparation time: 15 minutes                     Cooling time: 3 hours                      Servings: 4-8 (small cups)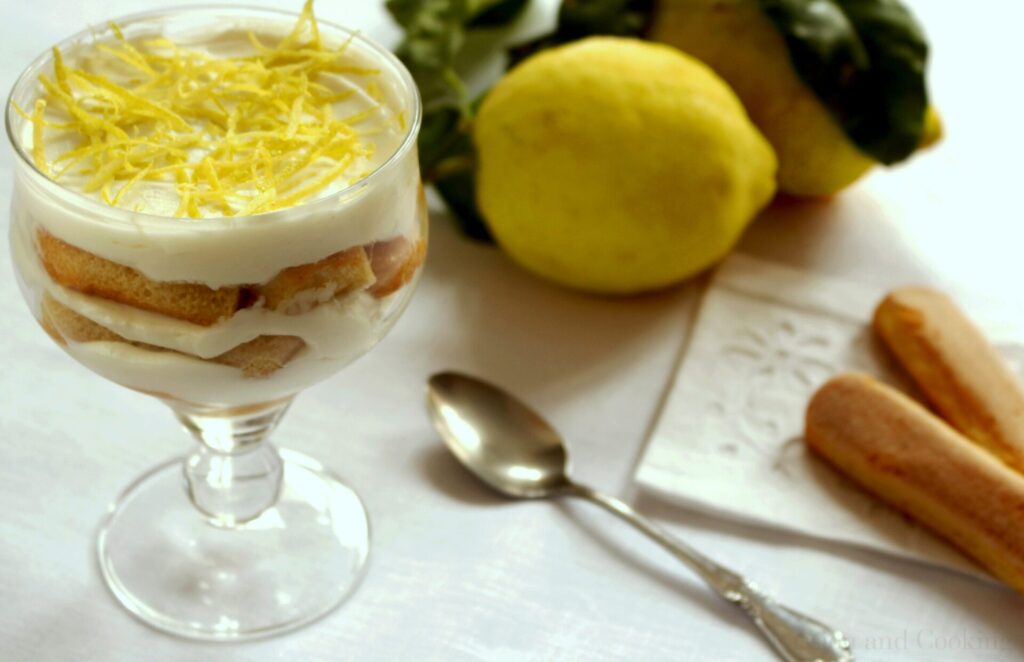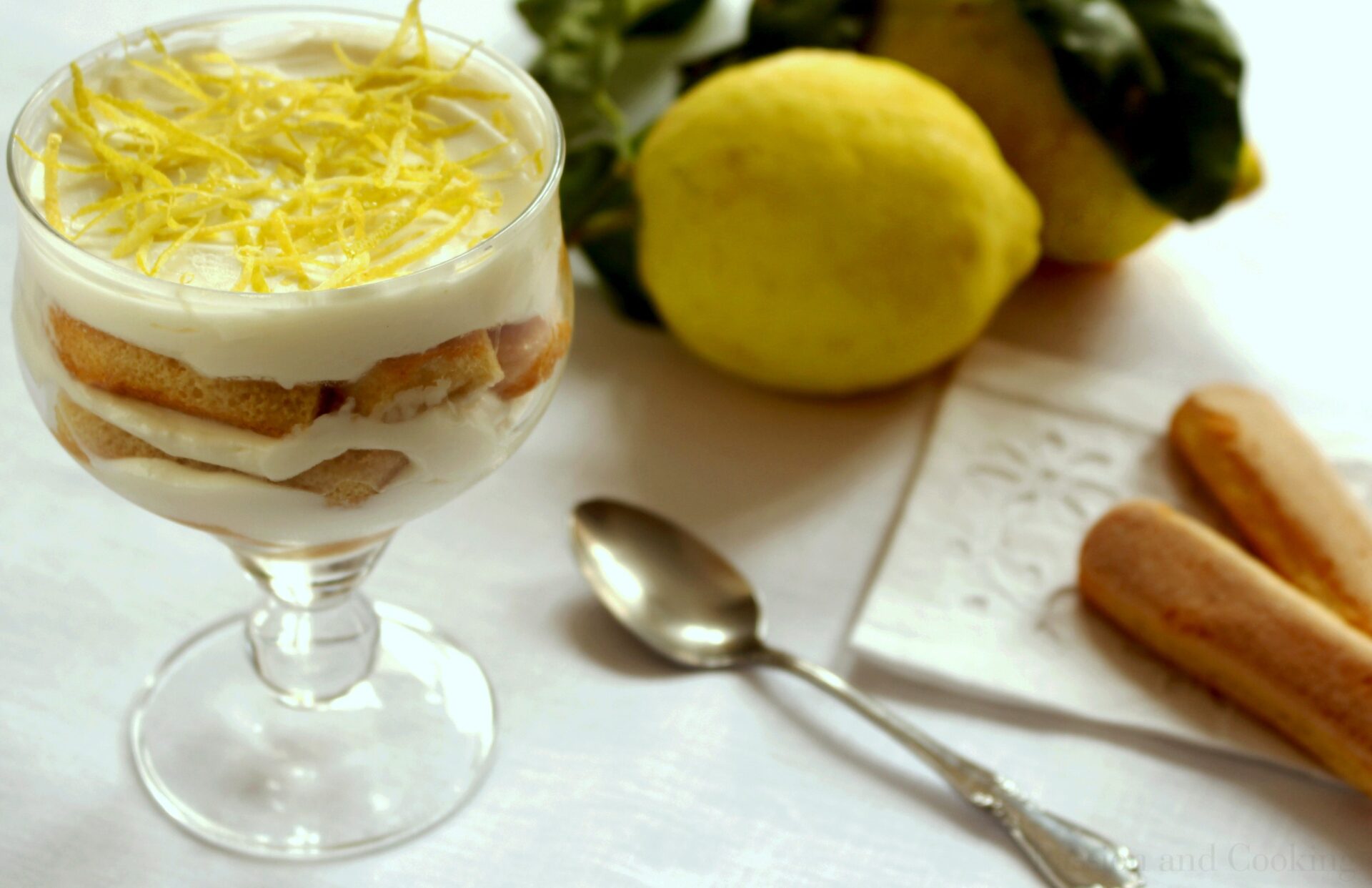 INGREDIENTS
750 g (28 oz) fresh Italian mascarpone cheese, at room temperature
90 g (1 scarce cup) powdered sugar
60 ml (1/4 cup) whole milk yogurt
60 ml (1/4 cup) fresh cream
2 lemons, juice filtered
160 ml (3/4 cup) limoncello
120 ml (1/2 cup) cold water
250 g (9 oz) ladyfingers
Lemon peel, cut into julienne strips
DIRECTIONS
1. In a medium bowl mix mascarpone with sugar using a whisk. When the mixture is very creamy, stir in the yogurt, cream and lemon juice and mix well
2. In small bowl dilute limoncello with water and soak ladyfingers each just for a few seconds, turning once
3. Cover the base of the cup (about 8 – 10 cm, 4 inch diameter) with a layer of ladyfingers, then spread on a layer of cream, about 1 cm (1/2 inch) thick. Cover with more cookies and then with another layer of cream. Repeat again, topping out with mascarpone cream. Cover with plastic wrap and put in the fridge for about three hours. Let stand at room temperature about 15 minutes before serving. Garnish with lemon peel and serve.
Note: If you prefer to use homemade mascarpone, I suggest adding 2 ml of lemon juice more than the recipe for homemade mascarpone, so your mascarpone will have a more intense lemon flavor. -Paola