Panzanella is a cold salad, full of summer flavors. It originated in Florence and had conquered all of Tuscany by the beginning of the nineteenth century. It is a rustic dish with a peasant birthright. In the past panzanella was made with basic ingredients such as crusty, day-old bread, tomatoes, onions and fresh basil tossed with a vinaigrette dressing. It is an example of how people did not waste any food….there was not a lot! Nowadays there are many richer variations with the addition of other ingredients. My recipe includes other vegetables and tuna, it is a Mamma Mia! Diet version. Actually, I tried this one in Viareggio in one of the outdoor restaurants along the beautiful beach and loved it. I made it to share with you as soon as I returned home.
It is very easy and quick to prepare. It should rest in the fridge for a while to allow all the flavors to mingle. If you happen to visit either Tuscany or Umbria in August, you may very well encounter some festivals dedicated to this delicious dish.
PANZANELLA (TUSCAN BREAD AND TOMATO SALAD)
Preparation time: 10 min.       Cooling time: 1 h          Servings: 4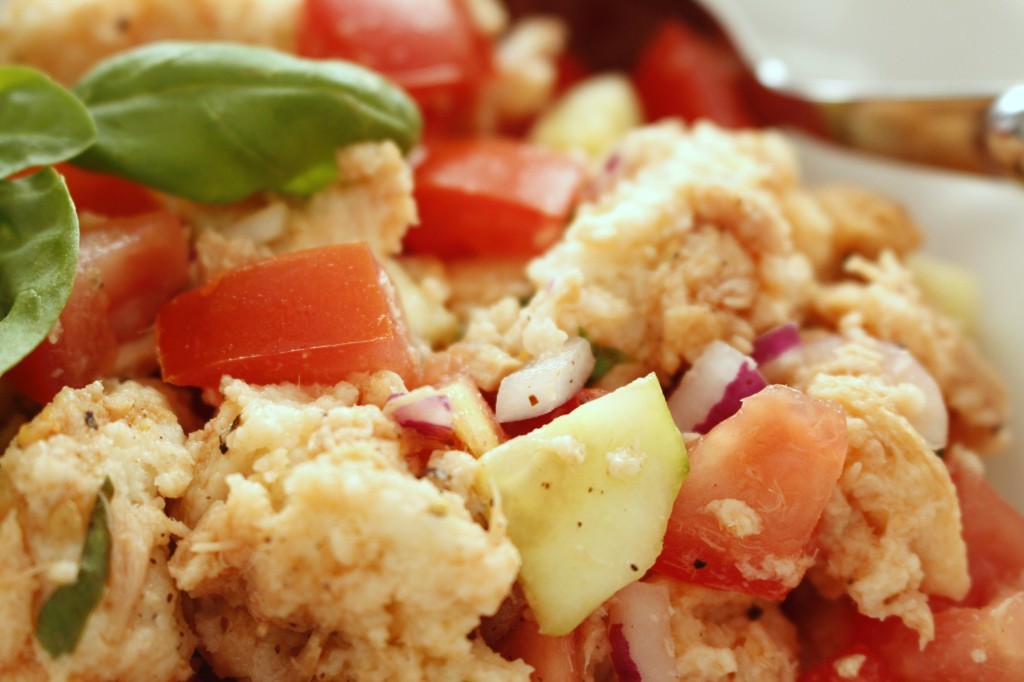 INGREDIENTS
200 g (7 oz) Tuscan bread, or whole grain bread,  cut into small pieces
3 Roma tomatoes, cut into cubes
2 medium cucumbers, peeled and cut into small pieces
1 medium red onion, finely sliced
120 g (4 oz) canned tuna in olive oil
2 tablespoons white wine vinegar
2 tablespoons water
12 fresh basil leaves
Salt and freshly ground pepper
DIRECTIONS
1. In a big bowl place the tomatoes, cucumbers, onion and season with salt and pepper
2. Add bread, vinegar and water. Toss all the ingredients together. The bread should be wet but not soggy. Break it up with a fork
3. Add tuna and mix well
4. Taste and add more salt, pepper and vinegar, if necessary
5. Tear in basil and refrigerate for 1 hour. Serve cold.
Note: I use tuna canned in olive oil, and therefore I do not add any oil to my panzanella. Instead if you use tuna canned in water, I would recommend adding 2-3 tablespoons of oil olive (extra-virgin of course!). You can substitute Tuscan bread with other hearty Italian breads, such as a Pugliese loaf. Paola