An intense almond flavor, perfect for a coffee break.
You may wonder why this sbrisolona is called "fake". It is certainly real enough to eat! The name recalls the typical cake from Mantua (a beautiful city in the south of Lombardy) but with some differences. The sbrisolona cake is dry and crunchy (in fact, you have to break it with your hands) and has no filling. It was created as a peasant's sweet in Lombardy, traditionally prepared with cornmeal flour, lard and hazelnuts – all simple, easy-to-find ingredients in the past.
The recipe that I am proposing falls somewhere between a "real" sbrisolona and a filled pie, hence the "fakeness". The crust is prepared with all-purpose flour and a small addition of finely ground cornmeal flour for flavor, as well as baking powder to make it softer. I replace the lard with butter, because it has a more delicate flavor, and the hazelnuts with almonds. I add the almonds not to crust, but to the filling, which is a blend of ricotta, amaretti cookies, almonds and amaretto di Saronno, a liqueur with a fragrant and inimitable taste.
You can serve this cake either as an after-dinner dessert or for a coffee break.
TORTA FALSA SBRISOLONA (FAKE "SBRISOLONA "CAKE)
Preparation time: 60 minutes      Cooking time: 45 minutes        Servings: 6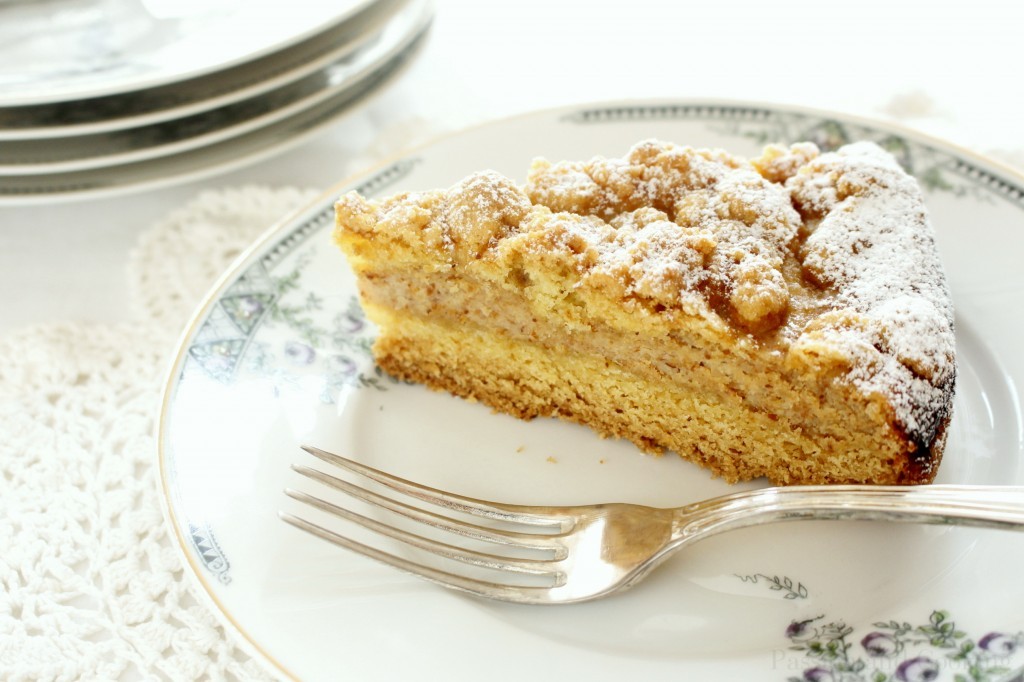 INGREDIENTS
Dough
150 g (3/4 cup) sugar
245 g (about 1 3/4 cups) all-purpose flour
50 g (heaping 1/4 cup) finely ground cornmeal flour
1 pinch of salt
12 g (2 1/2 teaspoons) baking powder
110 g (4 oz) cold butter, cut into cubes
1 large egg
Filling
2 eggs
700 g (25 oz) ricotta cheese
150 g (5 oz) finely crushed amaretti
75 g (3 oz) blanched almonds, toasted and finely chopped
1 teaspoon vanilla extract
3 tablespoons amaretto liqueur
Powdered sugar for decoration.
DIRECTIONS
Preheat the oven to 180 ° C (350 °F)
1. For the dough. Mix all dry ingredients (sugar, flour, salt and baking powder). Add butter and work with a pie cutter until the mixture is sandy. Add one egg to the mixture. Work first with a spoon and then knead with your hands. Form a ball, wrap in cling film and leave in the fridge for about 20 min.
2. Toast almonds in a frying pan for a few minutes on medium-low heat. Allow to cool
3. Finely chop almonds in a food processor
4. In a bowl beat the ricotta with eggs and vanilla extract, add to the mix amaretti cookies and almonds, then the Amaretto di Saronno liqueur. Mix well to get a homogeneous mixture
5. Spread 2/3 of the dough on the bottom of a 25 cm (10 inch) spring-form pan previously covered with wet and wrung-out baking paper. Pour in the ricotta mixture and cover with the rest (1/3) of the pastry crumbled with your hands.
6. Bake for about 45 minutes until golden brown on the surface. Allow to cool on a rack. You can serve with some powdered sugar on top. Paola