The Neapolitan pastiera was a typical dessert for the Easter Sunday in Campania, but nowadays it is prepared all year long. It is too good to be enjoyed only at Easter! It is a delicious pie prepared with pasta frolla (Italian pie dough) filled with grano cotto (cooked wheat kernels), ricotta cheese, candied fruits, eggs and sugar. A key ingredient is the grano cotto (see note for more information) a staple in the baking section of every Southern Italian grocery store, sometimes even labeled "per pastiera". Another key ingredient is fresh ricotta, either cow's milk ricotta or, more common in Campania, goat's or buffalo's milk ricotta. Orange flowers' water gives a unique flavor; if you cannot find it you can substitute with freshly grated orange zest. The traditional recipe adds cinnamon too, but I prefer a distinct citrus flavor, therefore I omit it.
The origin of pastiera is very old and dates back to the Pagan cults during which it was prepared in spring to celebrate the arrival of summer. Over time it became the symbol of Easter in Naples but also around Reggio Calabria (Calabria). The name seems to derive from the fact that pastiera was made by the Neapolitan housewives using pasta instead of cooked wheat. Tradition calls for the pastiera to be prepared on Thursday or Friday before Easter Sunday, and then stored in a cotton cloth until Easter. I usually prepare it the day before, so that the flavors and the aromas blend better. This recipe, to be honest, is my good friend Silvia's recipe, the pastiera expert! Happy Easter to you all, my dear readers!
PASTIERA NAPOLETANA (NEAPOLITAN PASTIERA)
Preparation time: 1 ½ hours         Baking time: 50-55 minutes         Servings: 8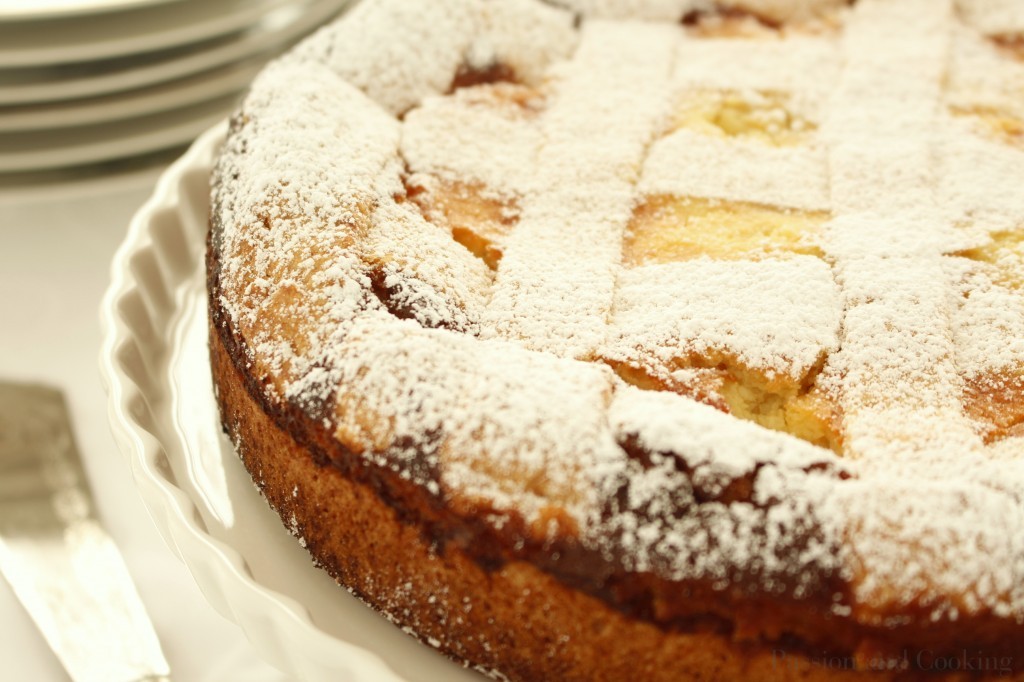 INGREDIENTS
Filling
350 g (12.5 oz) precooked wheat kernels
45 g (3 tablespoons) butter
600 ml (about 2 2/3 cups) milk
1 vanilla pod
1 organic lemon, zest
350 g (12.5 oz) goat's or cow's milk ricotta cheese
250 g (1 cup + 4 tablespoons) sugar
100 g (about 4 oz) candied fruit (orange and lemon)
4 egg yolks
3 egg whites
25 ml (2 tablespoons) orange flower water
Pasta frolla
(see recipe crostata)
Decoration
Powdered sugar
DIRECTIONS
1. In a saucepan, cook the wheat, sugar (2 tablespoons), butter, milk, lemon zest and vanilla (scrape the pod halves and use the seeds) for about an hour over medium-low heat, until the mixture resembles creamy oatmeal (if you like it very creamy and smooth, you can use an immersion blender after cooking). Once ready, pour the mixture into a bowl and let it cool. Once cooled, in a large bowl combine the cooked wheat mixture, the ricotta, the remain sugar, the candied fruits, the egg yolks and the orange water.
2. Preheat the oven to 170 °C-180°C (350°F) and position the rack in the middle of the oven
3. Once the pasta frolla dough has rested, roll out ⅔ of the dough (5 mm thick, about ¼ inch) to cover the bottom of a 25 cm (10 inch) springform pan previously lined with parchment paper. The edges should have a slightly thicker layer of pastry than the bottom. Prick bottom with the tines of a fork (four or five times). Beat the egg whites until stiff and add to the filling using a spatula. Pour the filling into the pan. On a floured surface roll out the rest of the pastry and cut some strips (about 5 mm ¼ inch) wide and arrange in a lattice design over the filling
4. Bake for about 50-55 minutes until completely set. Turn off the oven, open the oven door slightly and leave to cool. Once cool, unmold, cover with a clean cloth and let rest on a grid for at least 12 hours. Before serving, sprinkle with powdered sugar.
Note: If you cannot find cooked wheat kernels, barley is a good substitute. Instead if you decide to prepare you own cooked wheat, choose soft wheat. Soak it in a triple volume of water for at least 20 hours. Drain the water and add some fresh water (about 3 cups of water per 1 cup of wheat). Cook for about 2 ½ hours, at low simmer, until the kernels are tender and liquid is completely absorbed. – Paola