An intense hazelnut flavor, a perfect cake for a coffee break or an after dinner dessert.
The crust is prepared with pastry flour, hazelnut flour, cocoa powder and a small amount of finely ground cornmeal flour for flavor, as well as baking powder to make it softer. The topping is prepared with eggs, sugar and ricotta cheese that gives a moist texture. The addition of chocolate cream and hazelnuts on top of the crust makes this cake irresistible. I use "nocciole del Piemonte" (hazelnuts from Piedmont) because they have a fine and delicate flavor in a crisp nut. This region in Italy is well known for hazelnuts and chocolate production. We should remember that dried fruit is very healthy because it contains unsaturated fats, high content of vitamin E and antioxidant agents. It is highly recommended to eat one or two nuts a day!
TORTA DI RICOTTA E NOCCIOLE (RICOTTA AND HAZELNUT CAKE)
Preparation time: 2 hours                     Baking time: 45 minutes                         Servings: 8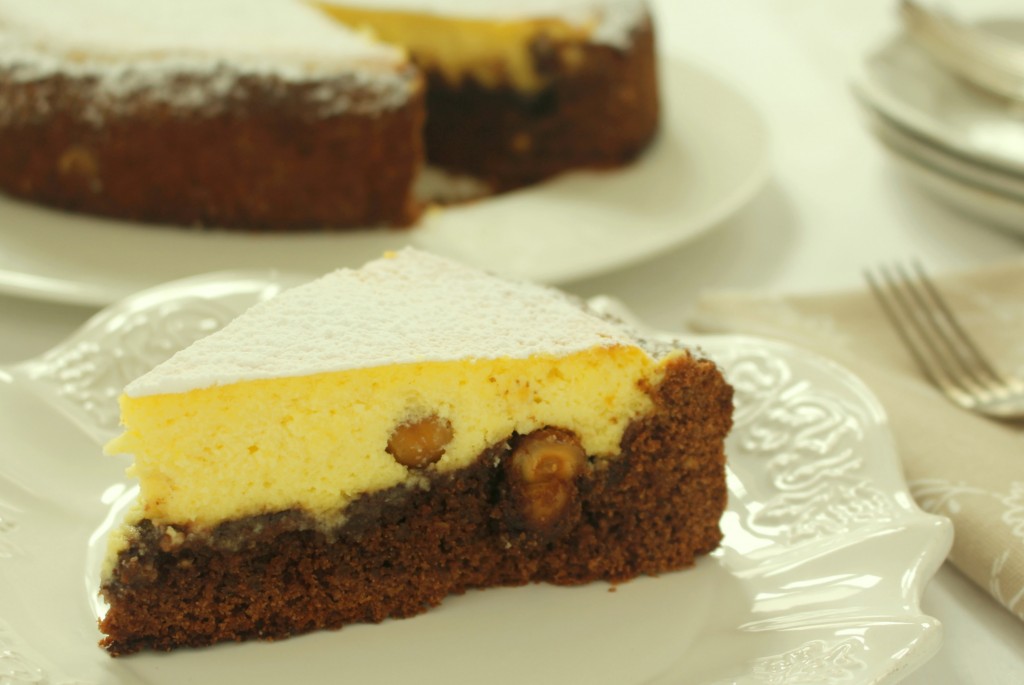 INGREDIENTS
Dough
200 g (about 1 1/2 cups) Italian Grade 00 flour or pastry flour
35 g (1/4 cup) finely ground cornmeal flour ("fioretto") or corn starch
70 g (2/3 cup) hazelnut flour
20 g (¼ cup) cocao powder
120 g (½ cup + 1 tablespoon) granulated sugar
1 pinch of salt
5 g (1 teaspoon) baking powder
130 g (1/2 cup + 2 tablespoons) cold butter, cut into cubes
2 medium eggs
Filling
4 egg yolks
140 g (2/3 cup) granulated sugar
500 g (about 1 pound) ricotta cheese
30 g (scarce ¼ cup) potato or corn starch
75 g (3 oz) whole hazelnuts
3-4 tablespoons chocolate and hazelnut cream
Powdered sugar for decoration
DIRECTIONS
Preheat the oven to 180 °C (350 °F)
1. For the dough. Mix all dry ingredients (sugar, all flours, cocoa, salt and baking powder). Add the butter and work with a pie cutter until the mixture is sandy. Add the eggs to the mixture. Work first with a spoon and then knead with your hands. Form a ball, wrap in cling film and leave in the fridge for about 1/2 to better 1 hour
2. For the filling. In a bowl beat with an electric whisk the egg yolks and the sugar. The yolks should be creamy and pale yellow. Add the potato starch and the ricotta- Mix well to get a homogeneous mixture
3. On a lightly floured board roll the dough about 30 cm (12 inch) diameter. Spread the dough on the bottom and the sides of a 25 cm (10 inch) springform pan previously covered with wet and wrung-out baking paper. Prick the pastry bottom with the tines of a fork (four or five times is sufficient). Spread a thin layer of chocolate cream and homogeneously distribute the hazelnuts. Pour in the ricotta mixture
6. Bake for about 45 minutes until golden. Allow to cool on a rack. You can serve with some powdered sugar on top.
Note: This cake becomes extra special when the slice is served on a thin bed of warm vanilla sauce. Mmmm! – Paola