Sauteed cauliflower with pine nuts and raisins is another story: tasty and appetizing. Once you taste it you will never go back to boiled cauliflower. This recipe is very easy to prepare and extremely delicious to eat. You can enjoy it as a side dish with grilled chicken breast or other grilled meat. Cauliflower is common in central and southern Italy – and particularly in Sicily, Apulia, Campania, Latium and Tuscany. This vegetable is named according to the type and the color of florets. In this recipe I use three types of cauliflower : white, orange and purple. They taste pretty much the same, but the different colors make this recipe very impressive. The cauliflower of Naples, for example, presents white florets, and it can grow to be quite big. The color of the orange one comes from a genetic mutation that allows the plant to hold more beta carotene. It also contains about 25% more vitamin A than white cauliflower. The violet cauliflower of Sicily, very close to purplish red, is rich in the antioxidant anthocyanin, which is also found in red cabbage and red wine. Cauliflower is healthy and nutritious; it has a low calorie content, it is rich in minerals (phosphorus, potassium and copper), vitamin B and amino acids.
The taste of this dish, savory and sweet, reminds me of the Arabic traditions. In particular, the Sicilian cuisine was strongly influenced by the Arab domination and shares close historical, cultural and "flavorful" ties to it.
CAVOLFIORE SALTATO IN PADELLA (SAUTEED CAULIFLOWER)
Preparation time: 15 minutes       Cooking time: 13 minutes            Servings: 4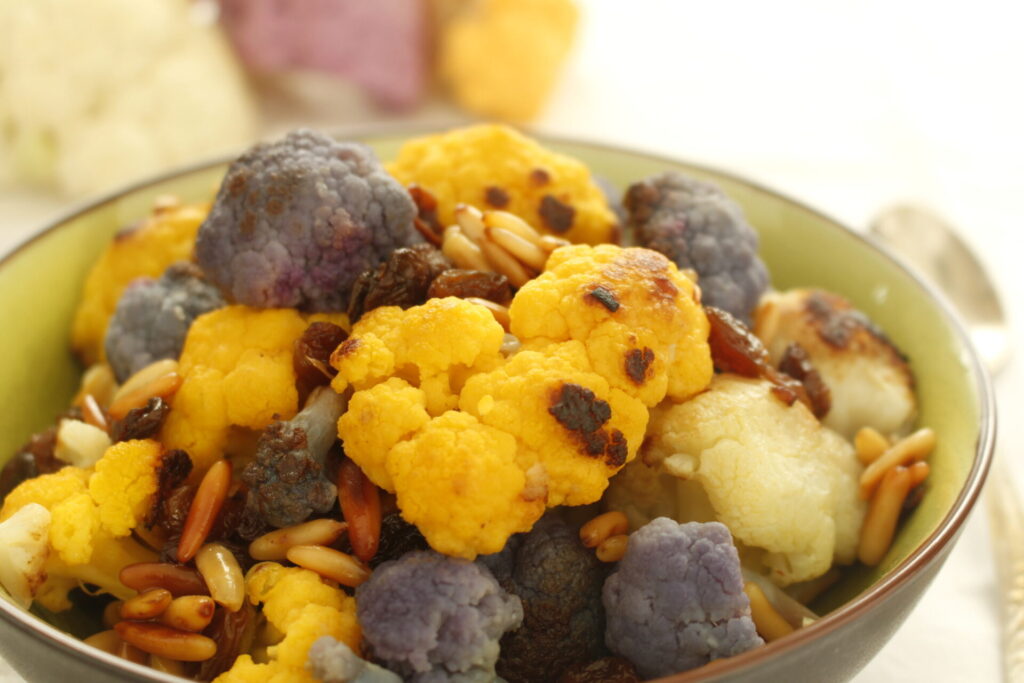 INGREDIENTS
280 g (10 oz) white cauliflower
280 g (10 oz) purple cauliflower
160 g (6 oz) orange cauliflower
4 tablespoons olive oil (extra-virgin)
2 garlic cloves
4 tablespoons toasted pine nuts
4 tablespoons raisins
1 pinch dried chili pepper
Salt and pepper
DIRECTIONS
1. Cut the cauliflower into florets. Wash under running water and steam for 8 minutes, until cooked through but still crisp. Remove and set aside
2. Meanwhile, in a small bowl soak the raisins in 2-3 tablespoons of water
3. In a pan heat the oil and fry garlic at medium-low heat for a few minutes. Be careful not to burn it. Add the chili pepper, cauliflower, raisins and toasted pine nuts. Stir with a wooden spoon and toss for 5 minutes until browned. Remove garlic cloves. Season with salt and pepper. Serve warm.
Note: An appetizing addition to this recipe is onion. You can add some finely sliced onion (1 yellow onion) to the olive oil at step 3. Paola