This year during my usual summer vacation in Montepulciano (Tuscany) I learned, together with my son Michael, to make pici pasta (say it like "peachy") from scratch at Osteria Porta di Bacco! Pici, typical exclusively of the Siena area, is a type of pasta that is unknown even to many Italians. It looks quite similar to spaghetti, but it is much thicker, more than 3 mm (1/8 inch), and much longer, up to three feet! This recipe is very simple and dates back to peasants' cuisine. In fact, the ingredients are simply wheat flour, olive oil and water. Nowadays some people, as well as myself, add one egg to the dough to make it more elastic and workable, preventing breakage when forming the pasta. I use a mix of 3 different wheat flours – whole wheat flour (50%), Italian grade 0 (30%) and Italian grade 1 (20%). In case you cannot find all these flours, you can use unbleached all-purpose flour. With just all-purpose flour pici pasta is easier to roll, but it will take longer to cook and will have a firmer bite. The traditional method uses one hand to hold the dough and the palm of the other hand to roll the pasta strip. After rolling you have to place the pici (in a single layer) in aluminum containers, previously dusted with rice flour to absorb the excess humidity. If you don't cook the pici right away, you can store it covered in the fridge up to two days.
You can serve pici with ragù Toscano (similar to Bolognese sauce, but it also contains chicken liver and is cooked longer), all'aglione (tomato sauce with garlic), alle briciole (with toasted breadcrumbs) and cacio e pepe (cacio cheese and pepper).
All the pictures of this post were taken during the class.
PICI FATTI A MANO (HANDMADE PICI)
Preparation time: 1 ½ hours      Cooking time: 4-6 minutes     Servings: 8

INGREDIENTS
700 g (5 cups) mixed wheat flours or unbleached all-purpose flour
300 ml (1 ¼ cups) water at room temperature
4 tablespoons olive oil (extra virgin) + some extra to knead the dough
1 medium egg
Rice flour to dust the containers
DIRECTIONS
1. In a bowl mix the flours according to the percentage indicated above
2. In another big bowl mix the water, olive oil and egg with a fork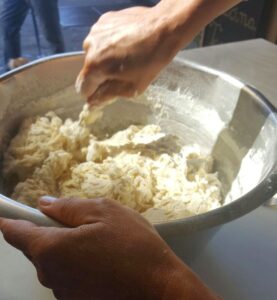 3. Add the flours to the water mix little by little. Mix with a spoon with to create a loose, but not too wet, dough. The proportion of flour to water depends on the room temperature, humidity and types of flour used. Sometimes you need less flour, sometimes more, you just have to learn by practice. You have to adjust according the consistency reached
4. Transfer the dough to a working surface – marble or corian is better, not wooden – lightly oiled with some olive oil
5. Knead the dough for about 15-20 minutes to create a smooth and elastic dough

6. Shape the dough into a bowl and place in a zip-lock bag removing the air. Let it rest for a minimum of 30 minutes up to one hour in the fridge. This step makes the dough easier to roll
7. Remove the dough from the fridge and roll it out in a rectangular shape on a oily surface about 6 mm (¼) inch thick
8. Cut it into strips about 6 mm ( ¼ inch) wide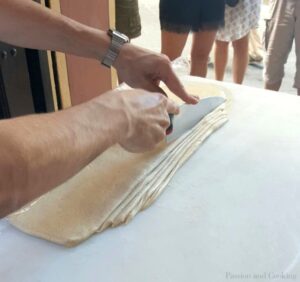 9. Take one strip to roll and cover the rest of the dough with plastic wrap. Roll the strip, using one hand to hold the end and the palm of the other hand to roll the strip of pasta


10. Place each long picio (PEA-choh) in the aluminum container well-dusted with rice flour
11. Repeat until you finish all the dough
12. Before add pici to the boiling water dust off by shaking the extra rice flour. Cook for about 4 to 6 minutes depending on the thickness of pici.
– Paola