A tasty, healthy and easy recipe to prepare for family meal. I suggest that you enjoy it as a main course accompanied by mash potatoes or steamed rice. I learned this appetizing recipe when I visited beautiful Rome this summer. A wonderful cook and friend (Patrizia) generously shared her family recipe with me. Italian cuisine passes from generation to generation through word of mouth!
The combination of savory and sweet flavors blends well with the mild taste of cod. Cod has a particularly digestible white meat, suitable for many delicious recipes. Another typical Italian recipe that I am going to post in the future is cod fish Vicentina style served with white polenta, a comfort food on a cold winter's day.
Eating fish is very important because it lowers the risk of heart diseases and heart attack. Cod is low in fat, most of which is polyunsaturated fatty acids – omega 3, which reduces bad cholesterol and increases the good one; cod is also rich in protein and B vitamins (B12 and B6), both necessary to maintain low homocysteine levels, a dangerous molecule that acts on the walls of blood vessels. Recently homocysteine was also associated another condition: osteoporosis. Most importantly is its high mineral content – consisting of phosphorus, iodine and selenium.
 Try to eat fish at least once or twice a week.
If you like eating healthy food, also check out my book Love is Eating. It's full of recipes like this one and you can order it it online directly from my blog. It's a great gift for anyone who loves the Italian culinary culture, and of course, I will very happy to sign your copy!
MERLUZZO ALLA ROMANA (ROMAN STYLE CODFISH)
Preparation time : 25 minutes      Cooking time: 20 minutes      Servings: 3-4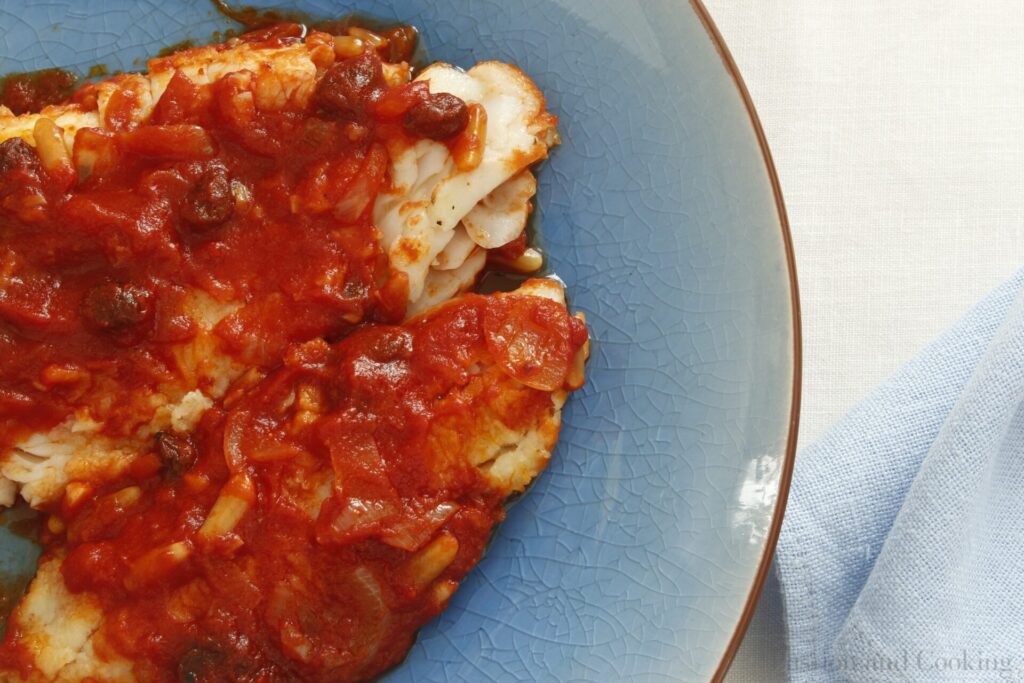 INGREDIENTS
600 g (about 22 oz) codfish fillets
1 medium onion, finely sliced
3 tablespoons olive olive (Extra Virgin) + some for frying
500 ml (about 2 cups) tomato sauce
3 tablespoons raisins
3 tablespoons toasted pine nuts
Sea salt and freshly ground pepper
All-purpose flour
DIRECTIONS
1. Wash and, using kitchen paper, pat the fish fillets dry
2. In a large non-stick pan heat the olive oil and saute the onion on medium-low. Add the tomato sauce and cook on medium-low for about 10 minutes. If the tomato sauce dries out, add some water
3. Add the raisins and the pine nuts. Cook for an additional 5 minutes. Adjust salt and pepper according to your taste. Set aside
4. Flour the fillets with some flour
5. In non-stick pan heat some olive oil and fry the fillets on both sides, just for a few minutes. They should not absorb too much oil
6. Add the cod fillets to the sauce and heat for 2-3 minutes just to make it warm and blend the flavors together. Serve warm. – Paola