Lasagne, ravioli and stew with polenta are typical Sunday luncheon dishes during the cold months. Cannelloni, certainly, also appear on this list. These succulent cylinders of pasta dough, stuffed with a mix of different meats and topped with bechamel sauce and tomato, are typical of Emilia Romagna, one of the Italian regions well-known for its tasty and appetizing food. This is such a delicious and traditional dish that each Italian has eaten it at least once in his/her life. Of course, just thinking about the cannelloni prepared by my grandmother brings back good memories. It was one of my favorite Sunday meals. By following my recipe – and with a little patience – you'll prepare a dish that will conquer all your guests!
Cannelloni is complete dish including starch, meat and dairy products, therefore I suggest enjoying it as a main course, preceded by a salad.
Cannelloni is one of the favorite recipe during my cooking classes – no doubt why, it is delicious.
CANNELLONI RIPIENI DI CARNE (CANNELLONI STUFFED WITH MEAT)
Preparation time : 2 ½ hours          Baking time : 25 minutes              Servings : 6-8 people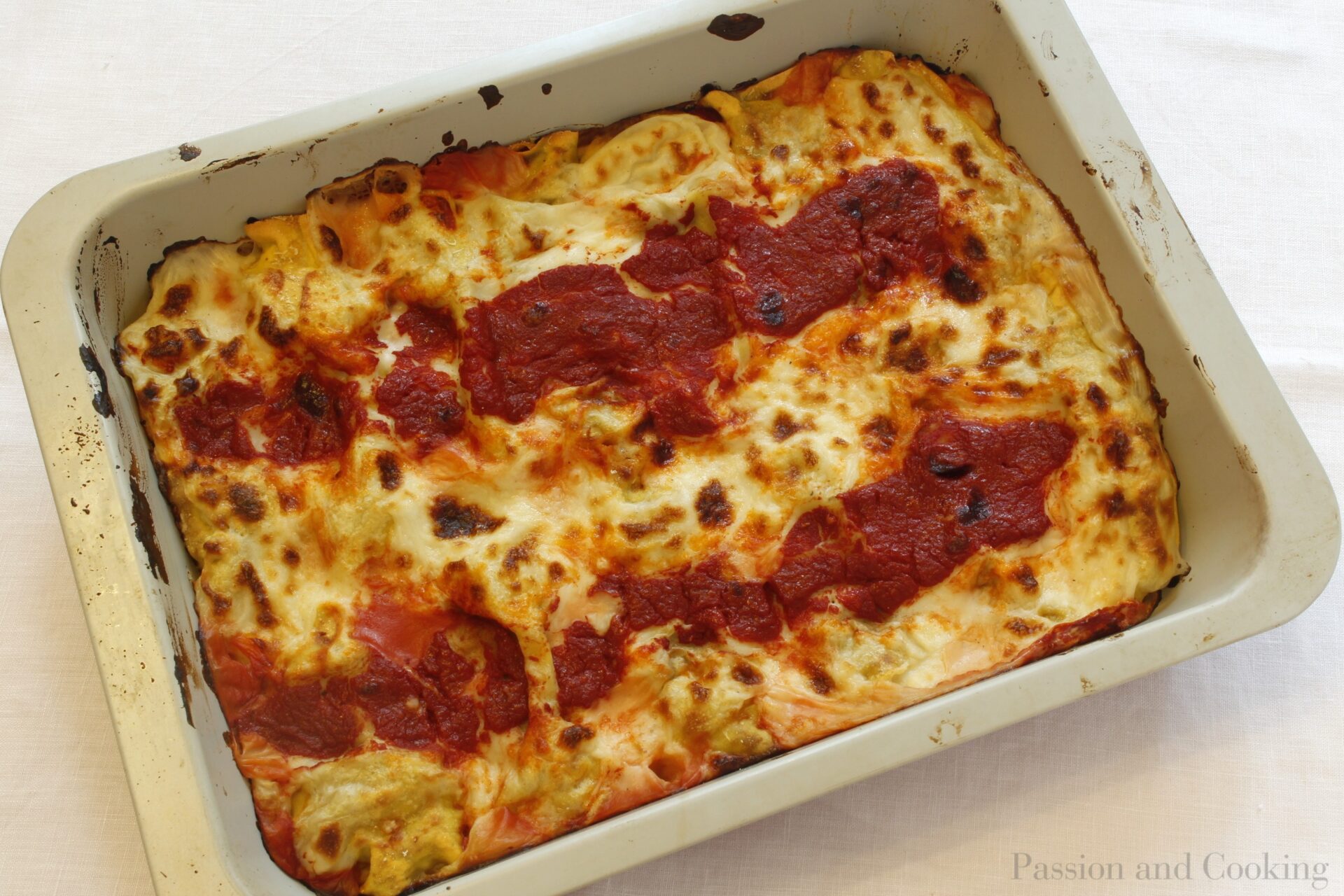 INGREDIENTS
Fresh homemade pasta (see lasagne recipe)
Filling
500 g (18 oz) finely minced meat (approximately: beef 60%, pork 10% and chicken 30%)
1 medium onion, finely chopped
1 medium carrot, finely cubed
1 celery stalk, finely chopped
180 ml (3/4 cup) cup red wine
75 g (3/4 cup) grated Parmesan + some extra for baking
1 large egg
130 g (½ cup) creamy cow's milk ricotta cheese
Salt and freshly ground pepper (according to taste)
A pinch of nutmeg
Extra virgin olive oil
Bechamel sauce (see lasagne recipe)
Tomato sauce
DIRECTIONS
1. Fresh pasta. Start preparing the fresh pasta according to the lasagne recipe. While the pasta is resting prepare the filling and the bechamel sauce (see lasagne recipe)
2. Filling. In a medium saucepan heat 2 tablespoons of olive oil, add the vegetables (onion, carrot and celery) and cook medium-low heat for 3 minutes, stirring constantly. Add the meat and cook for a few minutes until it has lost its raw red color. Add the wine and cook at medium-high until the wine evaporates. Remove from the stove, let it cool. Add the egg, ricotta cheese, 5-6 tablespoons of bechamel and Parmesan cheese. Season with salt, pepper and a pinch of nutmeg. Set aside
3. Roll the pasta either by hand or with a machine to the desired thickness. It should be pretty thin about 1.5-2 mm. Don't let the pasta dry before cutting into rectangles (15x10cm; 6×4 inch)
4. Preheat the oven 200°C (400°F). Select a shallow baking pan large enough to lay all the cannelloni in one layer. Cover the bottom with a thin layer of bechamel sauce and a few tablespoons of tomato sauce
5. Place some filling along the shorter side of each pasta rectangle. Roll the rectangles up starting from the long side. Place the cannelloni in the baking pan with the open edges down and with some distance. Cover with a thick layer of bechamel sauce and some tablespoons of tomato sauce forming two stripes. Sprinkle with some Parmesan cheese on top
6. Bake for 25 minutes. Remove from the oven. Let it rest on a cooling rack for 5 minutes before serving.
Note : You can store the cannelloni in the refrigerator in an airtight container, for 1-2 days at most. If you have used all fresh ingredients you can freeze them. – Paola