Penne all'arrabbiata ("angry" penne pasta) is a typical first course belonging to our Roman culinary tradition. It is not only very easy and fast to make, but deliciously devilishly too! It has a distinct, spicy taste due to chili pepper. The amount of chili pepper is very personal, but do not forget that chili pepper is very also healthy, a must to add to your diet. Hot chili pepper, in fact, slows down aging, helps lose weight and may even prevent the development of atherosclerotic plaques and atherosclerosis, or hardening of the arteries.
There are several variations of this recipe, and everyone has its own. Mine is very simple, with the addition of some pecorino Romano cheese to give it a special final touch. If you cannot find pecorino cheese you can add some grated Parmesan cheese.
The name is unique, harking back to how eating chili peppers makes you red, like when you are angry.
Also, many thanks to my recent clients taking my cooking classes, that helped me rediscover this traditional recipe, that I haven't made for a while.
PENNE ALL'ARRABBIATA
Total preparation time: 15 minutes          Cooking time:11-12 minutes          Servings: 4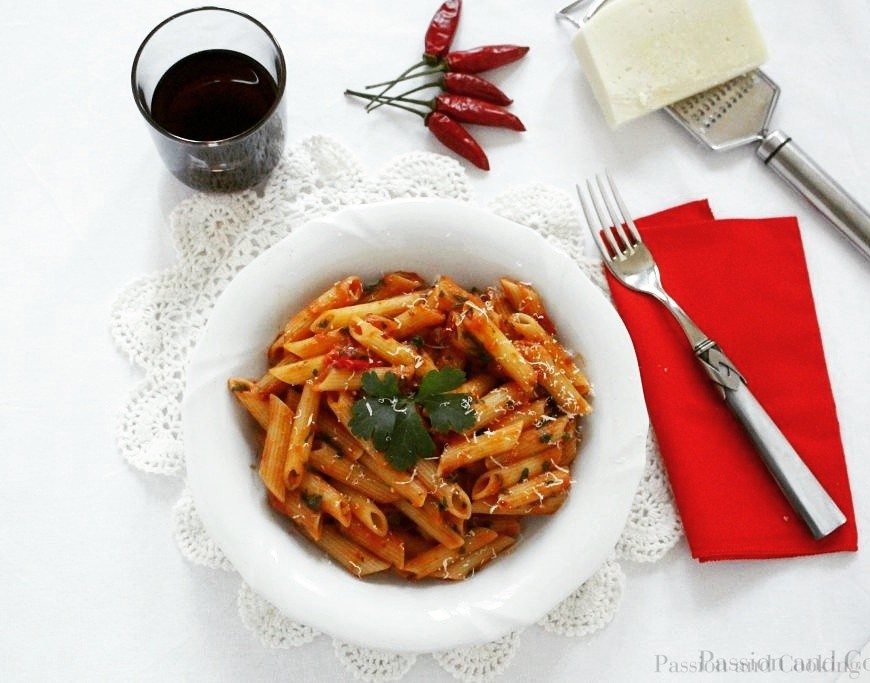 INGREDIENTS
320 g (11 oz) penne pasta
2 tablespoons olive oil (Extra Virgin)
3 garlic cloves
2 hot chili pepper and 1 teaspoon of dried chili pepper flakes (if you like it spicy)
400 g (14 oz) tomatoes canned, cubed
1-2 teaspoons fresh parsley, finely chopped
4-5 tablespoons grated pecorino cheese
Sea salt
DIRECTIONS
1. Bring to boil plenty of salted water
2. In a sauce pan heat the oil over medium heat, add 2 garlic cloves and sauté until lightly browned (not burned). Stir frequently. Remove the garlic
3. Add the chili pepper and turn down the heat to medium-low. Cook for a 1-2 minutes. Add the tomatoes, 1 minced garlic cloves and cook for 10 minutes.
4. Cook the pasta until al dente for approx. 11-12 minutes (according to the instructions on the package). Before draining the pasta, reserve about 3 tablespoons of cooking water. Drain and pour into the warm sauce, add the water. Toss gently, season with parsley and Pecorino cheese! Serve Immediately -Paola