"Andiamo a prendere un caffè", let's go and have a coffee. Yes, with pleasure! Especially if it is in a very nice and unique place like Caffè Poliziano in Montepulciano (Tuscany), a historical place in Italy.
Caffè Poliziano offers a synthesis of many aspects of the Italian culture, blending together tradition and modernity, hospitality and excellent food. It was opened more than 150 years ago, and it remains one of the best places I know to feel the warmth of the Italian culture.
Caffè Poliziano was opened in the late nineteenth century and designed according to an eclectic version of the Liberty style with ornate mirrors, wooden panelings, wall lamps and sumptuous furniture. It was as fine and elegant as other cafès in the bigger cities of Italy, such as Milan, Turin, Venice, Florence, Rome and Naples. Famous people like Italian writers (Pirandello, Carducci), movie stars (Valeri, Muti, Stram, Fellini), musicians (Giammaro, Innarella, Rava) and many other people made this place a unique cafè, where it is possible to witness and experience the true Italian lifestyle.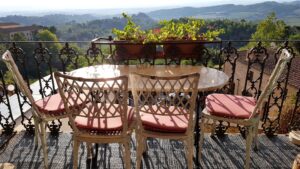 Every year I spend part of my summer vacation in Montepulciano, and I love to have breakfast with my family or friends – usually a cappuccino with a brioche or a cornetto. It is a must to enjoy your breakfast on the small terrace overlooking the stunning Val di Chiana. This is the best way to start the day and to re-energize your soul.
The pastries are certainly one of Caffè Poliziano's specialties and they are my absolute favorite. The pastry chef, Anna Del Brino, is a wonderful person who likes sharing her knowledge. She taught me how to make a mouth-watering cake – Torta Poliziana. Soon I will post my personal interpretation of this cake for you, my dear readers.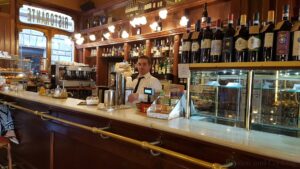 Late in the morning or after lunch I often stop there for a quick coffee, either alone or with friends, standing at the counter, chatting with the locals and the staff. People there are very friendly, competent and make you feel like at home, thanks to the manager Mimma Rosa and the owner Claudio Borgoni. I usually drink an "Espresso macchiato", that can easily substitute an espresso, especially if you do not add sugar, like me. The amount of milk is less than in "cappuccino", it's just a drop. In Italy having coffee means enjoying a break during the day and sharing more than just time with your friends. Coffee is certainly a form of socialization: no matter the time or the day, it is always an opportunity to spend time together.
The art of preparing and drinking coffee in Italy is comparable to the tea ceremony In Japan, although it is not such a time-consuming activity. We take only a few minutes to drink it, not even sitting down but standing at the counter in the café. We Italians are usually picky about our coffee. The way it is served is as important as quality: porcelain espresso cups, no plastic or paper cups, and Arabica blends. I personally prefer the Arabica over the Robusta blend, because it is so rich in flavor. In fact, the coffee beans are roasted and ground in a such a way to give the coffee its typical "crema" (cream).
Coffee is, for many, one of life's little pleasures, but like anything, moderation is the key according to my new book The Mamma Mia Diet!, available in November 2018. – Paola