Every year winter, with its cold weather and abrupt temperature changes, brings in the flu, forcing us to spend four to five days in bed under the blankets waiting for the fever, cough and cold to go away. To fight these symptoms and recover fast, we can start with a healthy diet, bringing to the table tasty foods – comfort foods – rich in vitamins, minerals and active ingredients that support our immune system, and – why not – also raise our spirits. When we are sick, our mood is down and we want to eat something that reminds us of the flavors of our childhood and that evokes pleasant situations and atmospheres: home and family, mom, and mom's cuddles. A hot soup with vegetables, like the one prepared by our mothers, certainly gives relief and guarantees a good level of antioxidants and hydration. With flu, in fact, we lose a lot of fluids, especially if we also have gastrointestinal symptoms, so it is important to re-hydrate.
What's better than a carrot, orange and ginger soup? An easy-to-prepare dish, full of taste, color and rich in antioxidants that will help us heal faster. Among the main antioxidants, there are some vitamins such as vitamin A and its precursor beta-carotene (present in carrots and pumpkin), vitamin C (abundant in oranges) and flavonoids (in particular quercetin, present in shallot). Ginger, a stimulant of the immune system, a powerful antiseptic and anti-inflammatory food, has been used by Asian populations for millennia to fight nausea, colds, fever, cough and pharyngitis.
VELLUTA DI CAROTE, ARANCIA E ZENZERO (CARROT, ORANGE AND GINGER SOUP)
Preparation time: 40-45 minutes       Cooking time: 30 minutes         Servings: 4

INGREDIENTS
700 g (25 oz) carrots, peeled and cut with washers
250 g (9 oz) pumpkin from Mantua or butternut squash, peeled, clean and diced
1 shallot, finely chopped
3 tablespoons of extra virgin olive oil
2 organic oranges
1 cm (½ inch) fresh, peeled and grated ginger
1 liter vegetable or chicken stock
1 sprig of rosemary
50 ml (1 scarce ¼ cup) heavy cream (optional)
Salt and pepper, freshly ground
DIRECTIONS
1. In a saucepan, soften the shallot in oil on medium-low heat. Add the carrots and pumpkin. Cook 3-4 minutes stirring with a wooden spoon. Add the peel of an orange (washed under running water, dried and grated), rosemary and stock. Bring to a boil, cover with a lid and simmer for 30-35 minutes. If you do not have much time, you can use pressure cooker for 6-8 minutes, then continue in a saucepan for another 10 minutes
2. Remove from the heat and puree the vegetables with a mixer. Add a pinch of salt, if necessary. If it is too thick, you can add some more stock
3. Add the orange juice and the ginger. It is important not to heat up later, because vitamin C, present in orange juice, is sensitive to heat; its antioxidant property would be lost
4. Serve the soup immediately in four bowls. Garnish with a spoonful of cream or olive oil (according to personal taste) and pepper to taste.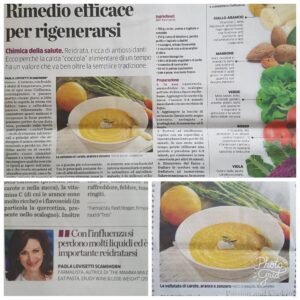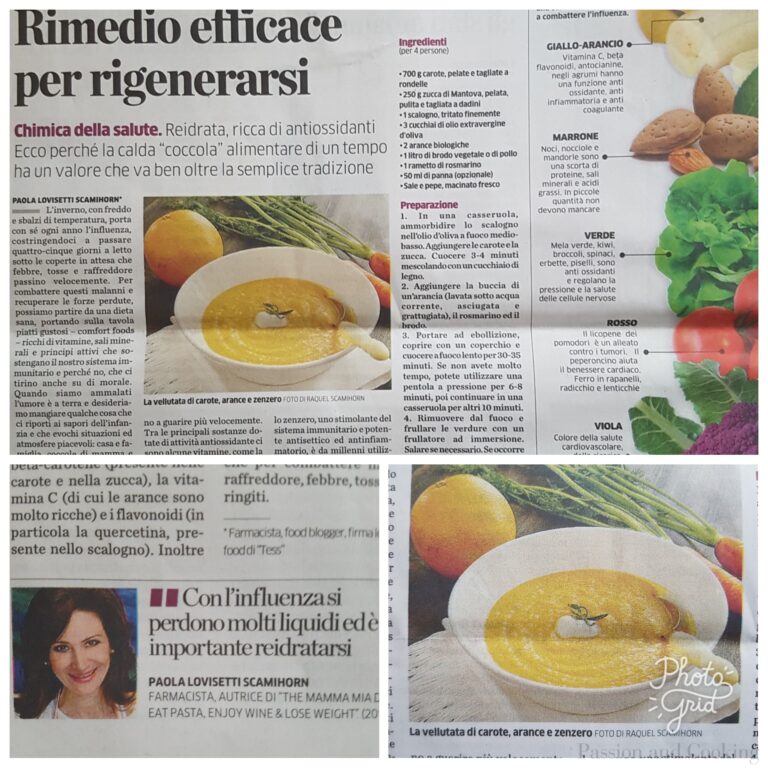 This recipe was published in the Italian newspaper "La Provincia" on November 7, 2017 pag. 52 . – Paola