Chicken with figs and pine nuts is an easy and truly unusual second course because of the combination of fresh figs and chicken. Jams, mustard, pies and all kind of sweets are the most classic recipes you would expect using fresh figs, but the beauty of cooking is to use ingredients with creativity.
This recipe is really appreciated, especially for those who love poultry and the combination of sweet and savory ingredients. In Italy figs are enjoyed during late summer and early autumn.
Figs can be classified according to the color of the skin, black and white or referring to the use: fresh or dried. Furthermore, the presence of numerous cultivar gives the possibility to grow the fruit according to the use that you want to make of it.
I remember that when I was a kid in our summer house in the country we had a large fig tree – black ones. I loved to pick the ripe figs and eat them right away. The taste was superb, still now I can remember it. Freshly picked fruits have a unique flavor and the best nutritional value.
I recommend enjoying this dish with steamed basmati rice or steamed seasonal vegetables.
POLLO AI FICHI E PINOLI (CHICKEN WITH PIGS AND PINE NUTS)
Total preparation time: 35 minutes         Cooking time: 20-25 minutes                Servings: 4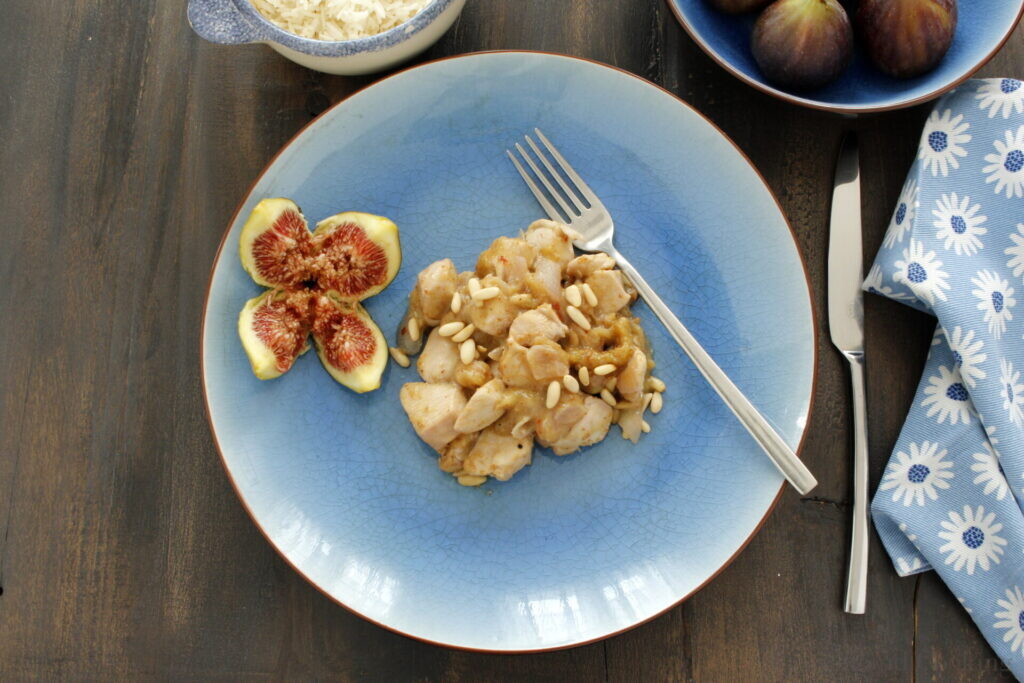 INGREDIENTS
800 g (28.5 oz) chicken breast, cubed
2 white medium onions, sliced
40 ml (¼ cup) extra virgin olive oil
80 ml (1/3 cup) dry white wine
8 large ripe figs (white or black), washed and peeled
50 g (about 2 oz) toasted pine nuts
A pinch of dried red chili pepper flakes
A pinch of freshly ground black pepper
Sea salt to taste
DIRECTIONS
1. In a large non-stick pan over medium heat saute onions in olive oil until soft. Add the chili pepper and cook for 1 minute
2. Cut 6 figs in big chunks and add to the pan. Cook for about 2-3 minutes until the pulp softens
3. Add the chicken and cook over medium heat for a few minutes. Increase the flame, pour in the wine and let evaporate. Cook over low-medium heat for 15-20 minutes. Flavor with pepper and salt
4. Sprinkle on top the pine nuts. (Toast them in advance over medium-low heat, in a dry, non-stick skillet. Stir constantly to avoid burning.) Serve adding some fig slices on the serving plate or single plates. – Paola