Zucchini blossoms stuffed with either goat or sheep ricotta cheese is a very simple and tasty recipe to prepare  both as an appetizer and a first course. A delicious variant of the classic fried flowers in batter.  This dish is excellent both fresh from the oven and at room temperature. This is simple and inviting recipe, definitely worth trying when zucchini flowers are in season between spring and summer.
These beautiful vegetables are highly digestible, containing 90% water and have properties that help reduce water retention. They are also rich in vitamins A and C, vitamins of group B, and they also contain calcium, iron, phosphorus, potassium and magnesium.
STUFFED ZUCCHINI BLOSSOMS
Total preparation time: 20 minutes           Baking: 10 minutes               Servings: 14 zucchini blossoms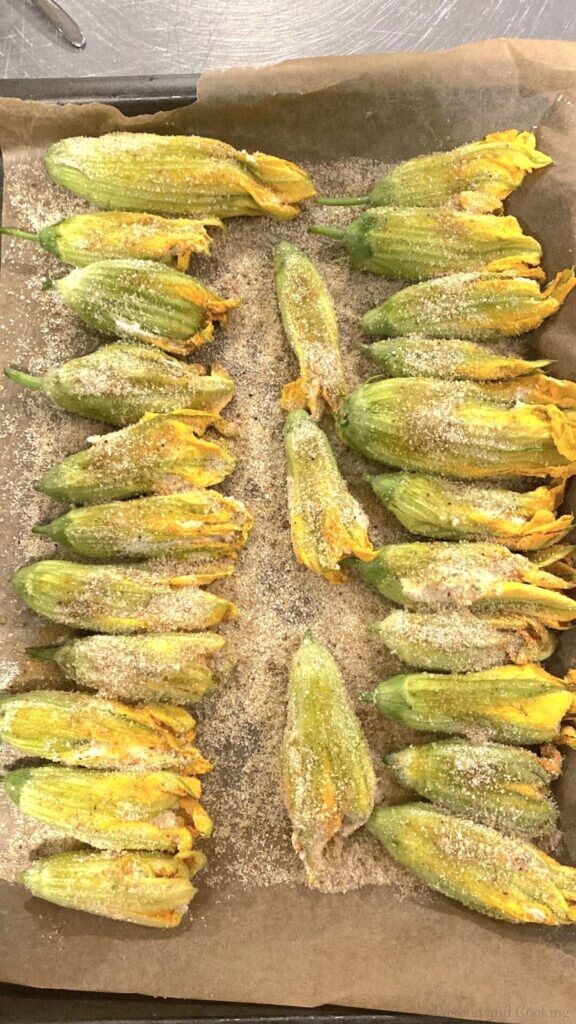 INGREDIENTS
14 zucchini blossoms
420 g (1 scarce pound) organic goat ricotta cheese
60 g (½ cup) grated Parmesan cheese
10 basil leaves, finely chopped
Sea salt and freshly ground pepper
Extravirgin olive oil
Bread crumbs
DIRECTIONS
Preheat the oven to 200°C (390°F) and settle the baking rack in the middle position
1. Wash the zucchini blossoms very gently under cold running water, eliminate the hard pistil from inside and arrange the blossoms on a clean towel or kitchen paper to dry
2. In a bowl blend the ricotta cheese with the grated Parmigiano Reggiano, to obtain a smooth, soft cream. You can add 1-2 tablespoons of milk to make smoother. Season to taste with salt, freshly ground black pepper and basil
3. Open the flower petals well and start to fill the inner cavity with the stuffing, taking care not to overdo the quantity
4. Close the tips of the petals inwards so that the filling remains in place
5. Place the zucchini on a baking sheet, covered with parchment paper
6. Brush with olive oil and sprinkle some bread crumbs. Bake for 8-10 minutes. The last 2 minutes switch to broil. Check carefully that they do not burn. Serve immediately.