Risotto with beets with robiola and Gorgozola is a colorful, tasty, and very easy dish to prepare. This year I have decided to add it to my Christmas menu. The result will be deliciously impressive! Add color to your plate and this special day.
The intense color, due to some pigments – called betalains – gives an inviting look and healthy benefits. Don't forget that we eat first with our eyes. Beets are not only beautiful but also a unique source of phytonutrients that have been shown to provide antioxidant, anti-cancer (in particular colon cancer), anti-inflammatory, and detoxifying properties.
Robiola is an Italian soft-ripened cheese of the Stracchino family.
Merry Christmas! Buon Natale
RISOTTO WITH BEETS, ROBIOLA AND GORGONZOLA
Total preparation time: 30 minutes          Cooking time: 18-20 minutes                 Servings: 4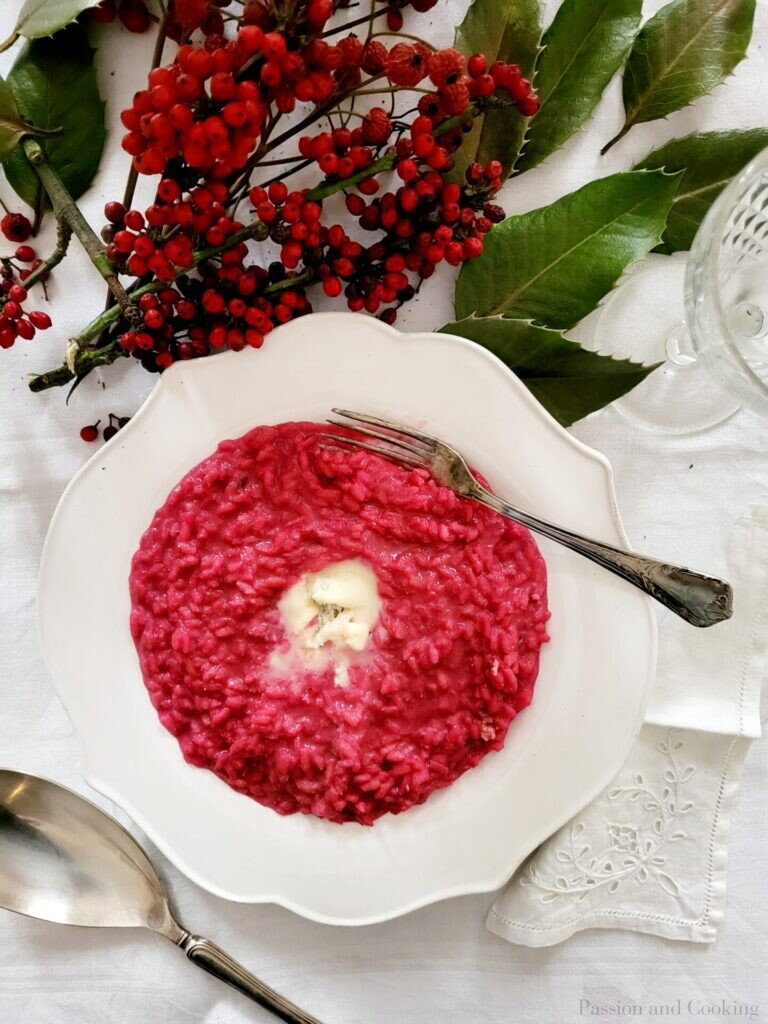 INGREDIENTS
1 liter (about 1 quart) vegetable stock
85 g (3 oz) unsalted butter
1 small shallot, finely chopped
300 g (1 ½ cups) Italian Carnaroli or Arborio rice
240 ml (1 cup) dry white wine, at room temperature
200 g (7 oz) precooked, peeled and pureed beets
80 g (3 oz) goat robiola from Casaleroccolo
150 g (5 oz) goat Gorzonzola from Casaleroccolo
Sea salt and freshly ground black pepper
DIRECTIONS
1. In a saucepan over medium heat, warm up the stock
2. Start by preparing the beets. Peel and puree adding 2 tablespoons of stock with a blender. Set aside
3. In a large saucepan heat 55 g (2 oz) of butter. Add the chopped shallot and sautè for 2-3 minutes over medium heat. Add the rice and stir thoroughly for about 3-5 minutes, in order to coat the rice well with the butter and shallot. (This helps regulate absorption of liquid and have a nice risotto al dente). Add the wine and stir until completely absorbed over medium-high heat
4. Add a soup ladle or two of the stock until the rice is just covered, and stir continuously with a wooden spoon. When stock is almost completely absorbed (the rice should not be dry on top) repeat this process
5. Add the beets 5 minutes before the risotto is done
6. Remove the risotto from the heat (after about 16-18 minutes), when the rice is nearly tender to the bite, but with just a hint of resistance (al dente), and the liquid you have added up to this point has been mostly absorbed (risotto should still seem a bit soupy. Add the robiola and butter. Keep stirring the risotto to blend it in. You can also add some salt and freshly ground pepper to taste. Let it stand for 1 or 2 minutes.
7. Serve immediately adding some Gorgonzola in the center of each dish (plan your timing well. It is very easy to overcook risotto!). – Paola