Risotto with porcini mushrooms is a delicious dish. The term rice refers to the seed of the Oryza sativa plant.  The Chinese were already cultivating this plant 12,000 years ago!  It spread slowly to North Africa and Europe. This cereal arrived in the North America, first in South Carolina around 1700, probably from Madagascar. In Italy the first rice farmers were monks in the Piedmont region, and this grain was initially used as a medicine for to maintain the normal digestive functions.  Rice is an excellent source of fuel for our body.  It is easily digested and so the energy it supplies quickly becomes available to our working muscles, brain and body organs, like the heart and liver.  In fact, rice is rich in starch (more than 75%), in vitamins (mainly B group) and some minerals (calcium and iron); instead, it contains few proteins (only 6-7%).  Much of the Italian harvest is used for making risotto, a starchy rice, in the northern regions of Piedmont, Lombardy and Veneto. Risotto is a versatile dish, and its character changes depending on what you add to it.  For example, zucchini flowers make a wonderful spring-time risotto. Cook a champagne risotto, with passion!, for a special romantic encounter. This recipe, with porcini mushrooms, is a classic autumn dish, and it has a rich, aromatic and delicious flavor.  You prepare the mushrooms the same way for both this risotto and the roast filet.
RISOTTO AI FUNGHI PORCINI (CEP MUSHROOM RISOTTO)
Preparation time: about 40 miutes        Cooking time: 10 min + 15-20 minutes         Servings: 4-5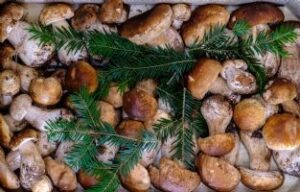 INGREDIENTS
Porcini
450 g (approx. 1 pound) Porcini mushrooms
2 garlic cloves, cut in half
1-2 tablespoons parsley, finely chopped
2 tablespoons olive oil (Extra Virgin)
Risotto
1 liter (approx. 4 cups) chicken or vegetable stock
80 g (5 oz) unsalted butter
1 small yellow onion or shallot, finely chopped
320 g (1 3/4 cups) Italian Carnaroli or Arborio rice
240 ml (1 cup) dry white wine, at room temperature
25 g (¼  cup) grated Parmesan cheese
Salt and freshly ground white ground pepper
DIRECTIONS
Here is the video (by White Rain Films for Vicking Cruise).
Clean the porcini (see Tips, below), and slice the mushrooms vertically into 2-3 mm (⅛ in) strips.  In a large saucepan over medium-high heat sauté the olive oil, stir in the garlic and then mushrooms, cook approx. 5-7 minutes. Add the parsley and salt to taste. Continue to cook for 1 min. over a medium flame.  Remove the garlic. Set aside.
In a saucepan over medium heat, warm up the stock
In a large saucepan heat 50 g9 (about 4 Tablespoons) of butter.  Add the chopped onion and sauté for 2-3 minutes over medium heat.  Add the rice and stir thoroughly for about 3 minutes, in order to "coat" the rice well with the butter and onions.  (This helps regulate absorption of the liquid during cooking.)  Add the wine and stir until completely absorbed
Add a soup ladle or two of the stock until the rice is just covered, and stir continuously with a wooden spoon. When the stock is almost completely absorbed, repeat this process for about 12 minutes (it depends on the rice's cooking time, which should be clearly indicated on the package)
Set aside a few spoonfuls of mushrooms and add the rest.Cook for about 2 more minutes.
The end of the cooking is critical for the final texture of the dish, so when the rice is nearly tender to the bite, but with just a hint of resistance (al dente), and the liquid you have added up to this point has been mostly absorbed (the risotto should still seem a bit "soupy"), add the Parmesan and the remaining butter to taste.
Remove your risotto.  At this point, keep stirring the risotto to blend in the cheese and butter.  You can also add some freshly ground pepper to taste.  Add 2/3 of the mushrooms stirring gently.  Let it stand for 1 or 2 minutes.  Arrange the risotto on a serving dish, place the remaining mushrooms on top and serve immediately (plan your timing well – it is very easy to overcook risotto!).
Note: To clean the mushrooms, I suggest to wipe them off with a moist cloth and to use a knife, if necessary, to remove any remaining soil.  Many say not to wash them with water, but I prefer this. If you do so, do it immediately before slicing and cooking.  It is important to use either a non-stick or steel pan, because other metals in contact with the porcini can release toxic compounds.  Porcini are well suited to drying, and actually the flavor of dried mushrooms is more intense.  Before using, soak them in hot, but not boiling, water for about twenty minutes; the filtered water can also be used for cooking, enhancing the flavors of other recipes.  For more tips on cooking risotto and selecting the right rice, please also see the Pumpkin Risotto recipe  -Paola