Italian savory pies have been around since ancient times, even Pre-Christian, and are linked to the farmers' traditions.  They are made with simple and fresh ingredients available during the growing season.  If tomato is Italy's summer vegetable, cabbage is definitely the winter vegetable.
Kale pie is a true veggie lover's delight.  Tuscan kale, also called black leaf kale, dinosaur kale, Lacinato kale, or cavolo nero, appears in the markets in November and continues through spring.  It is one of the oldest vegetables in the cabbage family.  It is a leafy cabbage that resembles palm fronds with deep greenish black leaves and pronounced ribs.  It has an intense cabbage-y flavor, but is generally sweeter than other varieties.
It is the basic of ingredient of many other tasty dishes such as soups (i.e Tuscan Ribollita), stews and omelets, and it is delicious on crostini di pane, too.  You can enjoy it also raw in salads.  Kale is a highly nutritional vegetable, rich in vitamin A and vitamin C, folic acid (if consumed raw) and potassium.  Kale pie can be served either as an antipasto (starter) or a main course.
TORTINO AL CAVOLO NERO (KALE PIE)
Preparation Time: 1 ½ hrs                  Baking Time: 40-45 minutes                  Servings: 6- 8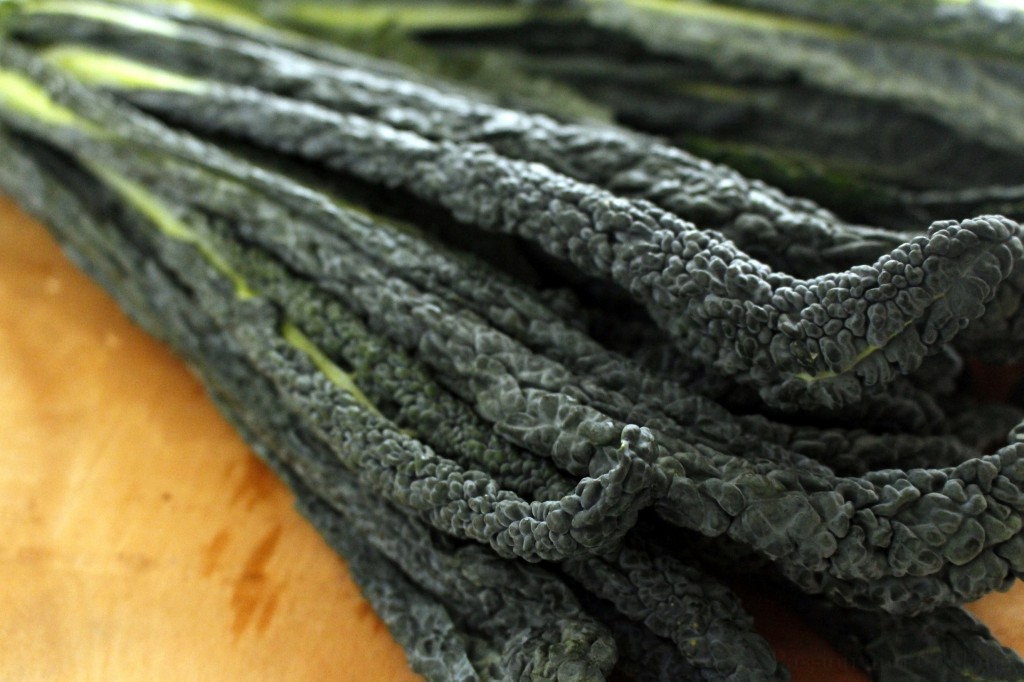 INGREDIENTS
Pasta brisee (Brisee crust)
250 g (about 1 2/3 cups)  all-purpose flour
140 g ( 5 oz) unsalted butter, chilled and diced
1 egg yolk
60 ml (¼ cup) ice-cold water
1/2  teaspoon salt
Filling
700 g (about  1 ½ pounds) kale
6 tablespoons olive oil (Extra Virgin)
2 medium onions, finely sliced
2 cups water
120 g (¾ cup) goat ricotta cheese
3 eggs
Salt and freshly ground pepper
DIRECTIONS
Heat oven to 180°C (350°F)
Pasta brisee (Brisee crust)
In a large bowl, combine flour and salt
Cut in the butter until mixture resembles coarse crumbs
Stir in water, a tablespoon at a time.  Add the egg yolk until mixture forms a ball
Wrap in plastic and refrigerate for at least 30 minutes.
Filling
Wash the kale, remove center ribs and stems, cut the leaves crosswise into ½-inch strips
In a large skillet on medium heat sauté the onion with olive oil until onion is softened
Add the kale, stir it to combine with the onion.  Season with salt and add 2 cups of water
Cover, reduce heat to medium-low, stirring occasionally and adding some water if the pan begins to dry out.  Cook for about 35 minutes until kale leaves are tender.  Set aside and let cool
In a large ball mix the eggs with the ricotta cheese.  Add the vegetable mix and season with freshly ground pepper.  Set aside.
Once the dough has rested, flatten it out on a lightly floured board, then transfer to a on a 25 cm (10 in) ceramic or glass pie or tart baking dish.  Gently pat the pastry dough in the pan to 4 mm (less than ¼ in) thickness, to line the bottom and sides.  The edge should have a slightly thicker layer of pastry than the bottom, about 5 mm.
Prick the pastry bottom with the tines of a fork (four or five times is sufficient), then spread with the vegetable mix and bake until golden, about 40-45 minutes. Cool for 5-8 minutes on a cooling rack. It is delicious when eaten freshly baked and a little bit warm.
Note: When purchasing kale you want leaves that are not too long (no longer than 50 cm, 18 in), firm and fairly, evenly colored without brown or yellow spots.  The most tender kale is the one harvested in late autumn and early winter after the first frosts.  –Paola