This year I will celebrate Easter with cassata, a delicious, tempting and colorful cake. Cassata is a typical dessert of the Sicilian pastry, in particular of Palermo. In the past it was enjoyed exclusively to celebrate Easter after the long period of Lent: a well-deserved award! Today it is enjoyed throughout the year.
The preparation is not particularly difficult as far as the cake it is concerned, whereas the decoration can be sumptuous and baroque, requiring some ability. The version that I propose is quite easy, also good for less experienced cooks. The ingredients are simple: ricotta cheese, dark chocolate and candied fruit. All these ingredients are mixed with sugar and used as a filling between two discs of sponge cake covered with colored marzipan and decorated to taste.
This recipe, like other Sicilian ones, was influenced by the Arabic domination. The name, in fact, derives from the Arabic "Quas'at", which means round bowl. In fact, the shape looks like a bowl. The mini cassata is an alternative to cassata, elegant to serve and tasty to eat. Happy Easter all my beloved readers! Buona Pasqua a tutti!
MINI SICILIAN CASSATA
Preparation time: 2 hrs                        Servings: 6 people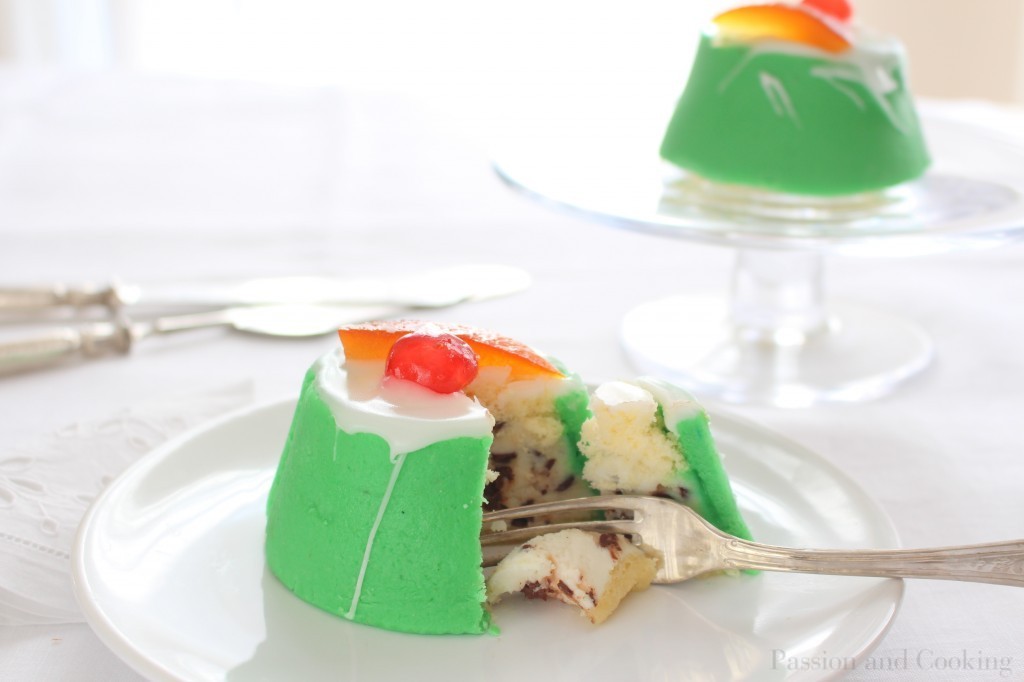 INGREDIENTS
450 g (16 oz) sponge cake, sliced 1 cm (½ inch) thick and cut into 12 discs 8 cm (3 inch) diameter with a cookie cutter
600 g (21 oz) ricotta cheese
160 g (2 cups) powdered sugar
150 g (5 oz) dark chocolate, cut into small cubes
150 g (5 oz) candied fruit, cut into small cubes
28 g (1 oz) peeled pistachios, cut into pieces
White Marsala wine
450 g (16 oz) almond paste
Green food coloring
White icing
Candied fruits for decoration
DIRECTIONS
1. In a large bowl whisk sugar with ricotta. Add chocolate, candied fruits and pistachios
2. Line the base and the sides of 8 cm (3 inch) diameter and about 10 cm (4 inch) height bowl with parchment paper. This process will help remove the cassata from the bowl. Place a disc of sponge cake sprinkled with Marsala wine, pour in some of the filling (almost to the top) and cover with another disc of sponge cake sprinkled with Marsala. Cover the surface of the cake with some parchment paper and store in the fridge for about one and a half hours
3. Knead the almond paste on a working surface sprinkled with powdered sugar, mixing in the dye until you get the your favorite shade of Easter green. Roll out a disc of marzipan to cover the entire mini cassata, including the sides, to a thickness of 4-5 mm.
4. Take out from the the refrigerator, remove from the bowl and flip over onto a serving plate
5. Place almond paste on top to cover the entire surface. Decorate as desired. I decorated it very simply with some white icing and candied fruits. You can use your creativity to make it fancy.
Note: You can use this recipe to prepare just one cassata with a disc (25 cm, 10 inch) diameter. The amount of almond paste is 280 g (10 oz). Paola