This pizza is a little bit a different from what you imagine about pizza, but it's still delicious! Pizza rustica is a typical recipe for Easter, especially for the Easter Monday picnic, Pasquetta, but I prepare it as an aperitif or appetizer for a casual dinner with friends throughout the year too. To tell the truth it is not a real pizza but a pie with a buttery crust, filled with eggs, ricotta cheese, mozzarella, Parmesan and spicy pepperoni, a very appetizing mix. Ricotta is a fresh cheese with a delicate flavor that blends perfectly with the peperoni. There are several variations of pizza rustica with different crusts depending on the region where it is prepared. Some people use a yeast dough as a crust, others add different types of cheese. This recipe is the one I love the most, one that my children especially enjoy.
PIZZA RUSTICA (RUSTIC PIZZA)
Preparation time: 60 minutes        Cooking time: 40 minutes    Servings: 6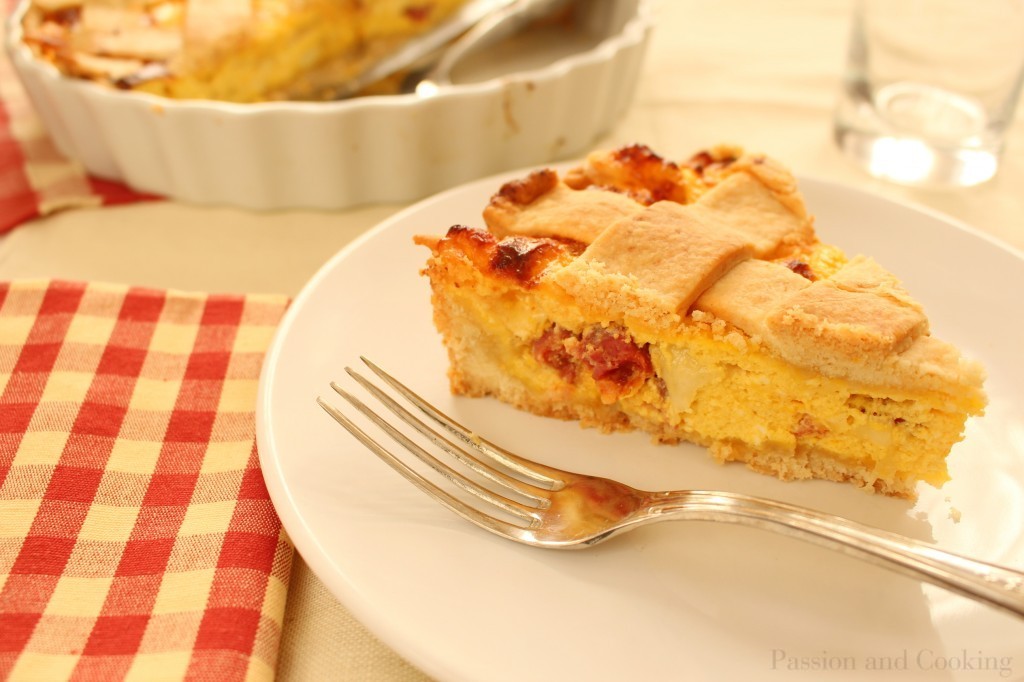 INGREDIENTS
Pie dough
350 g (2 1/2 cups ) flour 00
5 g (1 teaspoon) salt
5 (1 teaspoon) sugar
5 g (1 teaspoon) baking powder for pizza or focaccia
170 g (6 oz) butter, cold, cut into pieces
70 ml (heaping ¼ cup) cold water
Filling
350 g (12.5 oz) ricotta cheese
3 eggs
75 g (¾ cups) grated Parmesan cheese
250 g (9 oz) mozzarella cheese (see note below), cut into cubes
100 g (3.6 oz) pepperoni
salt and pepper
DIRECTIONS
1. For the pie dough. In a large bowl mix the dry ingredients (flour, salt, sugar and baking powder). Add butter and work with a pie cutter until the mixture is sandy. Add water, working first with a spoon and then with floured hands to form a ball. Wrap in cling film and leave in the fridge for about 20 minutes
2. Prepare the filling. In a medium bowl mix the ricotta with a fork and then add the eggs. Beat with a spoon to obtain a creamy mixture. Stir in the Parmesan cheese, mozzarella and pepperoni. Add salt and pepper to taste
3. Preheat oven to 180 ° C (350 °F)
4. Remove the dough from the fridge. Spread 2/3 of dough with a rolling pin on a floured surface with 2-3 mm (1/8 in) thickness. Transfer the dough into a ceramic pan (25 cm, 10 inch) in diameter, puncture the bottom with the tines of a fork, pour in the filling and level. Roll out the remaining third of the dough. Cut into 6 mm (1/4 in) wide strips with a knife and form a latticework over the filling
5. Bake for 40 minutes or until golden brown. Remove from oven and let it cool on a rack for about 20 minutes. Serve warm or at room temperature.
Note: I would suggest using a pizza mozzarella because fresh mozzarella has too much liquid in it. If you can't find it, Caciocavallo cheese and Provolone cheese are good substitutes for pizza mozzarella. Paola