When we think about strudel, we usually imagine the delicious pastry roll filled with apples, raisins and cinnamon, which is a traditional dessert of Trentino Alto Adige.
The term derives from the German word "strudel" which means vortex; in fact, this stuffed roll, made with a very thin dough, is typical of the Italian regions that were part of the Austro-Hungarian Empire.
The version that I propose here uses a different filling: fresh seasonal vegetables, sautéed in olive oil and flavored with fresh mint. A touch of robiola (an Italian soft-ripened cheese of the Stracchino family, (see focaccia di Recco) gives a creamy taste to this recipe. This tasty strudel is ideal as an appetizer or light vegetarian lunch. The preparation is quick and simple, and I recommend using puff pastry or filo dough to speed things up.
The traditional strudel dough is made of flour, oil and water and is pulled very thin, until it's almost transparent; this is the secret and also the hardest part! You can also prepare the strudel in advance and then heat it in the oven a few minutes before slicing and serving.
STRUDEL DI VERDURE (VEGETABLE STRUDEL)
Preparation time: 45 minutes           Baking time: 30 -35 minutes         Servings: 6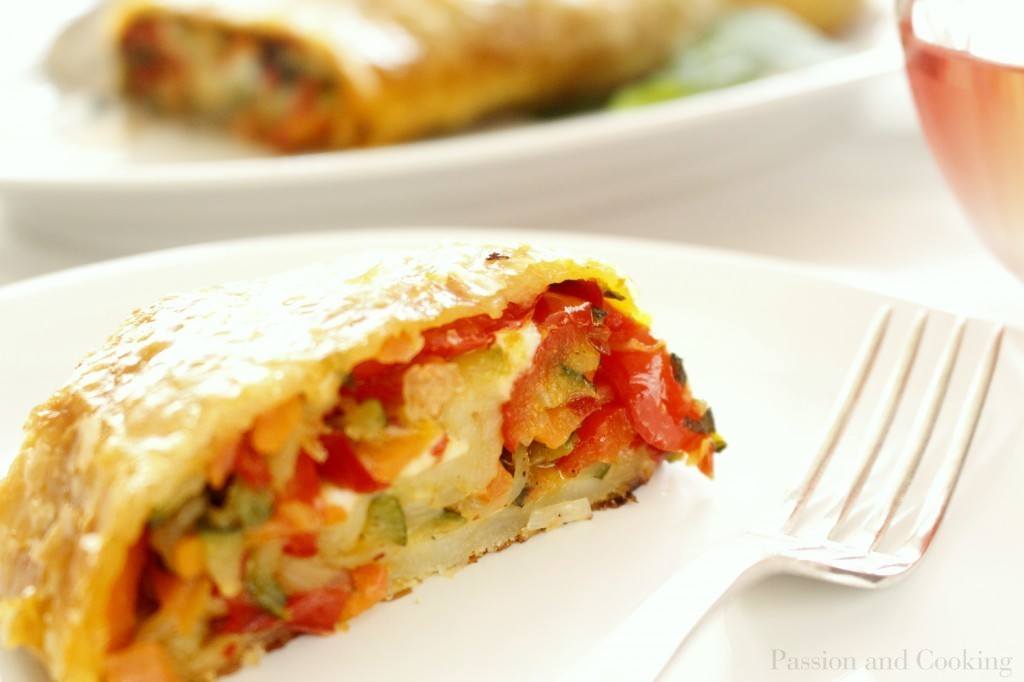 INGREDIENTS
1 medium red onion
200 g (7 oz) zucchini, cut into small cubes or  julienne strips
200g (7 oz) bell peppers, cut into small cubes or julienne strips
200 g (7 oz)  carrots, peeled and cut into small cubes or julienne strips
3 mint leaves, chopped
5 tablespoons of olive oil (extra virgin)
100 g (4 oz) robiola, soft cheese
3 tablespoons grated Parmesan cheese
Salt and freshly ground pepper
230 g (8 oz) puff pastry (disc or rectangle)
1 beaten egg
DIRECTIONS
Preheat oven to 200°C (400°F)
1. In a pan sauté onion in oilve oil over medium-low, just until soft. Add carrots and peppers. After a few minutes (about 5 min.) add  the zucchini, and salt and pepper to taste. Cook for about 5-7 min. Vegetables should be crunchy. Add the mint. When done, drain the vegetables on paper towels to remove excess olive oil
2. Place the puff pastry disc on parchment paper. Prick the bottom with the tines of a fork. Spread with vegetable filling in the center, leaving a border of about 5 cm (2 inches). Distribute pieces of the robiola cheese on top and sprinkle with Parmesan cheese
3. Close the sides and the ends to seal the stuffing. Make some thin cuts on the surface to let the steam out. Brush with the egg  and bake for 15 minutes, then turn down the temperature (180°C- 350°F) and continue baking until golden (about 20 min.). Remove from the oven and let stand on a rack for a few minutes. Serve warm.
Note. If you use the filo dough you can roll it up like you usually do for a traditional sweet strudel. -Paola