Pumpkin is a nutritious, versatile and delicious vegetable – you can enjoy it in many recipes, both sweet (see torta di zucca) and savory (see risotto con la zucca and pasta con la zucca). It is the fairy tale's magic ingredient par excellence – we can recall the Cinderella's carriage and the Jack O'Lantern for Halloween. In the past few years Halloween has become popular in Italy, too. Surely it is one of the most fun nights of the year; I love dress up in different costumes to celebrate the holiday! Pumpkin is, this time of year, the queen of the table. I love it and use it for many recipes, to be honest, the consumption also roasted alone. My favorite variety is the zucca di Mantova (from the city of Mantua), cucurbita maxima, which I use in most of my recipes because it is very tasty and contains little water. If you cannot find it you can substitute it with butternut squash, which has a similar texture. This soup is definitely a perfect comfort dish in a cold autumn day. The delicate and slightly sweet flavor of pumpkin matches well with spicy Gorgonzola cheese, a contrast of flavors that blends perfectly.
VELLUTATA DI ZUCCA CON CROSTINI AL GORGONZOLA (PUMPKIN SOUP WITH GORGONZOLA CROUTONS)
Preparation time: 1 hour              Cooking time: 60 minutes                   Servings: 4-5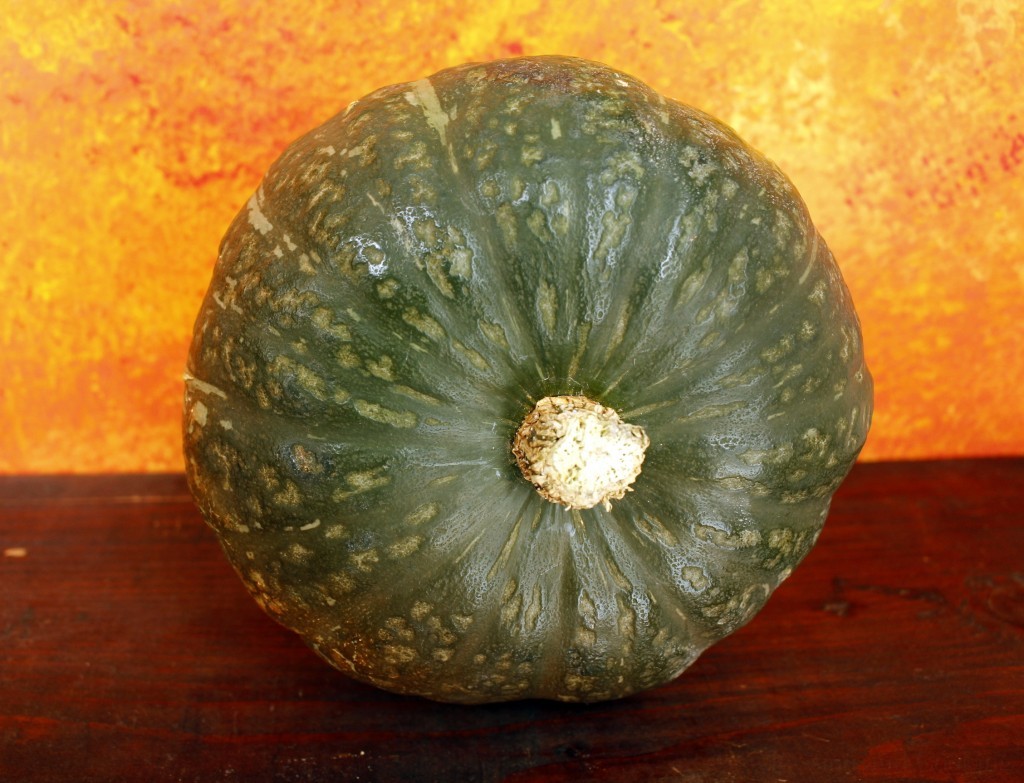 INGREDIENTS
Soup
650 g (4 1/2 cups) zucca di Mantova or butternut squash, peeled, cleaned and diced
2 medium potatoes, peeled and diced
2 shallots, finely chopped
2 tablespoons olive oil (extra virgin)
2 sage leaves
1 small sprig of rosemary
115 ml (1/2 cup) heavy cream (optional)
1 l (4 cups) vegetable broth
1 pinch of nutmeg
Salt and freshly ground pepper, to taste
Croutons
1 rectangular roll of puff pastry (250 g, 9 oz)
150 g (6 oz) spicy Gorgonzola
DIRECTIONS
1 In a saucepan, soften the shallots in olive oil over medium-low heat. Add the diced pumpkin and potatoes. Cook for 3-4 minutes, stirring with a wooden spoon. Add the sage and rosemary, and then the broth. Bring to a boil, cover with a lid and cook over low heat for 40-45 minutes.  If you don't have much time, you can use a pressure cooker for 6-8 minutes, then continue on the stove for additional 10 minutes
2. Remove from heat and puree the vegetables with a blender. Add the cream, salt to taste and a pinch of nutmeg, then cook over low heat for a few minutes to allow the flavors to blend
3. While the soup is cooking prepare the toasted cheese. Preheat the oven to 200 ° C. Cut the puff pastry into about 7 cm (3 in) x 4 cm (1 1/2 in) wide strips. Crumble the Gorgonzola on a plate and place it on the strips. Arrange on a baking sheet and bake for 10 minutes
4. Serve the soup along with the hot croutons. You can add some pepper according to your taste.
Note: G
orgonzola piccante (spicy gorgonzola), a tasty cow-milk blue cheese from Lombardy (for more info on Gorgonzola cheese), is Italy's answer to Roquefort. The flavor is sharp and sweet. Paola