A delicious autumn dessert, low in calories and perfect if you want to have something sweet without feeling guilty.
Stuffed baked apples are surprisingly easy to prepare, yet are definitely impressive and delicious to eat. They are filled with almonds, raisins (soaked in Vin Santo, delicious!) and cinnamon, undeniably a mix of flavors that goes very well with the delicate pulp of apples. You can also serve them with vanilla ice cream or caramel, a much more caloric version, but understandably irresistible.
Apples, in addition of being a tasty fruit, delicate in flavor and slightly sweet, are also very healthy: an apple a day keeps the doctor away. This is due to the antioxidant and protective substances, especially present in the peeling; my advice is to buy organic apples and eat them with the skin. Apples are rich in vitamins (vit. B group, vit. A and vit. C), minerals (sodium, potassium, iron, calcium, zinc and phosphorus). They are a perfect ally when losing weight, because they are low in calories and prevent water retention. Apples are an old fruit, dating back to the Stone Age and native to Asia Minor. They are a historical fruit as well; we should recall the apple of Adam and Eve, Isaac Newton's apple and the golden apple of Paris. Today they are still used in many recipes, both savory and sweet.
There are many varieties but my favorite one is always the Golden delicious grown in South Tyrol (the Dolomite region between Venice and Austria), which actually originally came the United States and was imported to Italy in the XIX century.
MELE AL FORNO RIPIENE (STUFFED BAKED APPLES)
Preparation time: 55 minutes                               Baking time: 35 minutes                           Servings: 4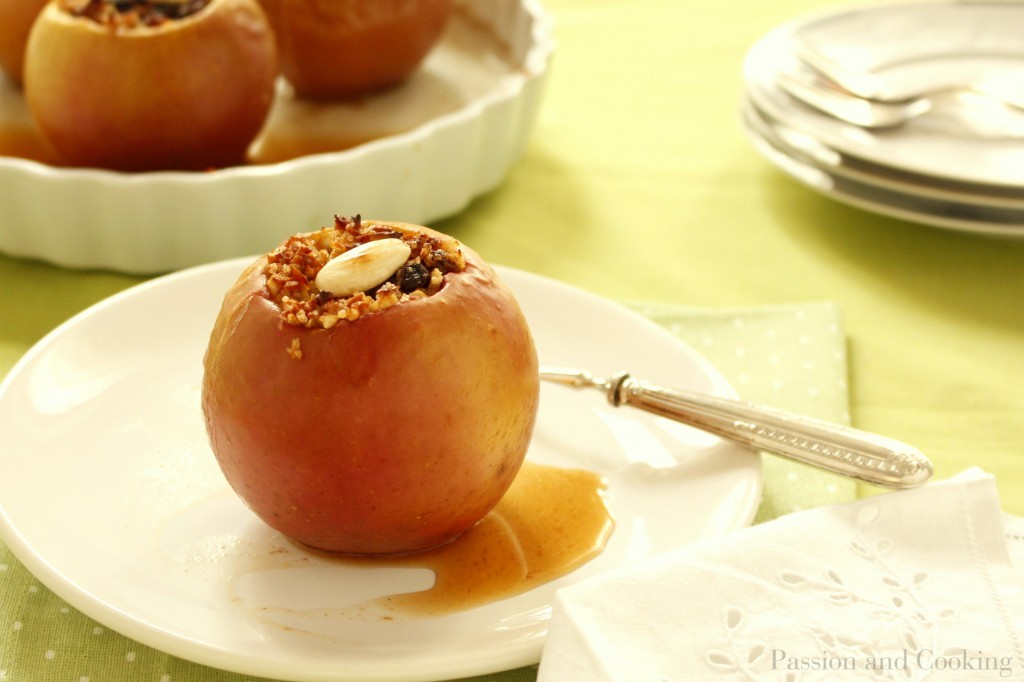 INGREDIENTS
4 large baking apples, such as Jonagold or Golden delicious
50 g (about 1/4 cup) brown sugar
80 g (1/2 cup) almonds, coarsely chopped + four whole ones for decorations
60 g (1/3 cup) raisins
4 prunes, pitted
1 teaspoon cinnamon
30 g (1tablespoon) butter
120 ml (1/2 cup) Vin Santo
Apple juice for baking
DIRECTIONS
1. Soak raisins and prunes in Vin Santo for about 15 min.
2. Preheat the oven to 180°C (350°F)
3. Rinse and dry the apples. Remove the cores using a sharp paring knife leaving the bottom intact about 1.2 cm (1/2 in).
4. In a medium bowl mix the sugar, cinnamon, almonds and raisins (previously drained)
5. Place the apples on a baking pan, place one prune (drained) at the bottom of each apple. Stuff each apple with the filling. Place a whole almond on top of each apple and a dot of butter on top.
6. Add some apple juice to pan. Bake for 30-35 minutes until apples are tender but not mushy. Serve warm with some of the baking juice. Paola