Prosciutto-wrapped prawns will be a hit with your party crowd. It is a delicious appetizer you can prepare in just a few minutes. Ensure you make enough! First wrap the prawns in tasty "prosciutto" slices and then pan-fry with a little olive oil flavored with garlic. The trick to do this right is to find the thinnest slices of "prosciutto" you can. After cooking, the addition of pepper and a few drops of lemon makes this dish superb.
Prosciutto crudo's taste depends on the aging time and the amount of fat present in the pork. Prosciutto di Parma (from Parma in Emilia-Romagna) has a distinct flavor due to the longer aging time when compared to Prosciutto S. Daniele (from Friuli), sweeter and lighter in texture, while Prosciutto Toscano has a much stronger and decisive taste because of the spices used to cure it.
You can substitute "prosciutto" with lard or bacon.
GAMBERI CON PROSCIUTTO CRUDO (PROSCIUTTO CRUDO-WRAPPED PRAWNS)
Preparation time: 10 minutes                Cooking time: 4 minutes                Servings: 4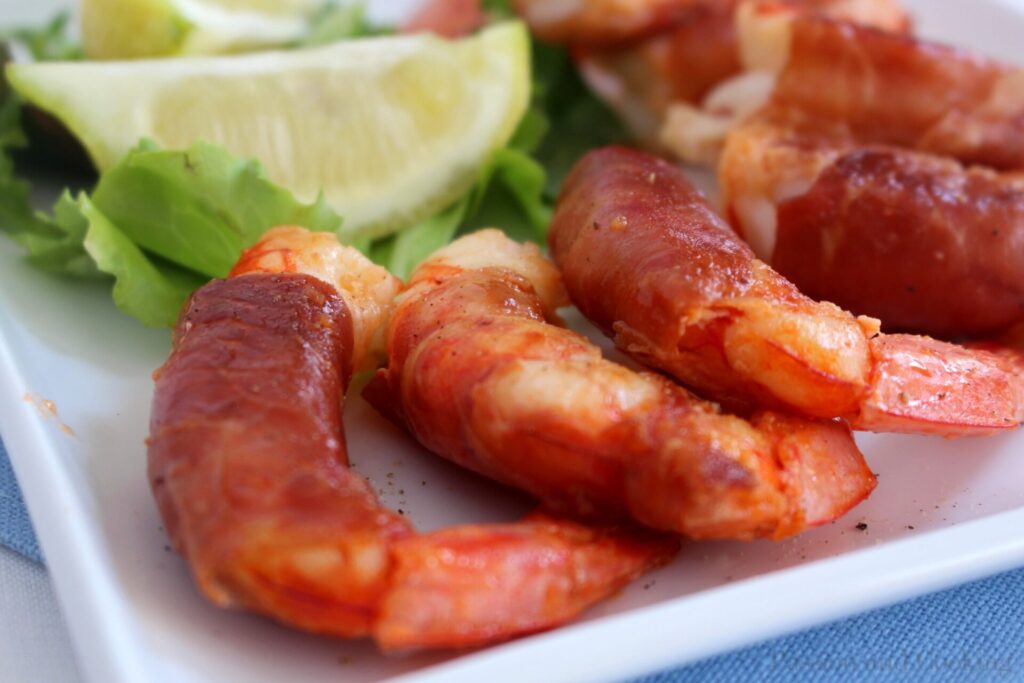 INGREDIENTS
12 large prawns, peeled and de-veined
12 slices of prosciutto crudo, sliced thin
1 tablespoon olive oil (extra-virgin)
1 clove of garlic
Pepper, freshly ground
1 lemon, juice from
DIRECTIONS
1. Rinse the prawns under cold running water, remove the head, the shell and de-vein. Make certain that the tail remains attached. Rinse again and dry with paper towels
2. Wrap each prawn with a slice of prosciutto
3. Peel the garlic and saute in a nonstick skillet with oil over medium-low heat. Remove the garlic when it is lightly browned
4. Add the prawn and cook on one side for 2 minutes, turn and cook for the same amount of time
5. Remove from the skillet, add some pepper and sprinkle with some lemon juice (only a few drops). Serve warm. – Paola