Sorbet is a treat for the palate, refreshing and flavorful. It can be served both as a dessert or as palate cleaner between courses. (You can read more about sorbet). The sweetness of mango goes well with the lime's aromatic flavor. Mango is a fruit native to India and is cultivated in all tropical areas. It has a bright yellow pulp, rich in fiber, vitamin C, vitamin B6, K, minerals, carotenoids and polyphenols (powerful antioxidants). It is therefore a perfect anti-aging fruit which helps maintain healthy skin. Nowadays it is pretty common to find it in Italy. I love it both in my fruit salad or in this creamy sorbet.
SORBETTO AL MANGO E LIME (MANGO AND LIME SORBET)
Preparation time: 50 minutes                    Cooling time: 8 hours                                   Servings: 10 people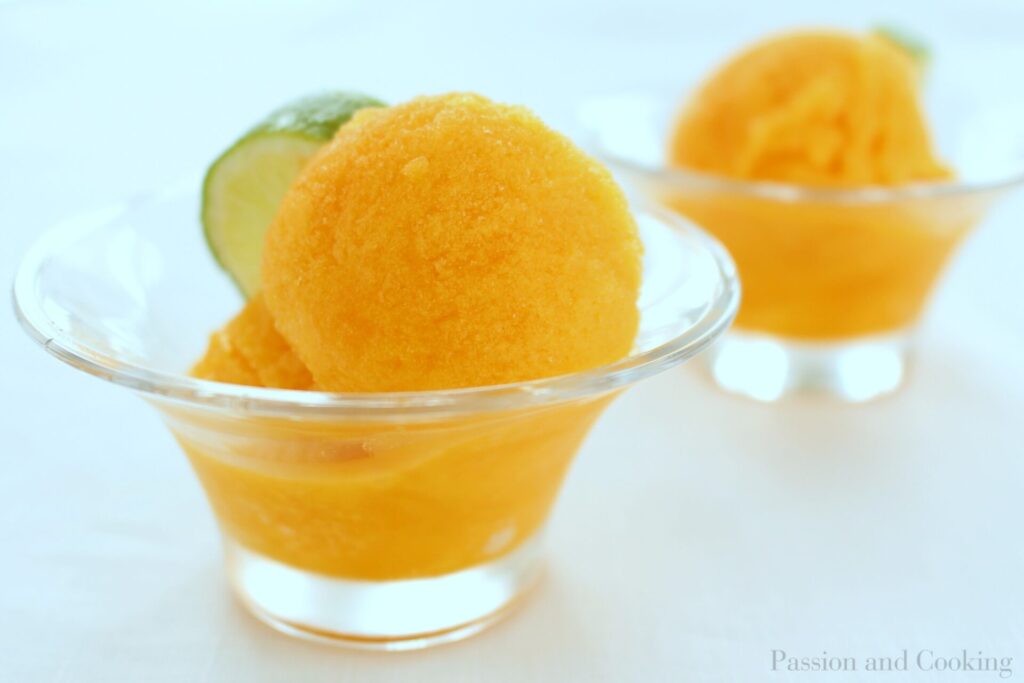 INGREDIENTS
600 g (21 oz) mango pulp (about 4-5 large ripe fruits)
180 ml (3/4 cup) water
160 g (3/4 cup) sugar
2 limes, juice of
6 g (1 heaping spoon) carob seed flour
2 pasteurized egg whites, lightly whisked
DIRECTIONS
1. Cool a steel bowl in the freezer for 30 minutes
2. In a saucepan, combine sugar (reserving 20 g, 4 teaspoons) and water, bring to a boil over medium heat. Lower heat and simmer for 5 minutes, stirring continuously, until the sugar is dissolved. Remove from heat and let cool completely
3. Mix 20 g (4 teaspoons) of sugar and the carob seed flour in a small bowl. Add half of the sugar syrup and whisk well. Beat the egg whites in a separate bowl with an electric whisk
4. Pour the reming sugar syrup into the cold bowl, add the mango pulp, add the lime juice and the carob seed mixture. Add the egg white and mix well. Initially the egg whites may separate from the mixture. This is normal.
5. For the final stage, you can choose between two different methods: ice cream method or freezer method:
Ice cream method: Pour the mixture into ice cream maker and follow the instructions.
Freezer method: Pour the mixture into a container and store in the freezer for an hour. Remove and mix with a fork. Put in the freezer for at least three hours. Remove from the freezer, stir and put in the freezer for three to four hours. At this point, the sorbet should be ready. To give the sorbet a creamy consistency, put it in a blender for a few seconds. You can also defrost a bit 'and serve in a flute with straw.
Note: In health food and ethnic food stores you can usually find natural mango pulp. The sorbet will keep in the freezer for 3-4 days. -Paola