This is a refreshing, easy, fast and healthy recipe. It is summer in a bowl: savory and sweet at the same time. As improbable as it might sound, this combination is delicious. It is prepared with watermelon, celery, Taggiasche olives  and quartirolo cheese. Quartirolo is a soft cow's milk cheese from Lombardy that you can substitute with feta cheese, although feta has a more potent flavor. You can serve it as a starter or a light lunch. I love watermelon, it reminds me of my childhood when, during summer, we spent weeks in our country house and enjoyed watermelon as an afternoon snack. Watermelon has become synonymous with summer, perfect during the hot months to prevent dehydration (in fact, it is 92% water!). It provides a high amount of vitamins, minerals and antioxidants with a low amount of carbohydrates. Watermelon makes a healthy addition to a weight loss plan.Watermelon also contains more lycopene than any other fruit or vegetable. Therefore, it is an healthy choice to add to our diet. It helps prevent a lot of diseases such as cancer, heart disease and inflammation.
INSALATA DI ANGURIA CON QUARTIROLO (WATERMELON SALAD WITH QUARTIROLO CHEESE)
Preparation time: 10 minutes              Serving: 4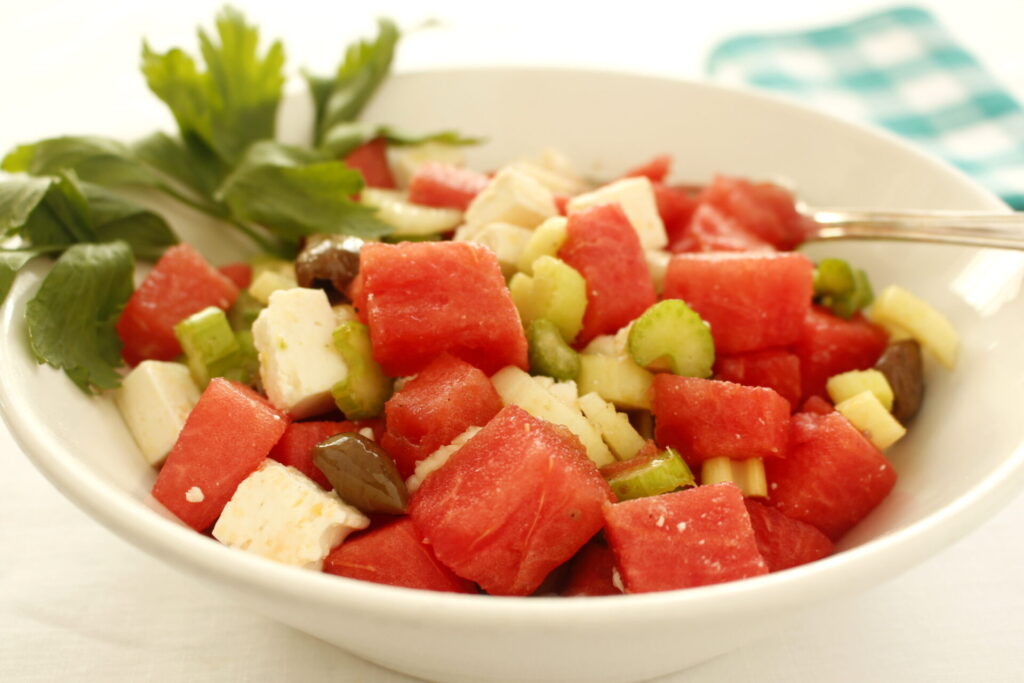 INGREDIENTS
600 g (21 oz), peeled, seeded and chilled watermelon
150 g (1 cup) quartirolo or feta cheese
4 stalks green celery, finely sliced
1/4 cup Taggiasche olives
1 tablespoon olive oil (Extra Virgin)
Freshly ground pepper to taste
DIRECTIONS
1. Cut the watermelon into 2.5 cm (1 inch) chuncks
2. In a small bowl mix the celery, the olives, the olive oil and a pinch of pepper
3. In a large bowl combine all the ingredients and mix gently. Serve immediately otherwise the watermelon will lose water.
Note: Try another variation of this salad by adding mint leaves before serving. – Paola