The holiday season presents a number of opportunities to serve delicious and elegant food. Blini and caviar is a perfect example – an elegant, irresistible and delectable starter to serve on New Year's Eve with a glass of champagne. The blini's delicate and nutty taste blends very well with sour cream and salty caviar. The preparation is simple but the result is extraordinary tasty and beautiful.
The term blini is the Russian word for pancakes but the recipes is slightly different from the American pancakes since it includes buckwheat flour that gives the nutty flavor, as well as yeast leavened butter. The addition of whipped egg whites adds a light and fluffy texture to the pancakes. Caviar is a delicacy consisting of salt-cured sturgeon roe from the Caspian and Black seas (Beluga, Osetra and Sevruga). Caviar was not used in the past in our Mediterranean diet originally from Russia, but nowadays it is getting more popular, in fact  Italy is a large producer and exporter of farmed caviar, delivering 25 tons in 2013. Caviar Malossol (my favorite!) is not a separate variety of caviar but the translation from Russian that means less salty. You can substitute sour cream with crème fraiche, but I personally prefer the slightly acidic taste of sour cream.
Wish you all my beloved readers a Happy New Year, filled with Love, Peace and Health and….Good Food. Buon Anno miei cari lettori!
BLINI CON CAVIALE (BLINI WITH CAVIAR)
Total preparation time: 1 hour          Cooking time: 20-25 minutes            Yields: 30-35 blini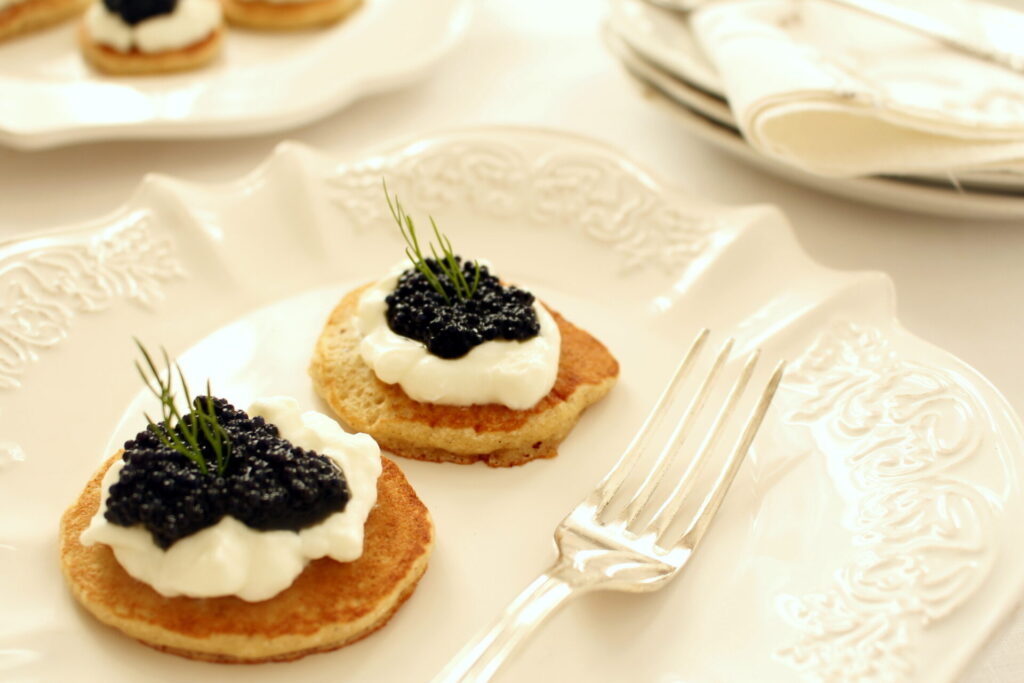 INGREDIENTS
160 ml (2/3 cup) warm milk, 40°C-110°F
10 g (1/3 oz) fresh yeast, 5 g (1 1/4 teaspoons) dry yeast
2 tablespoons sugar
75 g (scant 1/2 cup) all-purpose flour
55 g (1/3 cup) buckwheat flour
1/4 teaspoon salt
2 eggs, separated
30 g (2 tablespoons) butter, melted and cooled, plus some melted butter for cooking
280 g (10 oz) source cream
50 g (2 oz) caviar
Fresh dill for decoration
DIRECTIONS
1. In a bowl stir together the milk, sugar and yeast (if you use fresh yeast, crumble it) and let it stand for 5 minutes (until foamy)
2. Stir in the all-purpose flour, buckwheat flour, egg yolks and salt. Cover the bowl with plastic wrap and let it rest in a warm place for 30 minutes. After 30 minutes the dough should have increased in volume and have bubbles breaking the surface. Add the butter
3. Whip the egg whites and a pinch of salt together until stiff, then fold gently into the mixture with a spatula
4. Heat a nonstick skillet over high and brush with some melted butter. Turn the heat to low and place one tablespoon on the hot griddle for each blini. Allow sufficient space between the blini for turning. Cook, turning over once, until golden on both sides. Transfer to a cooling rack and keep the blini warm in the oven
5. When all the blini are prepared, arrange on a plate and top with sour cream, caviar and dill. – Paola