Is it possible to indulge yourself with something sweet without making yourself feel guilty? Try these caramelized pineapple rings, topped with yogurt. It is a fresh, easy and simply delicious dessert. Pineapple has a vibrant tropical flavor that balances the acid taste of yogurt.
It is rich in vitamins (C, B1, B6), minerals (manganese and copper), fiber, folate, pantothenic and bromelain that is very helpful to your digestion. Some studies have shown that consumption of pineapple decreases the rate of obesity, diabetes and heart disease, as well as promoting general health. Pineapple is certainly a super food to add to your diet. I love it in fruit salad, in green salads, with grilled chicken and by itself as well.
ANANAS CARAMELLATO (CARAMELIZED PINEAPPLE)
Preparation time: 20 minutes         Cooking time: 11 minutes           Servings: 8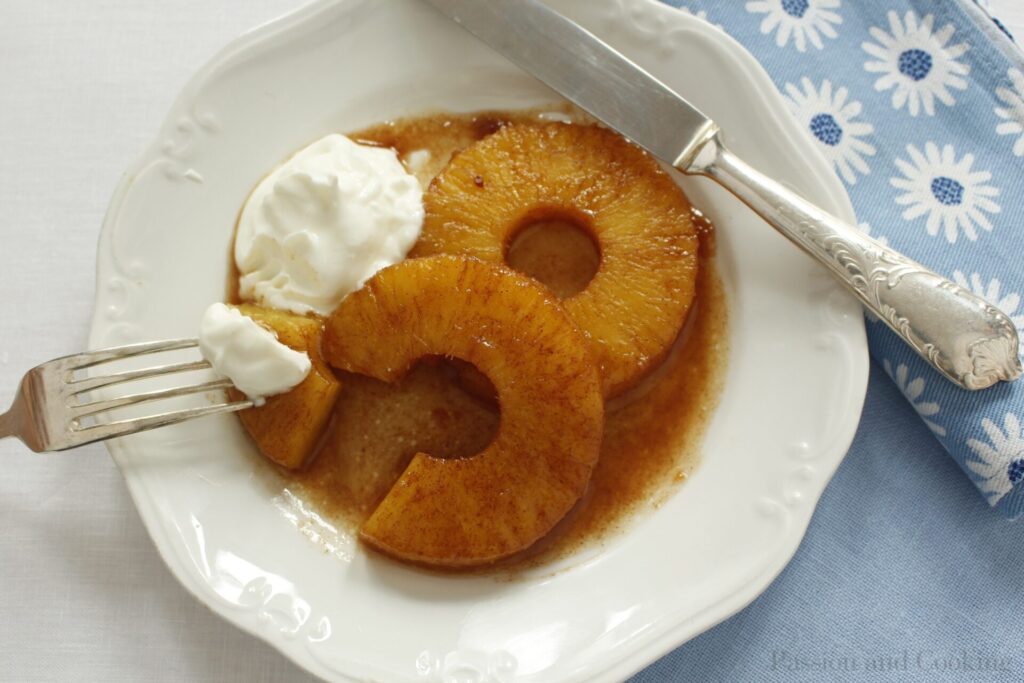 INGREDIENTS
1 pineapple, cored and cut into 8 rings
4 tablespoons brown sugar
½ teaspoon cinnamon
1 cup cognac
45 g (3 tablespoons) unsalted butter
Greek yogurt
DIRECTIONS
1. In a small bowl mix the cognac, brown sugar and cinnamon
2. In a large sauce pan melt the butter, and then add the cognac mix. Bring to simmer over medium-high heat, stirring constantly. Reduce to medium-low heat and cook for 3-4 minutes
3. Lay the pineapple rings on the sauce and continue to cook over medium heat for about 8 minutes, flipping midway through
4. Transfer to a serving plate, drizzle the sauce on the slices and top with yogurt.
Note: You can substitute the cognac with rum or the yogurt with vanilla ice cream. You can adjust the amount of cinnamon to your personal taste. – Paola