What can be more comforting than some tortellini in brodo, freshly made! Making tortellini is quite labor-intensive and time-consuming, but it is a lot of fun … a good family activity. I usually make tortellini with my kids; actually the ones you see in the pictures are mostly made by son Michael. Thanks Michael for your precious help!!!.
Tortellini are ring-shaped pasta, sometimes also described as "navel shaped". Originally they are from Emilia (in particular Bologna and Modena). In Romagna (Ravenna, Forli' and Rimini) they are known as cappelletti, small hats. Tortellini are always made with fresh egg pasta but the filling varies from family to family. Every family has its own recipe; mine belongs to my "nonna" (grandmother) who usually prepared them with us for our Christmas dinner. Some fillings include ricotta and spinach, some ricotta and ham, prosciutto crudo, (like mine) or beef, brasato (braised beef). I like the distinct taste of prosciutto mixed with light and creamy ricotta. No matter what filling you use, they are served in stock (beef or chicken). Actually this recipe is also good served with cream and topped with Parmesan cheese. Homemade tortellini is a delicious first course, primo, to serve on a special occasion, preparing it is an act of love for the people you care for.
TORTELLINI RIPIENI CON PROSCIUTTO E RICOTTA (HAM AND RICOTTA TORTELLINI)
Preparation time: 1 ½-2 hours         Cooking time: 5 minutes             Servings: 4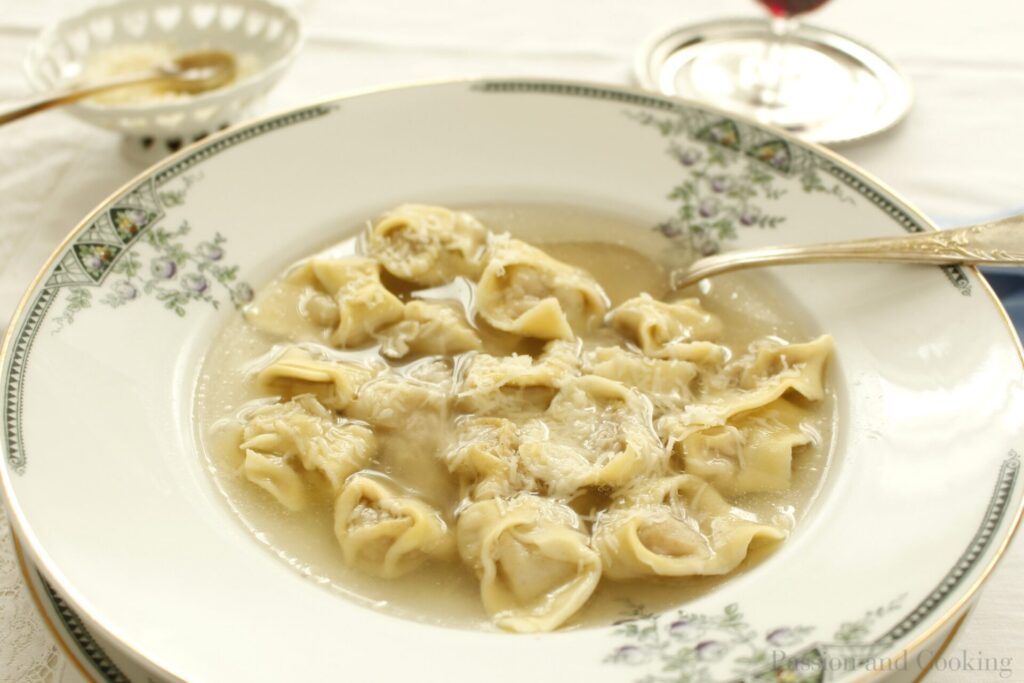 INGREDIENTS
Homemade fresh pasta
100 g (3.5 oz) prosciutto crudo, sliced
200 g (7 oz) ricotta cheese
60 g (heaping ½ cup) grated Parmesan cheese, plus some for serving
¼ teaspoon nutmeg
Freshly ground pepper
Beef stock
DIRECTIONS
1. Prepare the filling. In a food processor finely chop the ham, using about 10 or 12 one-second pulses, until it looks finely ground. Add the ricotta, Parmesan, nutmeg and a pinch of pepper. Mix for a few seconds until smooth. Remove and place into a bowl covering with plastic wrap. Store in the fridge
2. Prepare fresh egg pasta following the recipe as directed in lasagna with bolognese sauce. When you prepare the pasta sheets do not discard the trimmings, but add them back to the balls of dough remaining to be rolled.
3. Make the tortellini. Cut the pasta sheets into squares, about 5 cm (2 inches).
a. Place 1/2 teaspoon of filling in the center of each square of pasta
b. Fold the square diagonally in half into a triangle, first firmly pressing the top points together and then working your way along the sides to seal them tightly. Make certain that they are well-sealed, otherwise the filling will flow out when they are cooked
c. Set the pocket of filling against the nail of your pinky finger, the triangle should now be facing you. Fold the two corners around your finger
d. Press tightly to seal
e. Toss with flour, set aside on well-floured baking sheet, and cover. Repeat with remaining pieces of dough
5. Cook the tortellini. In a large pot bring the stock to a boil. Lower the tortellini into the stock a few at a time with a slotted spoon and reduce the heat to medium-low. Stir occasionally to prevent the tortellini from sticking to the pot or each other. Cook until all the tortellini have bobbed to the surface of the stock, about 5 minutes. Taste one to check if they are cooked. Serve immediately with freshly grated Parmesan cheese.
Note: If you don't cook the tortellini immediately, freeze them on a sheet pan and then store to a freezer-safe container once solid. Frozen tortellini will keep well for about 2 months. Cook directly from the freezer, but increase the cooking time by a minute or two. – Paola