This is a delicious, healthy and easy cake to prepare. If you are new to farro flour, this cake is a great one to try. If you want to satisfy a sweet tooth: do it HEALTHLY with a homemade cake rich in fruit, like suggested by the Mamma Mia! Diet. Farro is an ancient grain, a variety of wheat called emmer. It was used by the Etruscans, Egyptians and the Romans. Nowadays it is cultivated especially in northern Tuscany, in the province of Lucca. Farro has a delicious nutty and earthy texture. Farro flour has a pale greenish-yellow color and is used in pasta , bread and in a variety of cakes. For more nutrional information check farro salad. You can enjoy this appetizing cake with a cup of coffee or tea. I really like it with my caffè macchiato! The nutty taste of farro flour balances well with the sweetness of pears and the bittersweet chocolate – it is a winning combination!
TORTA DI FARRO, PERE E CIOCCOLATO (FRRO CAKE WITH PEARS AND CHOCOLATE)
Preparation time: 1 hour       Baking time: 35-40 minutes        Servings: 6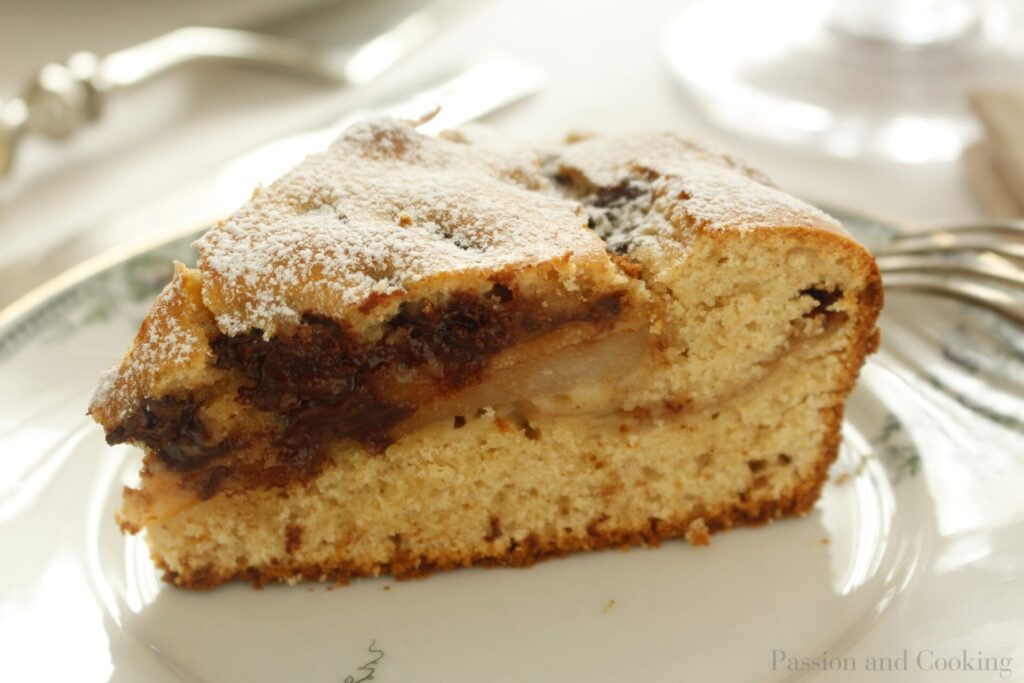 INGREDIENTS
4 medium pears, peeled and finely sliced
1 tablespoon powdered sugar
½ teaspoon cinnamon
145 g (scarce ¾ cup) granulated sugar
2 medium eggs
1 teaspoon vanilla extract
70 g (2.5 oz) unsalted butter, melted
130 ml (about ½ cup) white yogurt
12 g (scarce 1 tablespoon) baking powder
250 g (about 1 3/4 cups) farro flour
4-5 tablespoons milk
110 g (4 oz) dark chocolate, coarsely chopped
Powdered sugar for decoration
DIRECTIONS
1. Preheat the oven to 180°C (350°F). Butter and flour a 23 cm (about 9 in.) springform pan
2. In a bowl mix the pear slices with a tablespoon of powdered sugar and cinnamon. Set aside
3. In a bowl cream the sugar and the eggs with an electric whisk until creamy and pale yellow. Add the butter, the vanilla extract and the yogurt. Mix well to incoporate all the ingredients
4. Sift the flour and the baking powder together. Slowly add to the batter. Add the milk, one spoon at a time. Mix well. The batter should be creamy
5. Scrape ½ the batter into the pan, place the pears on top and then the chocolate chunks, equally distributed. Add the remaining batter
6. Bake for 35-40 minutes, until golden brown on top
7. Remove from the oven and let cool on a cooling rack for 5 minutes. Then, remove from the pan and let it cool until warm on a cooling rack. Before serving dust with a thin layer of powdered sugar. Serve warmo or at room temperature.
Note: If you can find farro flour, you easily substitute with spelt flour (it belongs to the same family). – Paola