This light salad is a contrast of different flavors that all blend together. They create a harmonious taste that ranges from the sweet taste of nectarines, the nutty of songino lettuce, pine nuts and broad beans and the creamy one of ricotta cheese.
This salad is not only beautiful and tasty but it is also healthy, because it contains a mix of protein (see more info on broad beans), fiber, vitamins and minerals. It is perfect to serve as a main course for a vegetarian lunch or as a side course with dinner. In summer I love it for lunch because it is very refreshing.
You can substitute broad beans with chickpeas, another member of the healthy legumes family.
INSALATA DI FAVE, PESCHE, PINOLI E RICOTTA (BROAD BEANS, NECTARINES, PINE NUTS AND RICOTTA SALAD)
Preparation time: 15 minutes                Servings: 4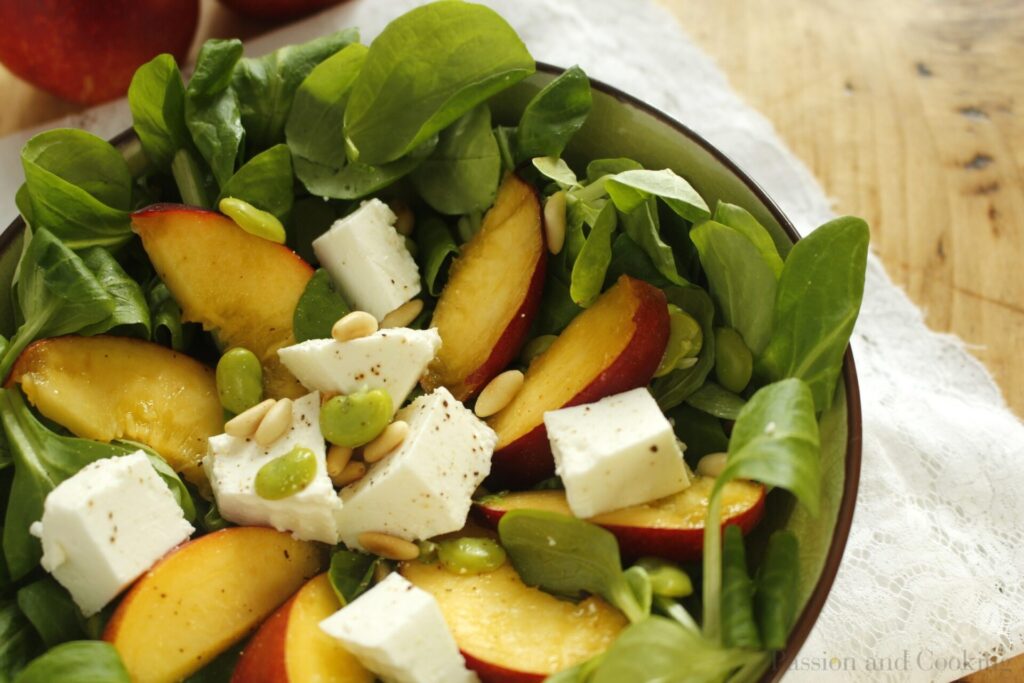 INGREDIENTS
250 g (about ½ pound) songino lettuce or any spring lettuce, washed and dried
2.5 kg (about 5 pounds) fresh broad beans or about 250 g (about ½ pound) frozen ones
4 medium nectarines, washed and finely sliced
4 tablespoons toasted pine nuts
300 g (about 11 oz) fresh ricotta cheese
3 tablespoons olive oil (extra virgin)
Juice of one lemon
Salt and freshly ground pepper
DIRECTIONS
1. Shell the fresh beans and discard the pods. Remove the skin from the beans and wash in cold water. In a medium-sized pan bring plenty of water to boil, add the broad beans and simmer for 5-6 minutes on very low heat. When the beans are very fresh, you have to cook them for a short time, instead if they are not very tender, you have to cook them for a longer period of time (about 10-12 minutes). Drain and set aside.
2. You can decide if you serve the salad in one bowl or in a four different ones. I prefer the second choice. Divide all the ingredients in 4 parts. Place some lettuce in each bowl and decorate with necatines, broad beans, pine nuts and ricotta cheese. Add some dressing and freshly ground pepper. Serve immediately. -Paola