Ready for an aperitivo with Martini Spritz? Aperitivo (the Italian happy hour) is certainly one of the most fun food experiences that you can try in Italy. It has a long history, already the Romans drank something similar to the modern aperitivo, called mulsum, consting of wine and honey. The word comes from Latin – Aperitivus- and means something that "opens the way"; in fact, it usually involves a cocktail drink (alcholic or non-alcholic) before dinner to stimulate your appetite. Aperitivo is served with some "stuzzichini" (savory snacks such as olives, peanuts, chips) or a free food buffet (with perhaps pasta, cold cuts, cheese, salad). The latter is actually more of a dinner than an aperitivo! But it's quite common now, especially in the bigger Italian cities. Aperitivo hour is usually between 7 pm and 9 pm.
There are several cocktails you can drink, but a spritz is the one that does not need any introduction: cool, refreshing and not too alcholic, my favorite! Spritz is prepared with Prosecco wine and several liquers : Aperol, Campari, Bitter, Martini or Cynar, the most daring one. There are several types of Martini: Bianco, Rosso, Rosato, Dry, Extra Dry and Bitter. The one I use for this cocktail is Martini Extra Dry that has a delicate taste. It is characterized by pale straw-green color and fresh and fruity aromas of raspberry and lemon with a background of iris, wood and sherry. This spritz is thirst-quenching, light and easy to prepare. It is a cocktail that fits at all hours of the day and that is particularly suitable as an aperitivo.
This recipe includes the addition of lime and fresh mint: lime adds a light and pleasant acidity, while the mint adds fragrance and freshness.
MARTINI SPRITZ
Preparation time: 5 minutes                    Servings: 1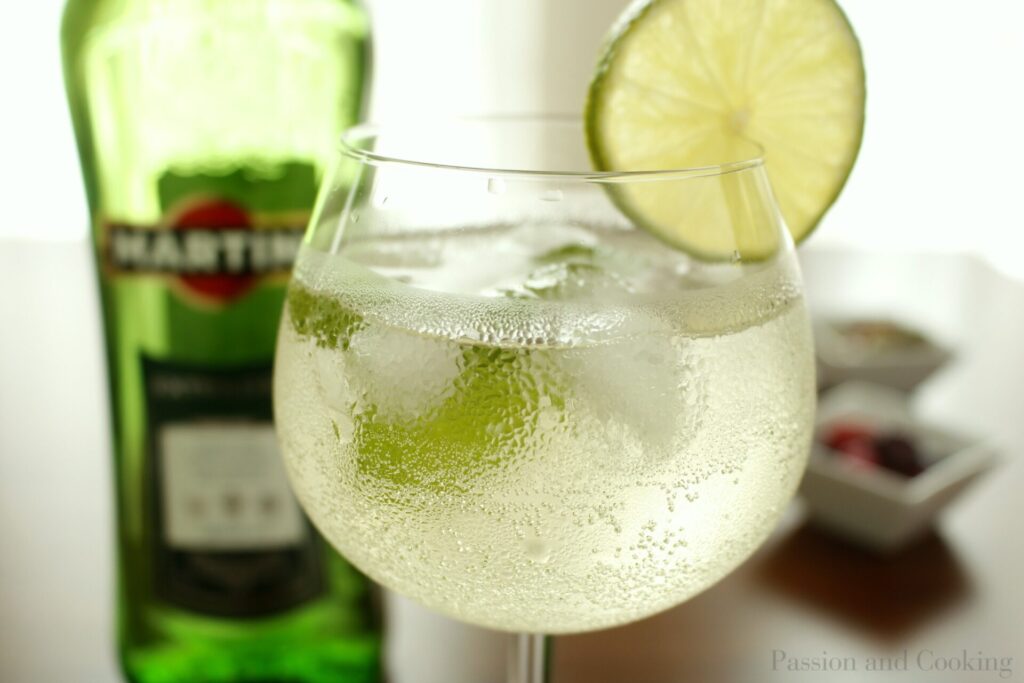 INGREDIENTS
120 ml (½ cup) Martini Extra Dry
160 ml (2/3 cup) Prosecco
2 lime slice
4 ment leaves
4 ice cubes
60 ml (1/4 cup) soda, about
DIRECTIONS
1. Take a chilled glass, add 4 ice cubes, the white Martini and sparkling prosecco without stirring.
2. Add the soda to taste and cut two slices of lime, one in the cocktail and the other one to garnish the glass
3. Add, finally, 4 fresh mint leaves. – Paola