Mediterranean pasta salad is a tasty summer dish, perfect to prepare on a warm day when don't want to stand in front of the stove but still want to enjoy a simple, refreshing and light dish! I suggest having it as a main dish for your midday meal – it is satisfying, rich in many nutrients (carbohydrates, protein, vitamins and fiber) – or as a starter for a larger meal with friends and family. In Italy this pasta salad is often served as a dish on the buffet at an aperitivo "rinforzato" (substantial, literally "reinforced"). The combination of different flavors, texture and colors makes this recipe very inviting and irresistible. You can also prepare it for a picnic or have it for lunch at work. With this in your brown bag, I am certain you will be looking forward to your lunch break!
INSALATA DI PASTA MEDITERRANEA (MEDITERRANEAN PASTA SALAD)
Preparation time: 30 minutes      Cooking time:12 minutes       Servings: 4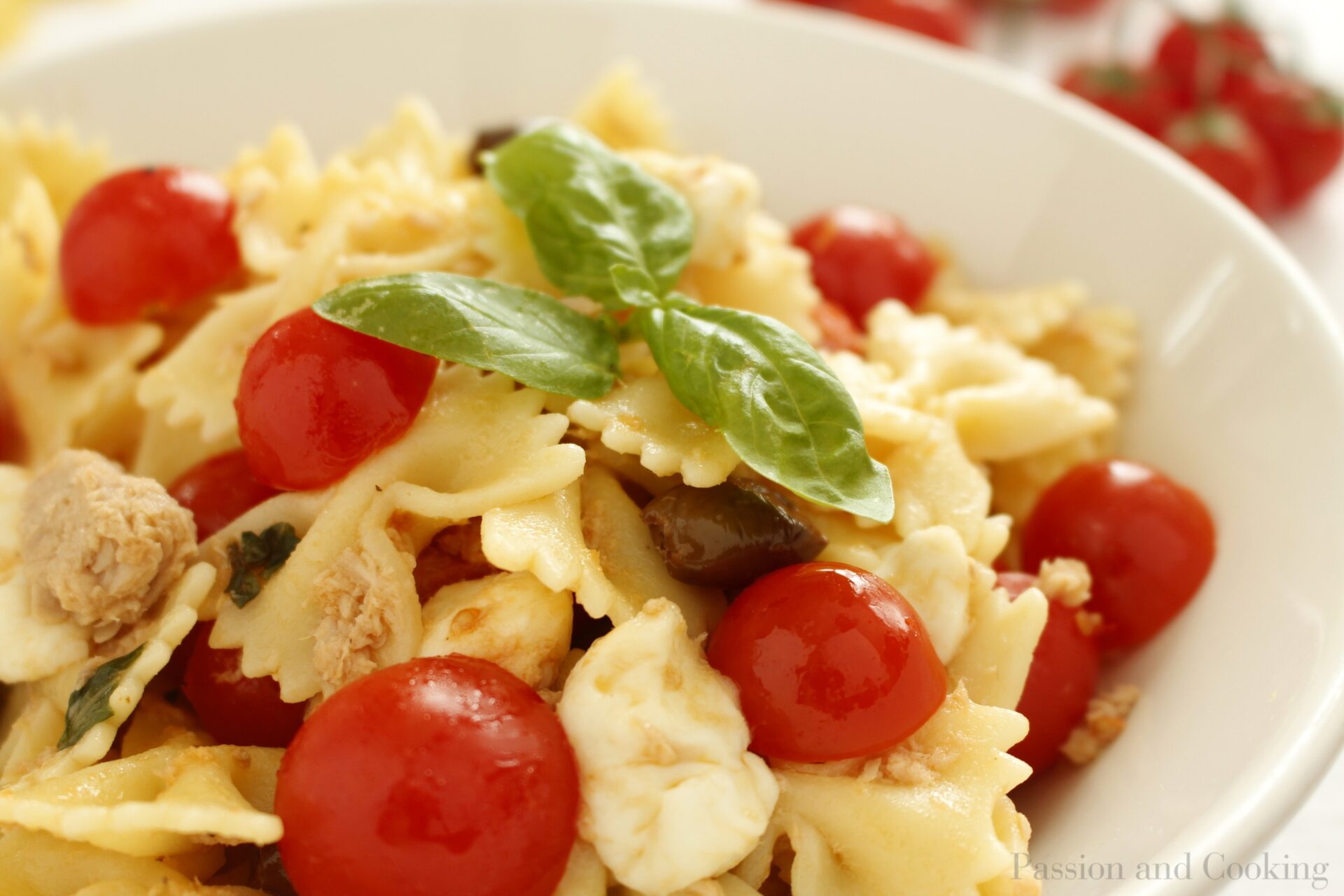 INGREDIENTS
320 g (about 11 oz) bow-tie pasta
320 g (about 11 oz) cherry tomatoes
2 garlic gloves, cut in half
25-30 basil leaves
200 g (7 oz) canned tuna, in extra virgin olive oil
3-4 tablespoons Taggiasche olives or black olives, pitted
200 g (1 cup) diced mozzarella cheese
1-2 tablespoons olive oil (extra virgin)
Salt and freshly ground pepper
DIRECTIONS
1. Wash the cherry tomatoes and cut in half. Place in a bowl with the garlic and add a pinch of salt. Let rest for 5 minutes to release the water that you will need to drain off before adding the tomatoes to the other ingredients. Remove the garlic
2. Bring a large pot of salted water to boil and cook the pasta for about 11-12 minutes, according to the instructions on the package
3. In a bowl mix the tuna, the tomatoes, the olives (if you cannot find pitted taggiasche olives, you can substitute them with sliced black olives). Tear the basil leaves with your hands and add
4. Drain the past and add to the mix. Toss with 1-2 tablespoons of olive oil and some freshly ground pepper. Let cool for about 20 minutes, add the mozzarella and enjoy!
Note: You can replace the cow milk mozzarella with buffalo mozzarella. If the mozzarella is too watery after you slice it, let it drain for 10 minutes to remove some liquid.
You can also use other short pasta like penne, fusilli see the secret of pasta post. This stores well in the refrigerator, in a sealed container, for 1-2 days. – Paola