The looks can be deceiving, says the popular saying, and "i brutti ma buoni" are a clear demonstration. Just like in fairy tales, under their rough and irregular appearance, hides a unique and irresistible taste! They are simple, prepared with meringue and ground hazelnuts. These cookies can be traced back to the Italian peasant's tradition; originating in Northern-central Italy (in particular Tuscany), today they are found all over the country, with only small variations that do not alter the essence of the recipe: simplicity. Whether you are already enamored by these cookies or haven't tried them yet, now you have the chance to make them yourself in your kitchen. You will fall in love immediately! You can enjoy them with a cup of coffee (espresso) or tea without feeling guilty. These cookies are a healthy choice: Hazelnuts are superfoods to add to your diet because they promote a healthy heart, help manage diabetes, and are filled with antioxidants and boost your brain. Additionally, egg white is a good source of protein. Of course, they are cookies, so some sugar is needed to complete the recipe, but only just enough to let the flavor of the hazelnuts come through!
BRUTTI MA BUONI ("UGLY BUT GOOD" ITALIAN COOKIES)
Preparation time: 1 ½ hours       Baking time: 40-50 minutes                Yield: about 30-35 cookies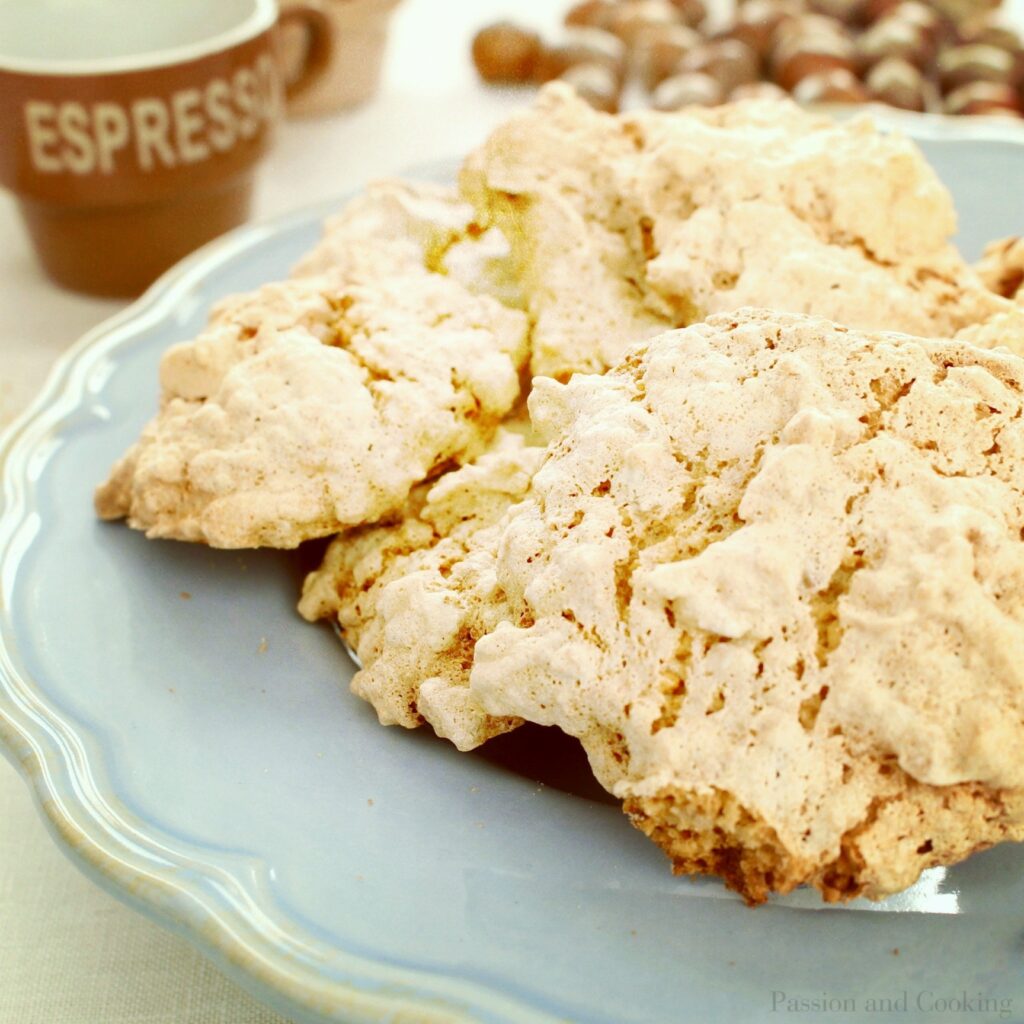 INGREDIENTS
Egg whites from 6 medium eggs, at room temperature
1 vanilla pod
180-190 g (1 scant cup) granulated sugar
300 g (3 cups) toasted hazelnuts
DIRECTIONS
1. Preheat a ventilated oven to 130°C (260°F)
2. Chop the hazelnuts in a food processor at medium speed until you reach the consistency of a coarse granola. Set aside
3. Place the egg whites in a large bowl. Add the vanilla seeds and start mixing with an electric mixer at medium speed for at least 10 minutes, until fluffy. Add 1/3 of the sugar, mix until it is well incorporated. Repeat again twice until you finish all the sugar
4. With a spatula, gently fold the hazelnuts to the egg whites
5. Line a baking sheet with parchment paper. Place a tablespoon of hazelnut dough onto the baking sheet, 2.5 cm (1 inch) apart
6. Bake the cookies for 45 minutes to 55-60 minutes (or even longer) until lightly brown on top and crisp inside
7. Let it cool on a cooling rack before serving.
Note: The cookies can be stored in airtight container up to 3-4 days. – Paola