Ravioli with beets and ricotta cheese is, without doubt, an elegant and colorful vegetarian dish that can be enjoyed as a first course or a main course. The typical sauce is butter and sage, topped with some grated Parmesan and freshly ground pepper.
I love beets, they are one of my favorite winter vegetables. The intense color, due to some pigments – called betalains – gives an impressive, inviting look and healthy benefits. Beets are not only beautiful but also a unique source of phytonutrients that have been shown to provide antioxidant, anti-cancer (in particular colon cancer), anti-inflammatory, and detoxifying properties. Unlike some other food pigments, betalains are steadily released from food as cooking time is increased. I recommend that you keep steaming times for beets to 15 minutes or less, and roasting times to under an hour. For this reason I suggest purchasing small or medium-sized beets. Smaller, younger beets are tenderer and the cooking time is faster. In Italy you can puchase pre-steamed or roasted beets from the local green grocer, therefore you don't need to cook them yourself. You can prepare beets in many ways. Try also dumplings with beets and ricotta in the Mamma Mia! Diet book.
Ravioli is one of the staples of the Italian cuisine and, for more information on ravioli, you can also try ravioli with spinach and ricotta.
RAVIOLI CON BARBABIETOLA E RICOTTA (RAVIOLI WITH BEETS AND RICOTTA)
Total preparation time: 1 1/2 hours        Cooking time: 5-6 minutes          Servings: 4 -6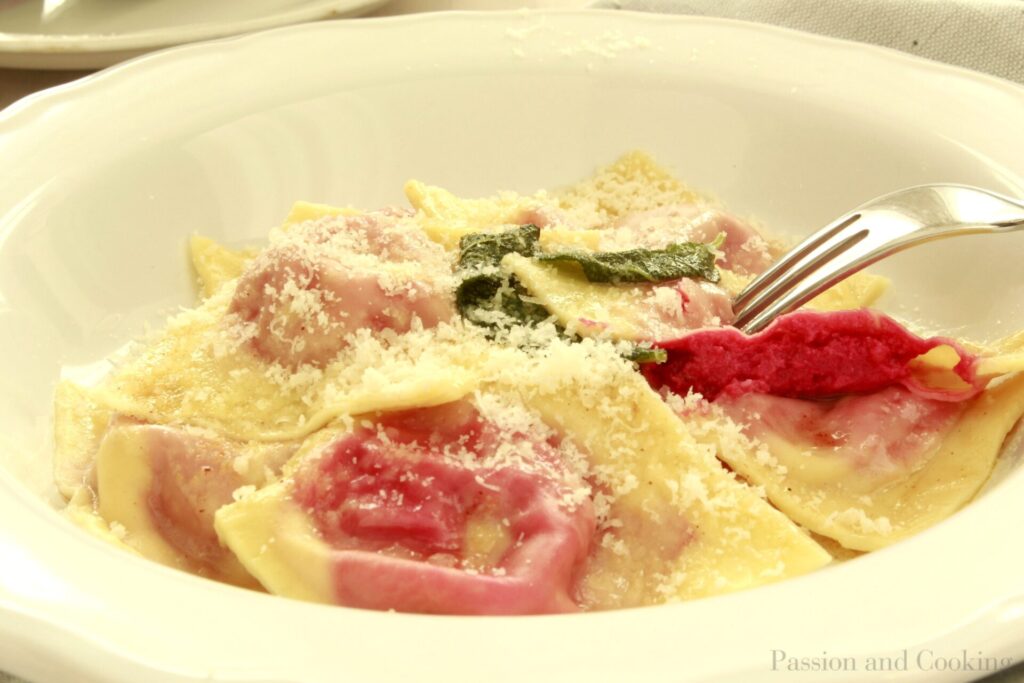 INGREDIENTS
Fresh Pasta
320 g (2 1/4 cups) Italian Grade 00 flour or unbleached all-purpose flour
3 large eggs
Semolina flour
Filling
250 g (1 ½ cups) cooked and diced beets
300 g (1 heaping cup) fresh strained ricotta cheese (you can use either cow or goat ricotta)
150 g (1 ½ cups) Parmesan cheese, grated
Salt, freshly ground pepper and nutmeg to taste
DIRECTIONS
1. Prepare the filling. Blend the beets in a food processor or blender until smooth. Transfer the beets into a bowl, add the ricotta, Parmesan, pepper and nutmeg. Mix gently. Cover and refrigerate until needed
2. Prepare the pasta. Place the flour in a volcano-shaped pile on a work surface (wood is the traditional material) making sure that the crater provides a large enough well in the center to hold the eggs. Wash the eggs under running water, pat dry with kitchen paper and crack into the well. Beat the eggs well with a fork, then gradually blend the flour into the eggs, starting from the inner wall of the well and continuing until all the flour and the eggs are completely combined. You may have to add additional flour until the dough is no longer sticky (the amount will depend on the absorption characteristics of the flour and on the temperature of the room). Knead the dough for about 15 minutes to form a smooth and elastic ball. This procedure helps develop the gluten in the flour, so your pasta will be springy and al dente when it is cooked
3. Place the dough in a clean cotton dish towel or plastic wrap to rest for about 20 minutes at room temperature. Divide your pasta into 4 equal parts and roll out one part at a time (keeping the rest in the dish towel until ready to work)
4. ROLLING OUT BY HAND. To roll out your pasta you need a wooden pin, or mattarello. Dust each piece lightly with flour and roll out to the desired thickness. Work quickly because the pasta dries much quicker than you might think. Cut the pasta into rectangular sheets according to the raviolatore size, leaving 1 cm, about ½ inch at each end
5. ROLLING OUT BY MACHINE. A hand-cranked pasta machine is the best to use. Kids especially love this part. Start out using the widest setting. Run the pasta through 5-6 times, until the dough is smooth. If the sheet tears dust it with flour. Continue to run each sheet through the machine, reducing the thickness a notch at a time, until you reach the desired thickness, about notch 5, out of 7. At this point follow the same procedure as for rolling out by hand
6. Dust the ravioli form – raviolatore – with some semolina flour and place one sheet of pasta on it, with some extra on each side
7. Remove the filling from the refrigerator and fill each hole, about a scarce teaspoon. Brush the edges of a second sheet of pasta lightly (especially at the edges) with some water and place it on top of the filling to cover. Very lightly press the two sheets of pasta together with your fingers to remove some air and roll the rolling pin on top
8. Remove the ravioli, still attached one to the other. Lay on working surface (wood is better, or else a clean cotton cloth) dusted lightly with semolina flour, until the pasta dries a little bit. It will be easier to separate the ravioli. Separate them using a pasta wheel or a sharp knife
8. Boil plenty of salted water in a large pan and cook the ravioli for 5 minutes. Before removing you should taste, the pasta should be al dente. Gently remove with a skimmer and serve with melted butter and sage. Before serving you can top with some grated Parmesan and freshly ground black pepper.
Note: This recipe makes about 50 ravioli (2, 5 X 2.5 cm, 2 x 2 inches), it can serve 4 abundant portions or 6 regular ones. I would recommend to eat all the same day. – Paola