Anchovies gratin is a tasty main course that you can prepare in less than half an hour.
Anchovies (alici or acciughe in Italian, known as "pesce azzurro") are small, green fish with blue highlights, abundant in the Mediterranean sea. Anchovies have many nutrients that have been found to support good cardiovascular health. They are very rich in omega-3 fatty acids, which are linked to lower triglyceride and cholesterol levels, vitamin B12 which promotes cardiovascular health, and vitamin D which plays an essential role in bone development; they are also rich in protein and low in calories, therefore making them ideal for people trying to lose weight.
The addition of flavored bread crumbs gives a crunchy taste to the recipe. You can enjoy this dish with a colorful mixed salad, dressed with salt, lemon juice and olive oil.
ALICI GRATINATE (ANCHOVIES AU GRATIN)
Total preparation time: 20 minutes        Baking time: 10 minutes            Servings: 4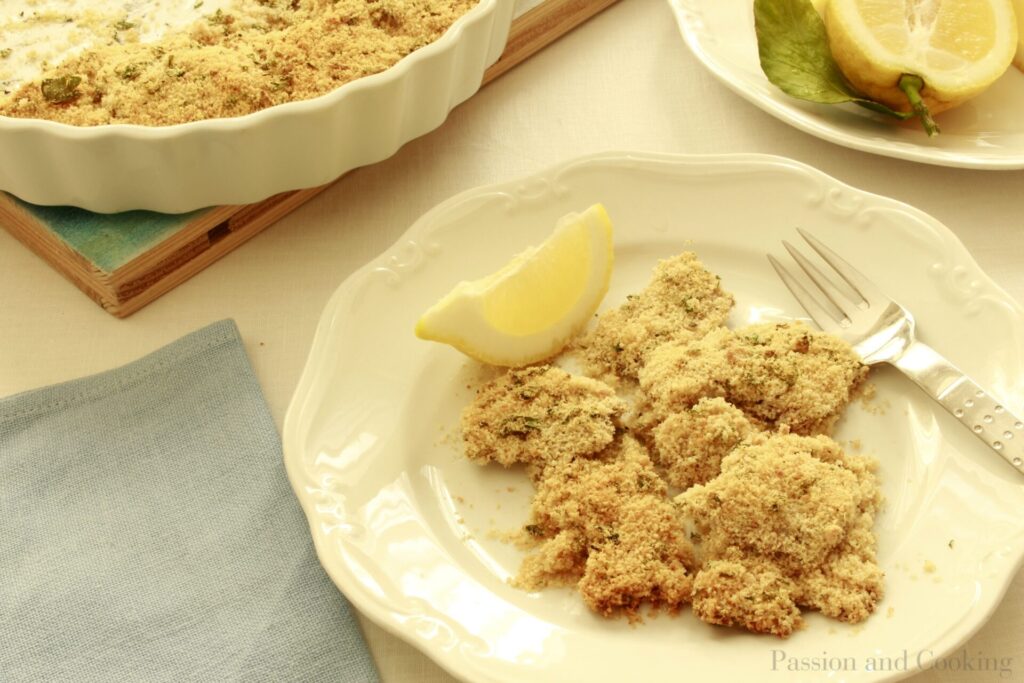 INGREDIENTS
1 kg (36 oz) anchovies or 450 g (28 oz) anchovy fillets
120 g (3/4 cup) bread crumbs
1/2 organic lemon, juice + zest
3 tablespoons olive oil (extra virgin) +2 tablespoons
1 tablespoon chopped parsley
2 garlic cloves, finely chopped
Sea salt and freshly ground pepper
DIRECTIONS
1. Preheat the oven to 200°C (425°F). Set oven rack to middle position.
2. Clean the anchovies. Flake with a knife, remove the head, split the anchovies open lengthwise along the belly, remove the entrails, the bones and the tail. Wash under cold running water and pat dry with kitchen paper. These are such small fish that you can usually do all of this with your fingers
3. In a bowl mix the bread crumbs, lemon juice, lemon zest, 3 tablespoons of olive oil, parsley, garlic, a pinch of salt and some freshly ground pepper according to your taste
4. Oil a 23 cm (9 inches) round ceramic pan with 1 tablespoon of olive oil. Place one layer of anchovies (half of the amount), add half of the bread crumbs mix. Then, cover with the rest of anchovies. Sprinkle the remaining bread crumbs on top along with 1 tablespoon of olive oil
5. Bake for about 10 minutes, until lightly brown on top
6. Remove from the oven. Let cool on a cooling rack for 5 minutes. Serve warm. – Paola