There was a wonderful charity event held in Como (Italy) last Saturday – a cooking contest "Un piatto da maestro" – organized by "Associazione La Stecca 1962" at Palazzo del Borgo in Como. The city well responded to this event with many participants and a lot donations.
It was a successful fund raiser for a local farm community which gives job opportunities to the disabled. The 19 contestants were not professional chefs, but instead foodie amateurs of varying ages and backgrounds, all of whom share the same passion. The theme was Spring, therefore each was to somehow represent this season. Some people followed the theme very well, while others chose their own preferred season. The courses were categorized into starters, first courses, main courses and desserts. Each recipe was served with a different wine according to the dish.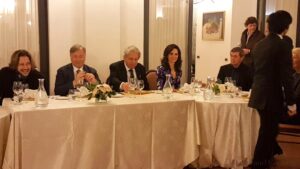 It was fascinating to me to be part of the jury.
We were nice group of people – food critics, food writers, journalists, a famous Italian singer Simone Tomassini, an artist and a wine expert.
Some dishes were very good, while others were okay and others still, just avarage. What I liked the most was the enthusiasm of the participants in preparing and presenting their dishes.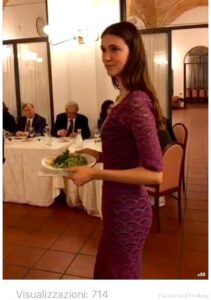 It was very encouraging to see young and old alike, with a great passion for cooking, like the fashion model Yulia Grigoreva, who is the representative of Brainy Model, a group of fashion models who want to show that Models have a brain too!!!. She prepared a tasty dish, Zucchini Noodles with Avocado. I love zucchini noodles, a light, re-hydrating and refreshing dish prepared with a seasonal ingredient such as zucchini (check Zucchini spaghetti with tomatoes and zucchini spaghetti with prawns). This is one of my favorite dishes during the warm season. Brava Yulia.
It was difficult to rate the food, because some dishes were tasty, like the bread dumpling with asparagus di Monica Molteni, the cheese cake with berries and the sbrisolona cake.
The winner was a very creative dish prepared by a young lady named Greta Scacchi with her imitation fried egg consisting of a marinated yolk, Parmesan gluten-free bechamel, crumbled crispy pork guanciale, broccoli with oil, chili, garlic, gluten-free crutons, rosemary flowers and saffron sauce – a very long title for a very simple, tasty and easy to prepare dish. Brava Greta!
It was an interesting experience for me and I hope to repeat it again! – Paola