Let's celebrate spring with this delicate and colorful dish, risotto with violets. Did you know that flowers are not only beautiful to look at, but also good to eat? There are many edible flowers, I recommend, however, to always purchase them from your greengrocers, ensuring that they have not been treated with pesticides.
The use of edible violets dates back to ancient times, when they were used as a medicine to fight headaches. In fact, violets have soothing, purifying and anti-inflammatory properties.
This is an easy to prepare and original dish to impress your guests.
RISOTTO ALLE VIOLETTE (RISOTTO WITH VIOLETS)
Total preparation time: 30 minutes     Cooking time: 20 minutes        Servings: 4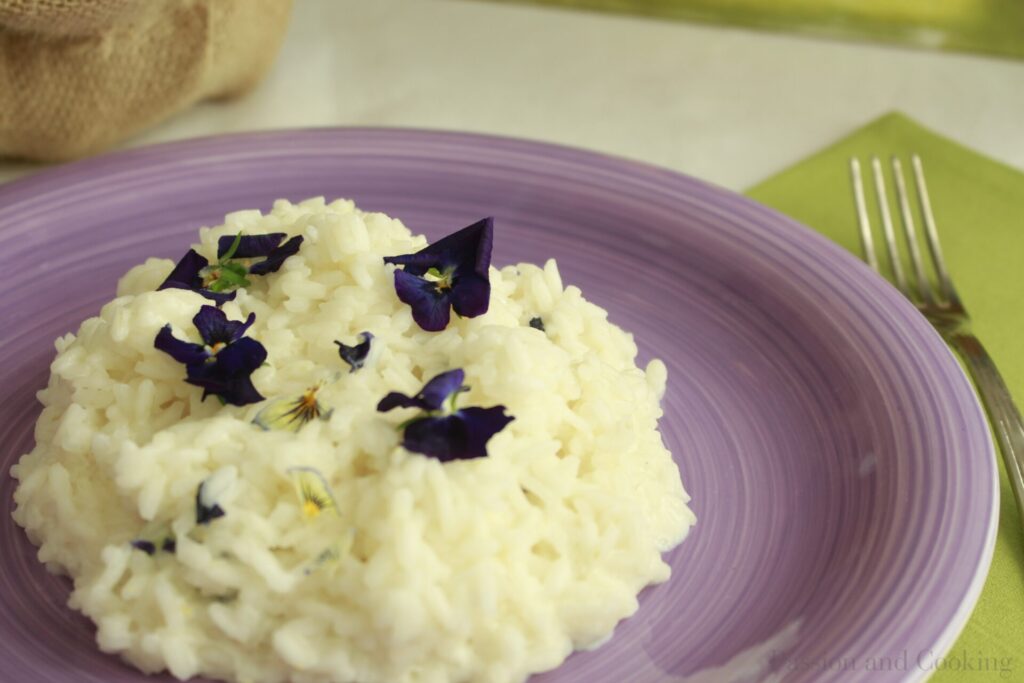 INGREDIENTS
1 liter vegetable stock
70 g (2.5 oz) unsalted butter
1 small shallot, finely chopped
300 g (11 oz) Italian Carnaroli or Arborio rice
240 ml (1 cup) dry white wine, at room temperature
100 ml heavy cream
30 g (about 1 oz) petals of violets + some flowers for decoration
2 tablespoons grated Parmesan
Sea salt and freshly ground black pepper
DIRECTIONS
1. In a saucepan over medium heat, warm up the stock.
2. In a large saucepan heat 55 g (about 3 tablespoons) of butter. Add the chopped shallot and sauté for 2-3 minutes over medium heat. Add the rice and stir thoroughly for about 3 minutes, in order to "coat" the rice well with the butter and shallot. (This helps regulate absorption of liquid and have a nice risotto al dente). Add the wine and stir until completely absorbed over medium-high heat.
3. Add a soup ladle or two of the stock until the rice is just covered, and stir continuously with a wooden spoon. When the stock is almost completely absorbed (the rice should not be dry on top), repeat this process.
4. Remove the risotto from the heat (after about 16-18 minutes), when the rice is nearly tender to the bite, but with just a hint of resistance (al dente), and the liquid you have added up to this point has been mostly absorbed (risotto should still seem a bit "soupy"). Add the remaining butter, cream and Parmesan. Keep stirring the risotto to blend it in. Add the flowers and mix gently. You can also add some salt and freshly ground pepper to taste. Let it stand for 1 or 2 minutes. Decorate with some violets and serve immediately (plan your timing well – it is very easy to overcook risotto!).
This recipe was published in the Italian magazine Tess (La Provincia, Lake Como) on March 16th, 2017.