Lake Como Vacation Rental
My beloved readers I have to apologize for not been very active lately but I was busy working on a new project : The renovation with my husband of The Cottage in Como (Lake Como), a vacation and short term residence (Vacation Home Rental, Lake Como). Renovating an old building takes time, energy and passion. But at the end the result pays you back.
THE COTTAGE LOCATION
On one of the most important shopping streets of Como (Lake Como), Via Milano 116 – Via Cadorna 29 (double entry) and close to the main railway stations, Como Borghi and Como S. Giovanni. It is very quiet, though, because it is located in an internal courtyard.
THE COTTAGE BEFORE RENOVATION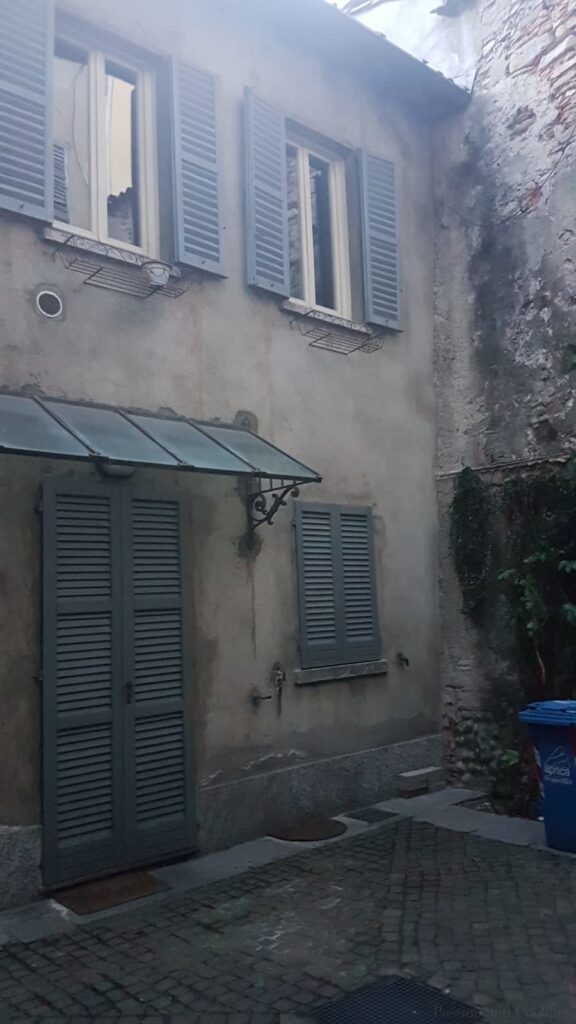 THE COTTAGE AFTER RENOVATION
The small cottage gets a new, right-size lease on life

The cottage in Como has been fully renovated by an American architect and divided in three independent units, combining the best of old and new to make you feel at home in a typical turn-of-the-century Italian house, but of course, with all the modern comforts!
The Romantic Residence
The Romantic Residence is a two-level unit with about 80 sqm of floor area.
– Downstairs: cozy living room with exposed antique ceiling beams, decorative fire place, a sofa bed (for 2 people), antique chest of drawers, steamer trunk coffee table.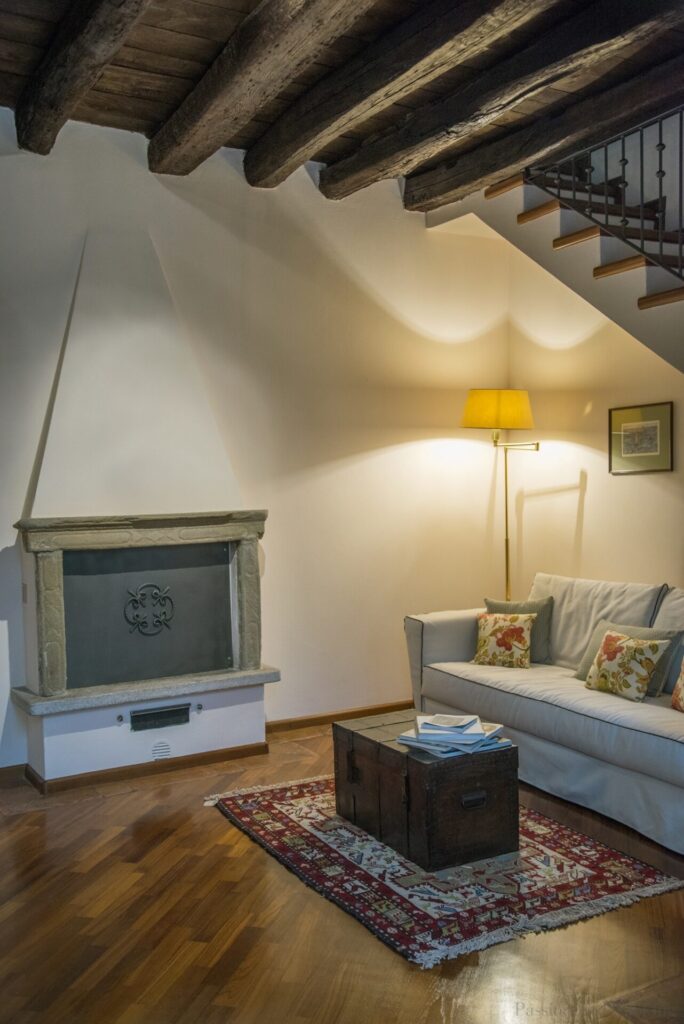 – Upstairs: 1 fully-equipped, brand new kitchen (retro style) with Smeg appliances (gas burners, dishwasher, oven, microwave, refrigerator, espresso coffee machine, electric kettle), dishes, glasses, tableware, pots and pans.
– 1 charming bathroom with a window, shower, sink and bidet, hairdryer, crystal chandelier, large storage cupboard.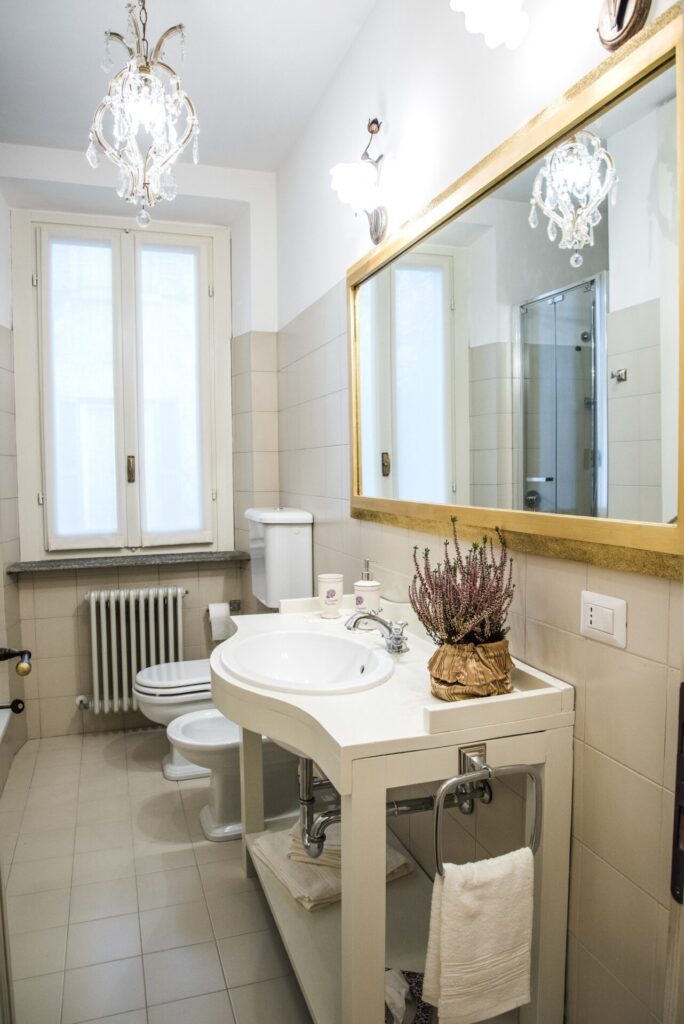 – 1 spacious, bright and elegant bedroom: queen-sized canopy bed, crystal chandelier, wardrobe and matching bedside tables, antique chest of drawers and mirror, sitting corner with two upholstered armchairs and antique table.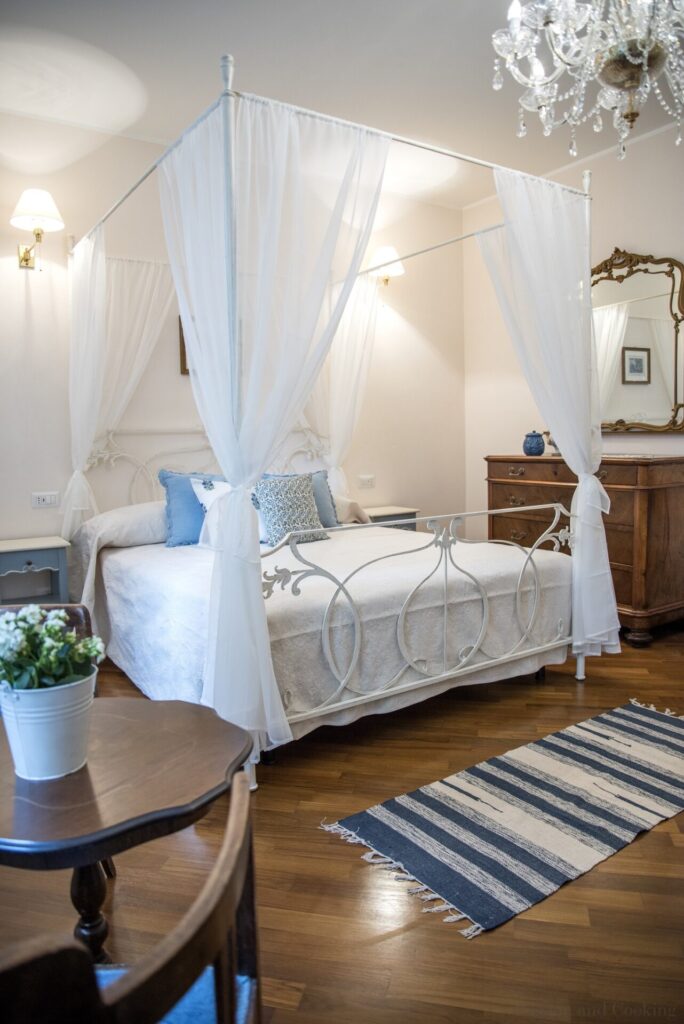 Extra Amenities
Air-conditioning, independent heating system, Wi-Fi, USB outlets, hairdryer, garden table and chairs, use of shared washing machine, no utility transfer costs.
Upon request and based on availability, the adjacent Guest Room can be rented for short stays of tenant's guests (not included in rental cost). This will be a future post. Stay tuned!!