Almond and limoncello cake is a delicious dessert that recalls the familiar tastes of the Amalfi coast (Campania), from which limoncello originates.
Traditionally, limoncello is made from the zest of Sorrento lemons. Lemon zest, or peels without the pith, is steeped in spirits until the oil is released. The resulting yellow liquid is then mixed with simple syrup. Varying the sugar-to-water ratio and the temperature affects the clarity, viscosity, and flavor. Limoncello is best enjoyed when served well-chilled. I use limoncello to prepare other tasty desserts like tiramisù al limoncello.
This cake is a real treat for lovers of both almonds and lemon, crunchy outside and soft inside. The preparation is easy and fast. It is a gluten- and lactose-free cake because it contains only corn starch and no dairy.
TORTA DI MANDORLE E LIMONCELLO (ALMOND AND LIMONCELLO CAKE )
Total preparation time: 1 hour          Baking time: 40-45 minutes            Servings: 8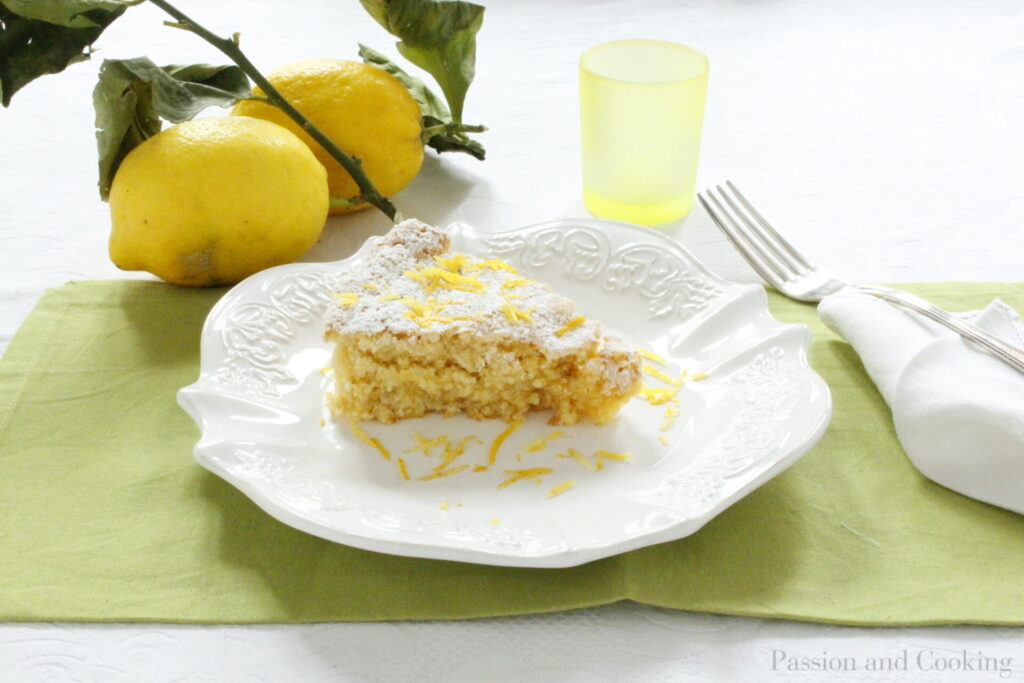 INGREDIENTS
200 g (1 cup) sugar
5 medium eggs separated
1 pinch of salt
300 g (11 oz) finely ground almonds (blanched, peeled, lightly toasted)
2 large organic lemons, zest
3 ½ tablespoons limoncello liqueur
1 heaping tablespoon corn flour or potato starch
Powdered sugar for decoration
Lemon zest for decoration
DIRECTIONS
1. Preheat the oven to 160°C (320°F) and set oven rack to middle position. Line the bottom of a spring form pan (24 cm, about 9 in) with parchment paper. Grease and flour the sides of baking pan with coconut oil and flour.
2. Beat the sugar and egg yolks with an electric mixer until pale and creamy
3. Add the lemon zest and limoncello.
4. Add the ground almonds, salt and corn flour to the egg mixture. Mix well.
5. Beat the egg whites until stiff, then fold gently into the almond mixture with a spatula.
6. Pour the cake batter into the pan and bake for 40-45 minutes.
7. Cool on a cooling rack, remove from the pan and dust with powdered sugar. – Paola