Lentils, quinoa and vegetables make these nuggets a perfect and colorful dish for vegetarians, but also for "carnivores" too. These can be served as a tasty main course, accompanied by a fresh salad, or as an appetizing starter and cocktail. Crunchy outside and soft inside, they are delicious and healthy as well, rich in good nutrients and are easy to digest.
In fact, lentils, like all legumes, are an important nutritional source of protein and good carbohydrates. Lentils have a marvelous nutritional profile: whilst 30% of their energy comes from protein, the remainder is primarily a high quality resistant starch, a carbohydrate which passes the length of the gastrointestinal tract and acts as dietary fiber. This type of starch is filling, reduces cholesterol, and increases fatty acids metabolism. It encourages healthy intestinal bacteria growth. Such bacteria protect against cancers of the gastrointestinal tract as they have anti-carcinogenic and anti-inflammatory effects.
Lentils are also rich in potassium, phosphorus, calcium and magnesium.
Quinoa provides essential vitamins, minerals, and fiber. These help regulate the digestive system and keep you fuller and more satisfied. In addition quinoa is gluten free, therefore suitable for people who are allergic to gluten. It was known to the Incas as "the mother of all grains" and was first cultivated over 5,000 years ago.
There are hundreds of cultivated types of quinoa, but the most common versions available in stores are white, red, and black quinoa. Botanically, quinoa is not classified as a grain. It is a pseudo-cereal. However, nutritionally, quinoa is considered a whole grain. Whole grains include the entire intact grain seed without removing any of its parts.
If you want to make this recipe gluten free you can use rice flour instead of bread crumbs. I prefer baking the nuggets rather than frying, because you need less fat and the resulting dish is obviously lighter and healthier.
POLPETTINE DI LENTICCHIE E QUINOA (LENTILS AND QUINOA NUGGETS)
Preparation time: 1 ½ h                 Baking time: 15-20 minutes                    Servings: 4-6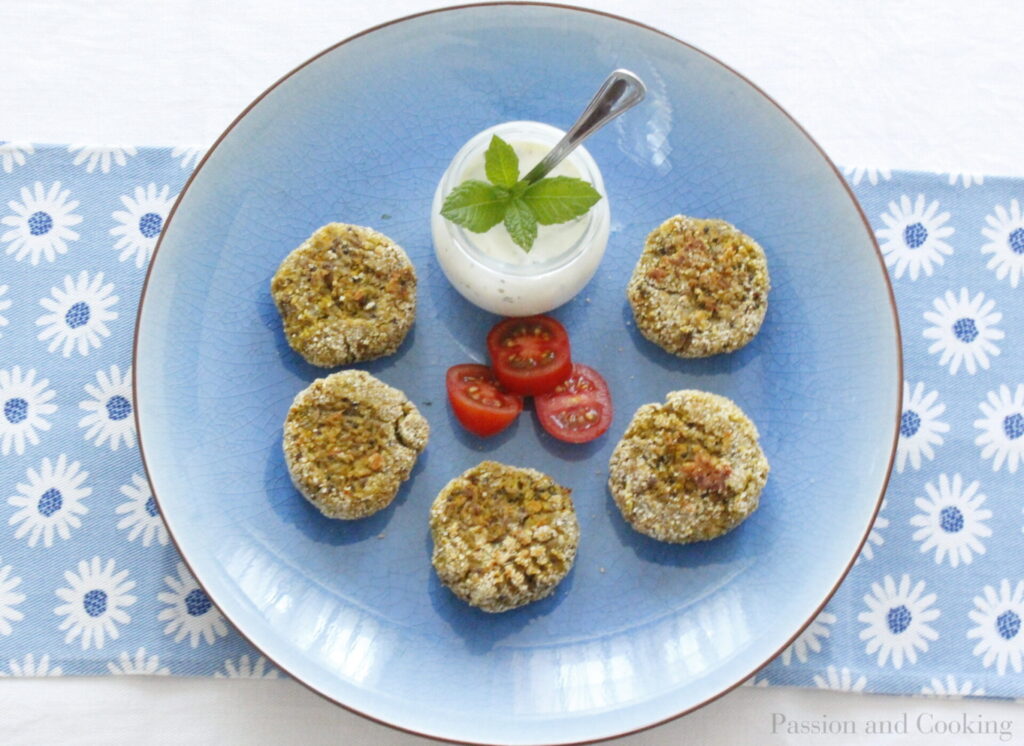 INGREDIENTES
250 g (1 ½ cups) dried green lentils
100 g (½ cup) mixed white, red and black quinoa
2 large carrots
1 medium red onion
3 garlic cloves
1 medium egg
50 g (½ cup) grated Parmesan cheese
1 teaspoon turmeric powder
2 bay leaves
10 leaves fresh mint
Sea salt and pepper
Bread crumbs
Sauce
200 g strained yogurt
Fresh mint leaves, finely chopped
Sea salt and freshly ground pepper
DIRECTIONS
1. In a large bowl soak the lentils for at least 2-3 hours, (see instruction on the package) changing water once or twice. If you don't have time, you can soak lentils for only 30 minutes. Rinse the lentils under cold running water, place in a pan with the bay leaf and plenty of water, bring to boil and cook on medium-low heat, covered with a lid, until they are crisp, about 18-20 minutes. A few minutes before they are done, add some salt. The cooking time should be indicated on the packaging. Drain, remove the bay leaves and allow to cool
2. Puree the lentils with a food processor. Set aside
3. While you are cooking the lentils, rinse the quinoa under cold running water to remove some of the bitter flavor. Transfer to a pan and add double the amount of salted water. Place over a medium heat and bring to the boil. Reduce to a simmer for 10 to 15 minutes, or until tender and the liquid is absorbed. Make it fluffier with a fork. Set aside
4. In a food processor chop the carrots, onion, garlic and mint
5. In a large bowl combine the lentils, quinoa, vegetables, egg and Parmesan. Season with turmeric, salt and pepper. Mix well and let it rest covered in the refrigerator for at least 1 hour
6. Heat the oven to 190 °C (375°F). Set the oven rack in the middle position
7. Place some baking paper on a large baking sheet
8. Roll about 1 tablespoon of dough into a ball. If too sticky, add 1 tablespoon bread crumbs to the dough mixture before forming the nuggets. Roll nuggets in the bread crumbs and then place on the baking sheet. Repeat to finish all the dough. Cook until light brown, turning once
9. Prepare the sauce. In a small bowl mix the yogurt with the chopped mint leaves and freshly ground pepper
10. Serve warm with the sauce on top. – Paola