Risotto with perch fish is a specialty of my beloved lake, Lake Como. It is one of my favorite local recipes – a tasty dish prepared with basic risotto and sautéed local freshwater perch, flavored with butter and sage.
Perch fish has a very delicate flesh that goes well with rice. To leran more about perch fish check : Fish Lake Como Treasure post.
You can substitute risotto with boiled rice (Italian rice, of course) flavored with some melted butter and sage. Risotto has certainly a creamier taste, a delicacy for your palate. It is a real treat if you accompany it with a glass of dry white wine.
Remember:" Il riso nasce nell'acqua, muore nel vino" Rice is born in water and dies in wine, that means rice grows in the water but it is better digested with some wine!
RISOTTO AL PESCE PERSICO (RISOTTO WITH PERCH FISH)
Total preparation time: 30 minutes            Cooking time: 20 minutes               Servings: 4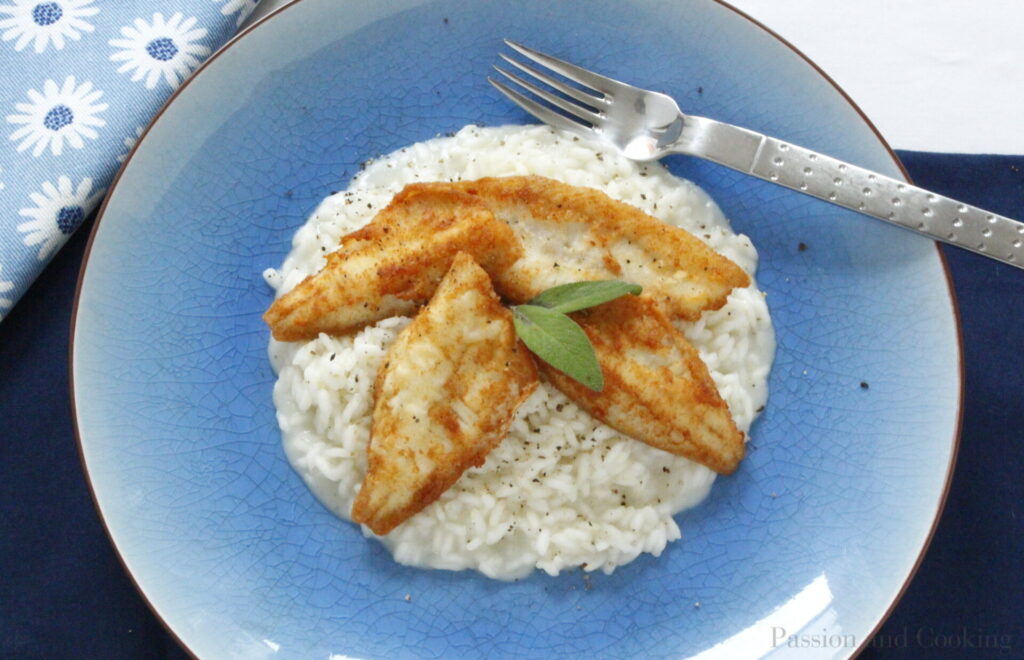 INGREDIENTS
1 liter (about 1 quart) vegetable stock
130 g (4.5 oz) unsalted butter
1 small shallot, finely chopped
300 g (11 oz) Carnaroli or Arborio rice
240 ml (1 cup) dry white wine, at room temperature
16 perch fillets (3-4 per person)
All-purpose flour for coating
Clarified butter for frying
8 fresh sage leaves
Sea salt and freshly ground black pepper
DIRECTIONS
1. In a saucepan over medium heat, warm up the stock
2. In a large saucepan heat 50 g (about 2 oz) of butter. Add the shallot and sauté for 2-3 minutes over medium heat. Add the rice and stir thoroughly for about 3 minutes, in order to "coat" the rice well with the butter and shallot. Add the wine and stir until completely absorbed over medium-high heat
3. Add a soup ladle or two of the stock until the rice is just covered, and stir continuously with a wooden spoon. When stock is almost completely absorbed (the rice should not be dry on top) repeat this process
4. Remove the risotto from the heat (after about 16-18 minutes), when the rice is nearly tender to the bite and creamy. Add  30 g (1 oz) of butter and keep stirring the risotto to blend it in. You can also add some salt and freshly ground pepper to taste. Let it stand for 1 or 2 minutes
5. While risotto is cooking, wash the perch fillets, pat dry with paper towel and then flour it. Melt some clarified butter over medium-high heat, then decrease the heat to medium, cook the fish turning over once until golden brown on each side. Add salt to taste. Remove from the pan and keep warm
6. Place 50 g of butter and sage in a small saucepan and cook over medium heat for 2 minutes being careful not to brown the butter. Turn the risotto out onto a heated platter. Place on top perch fillets and season with butter and sage. Serve immediately. – Paola